We've updated our Privacy Policy.
By continuing to use this site, you are agreeing to the new Privacy Policy.
On Monday night against the Columbus Blue Jackets, the Boston Bruins competed in what turned out to be one heck of a hockey game. It featured just about everything: a young player making his NHL debut, a ton of goal scoring, some incredible goalie saves, a sudden death overtime period and a lot of back and forth action. Even though the Blue Jackets came out on top with a 5-4 win...
There have been a number of occasions during this season when Boston Bruins goalie Tuukka Rask has left a few fans wondering, "Is he still our guy?" I, admittedly, am one of those fans. As a die-hard Boston fan, I've watched as many Bruins games as possible this year. Whether it's Rask or fellow goalie Anton Khudobin in the net, the goaltending situation for the Bruins has felt somewhat...
The last time the Lightning were shutout, in April 2017, was also against Rask and the Bruins.
LIKE WHAT YOU SEE?
GET THE DAILY NEWSLETTER:
TAMPA, Fla. (AP) — Tuukka Rask stopped 23 shots to hand Tampa Bay its first shutout of the season and lifting the Boston Bruins over the Lightning 3-0 on Saturday night. It was Rask's third shutout of the season and 41st of his career. It was also the first time the Lightning failed to score a goal since a 4-0 loss at Boston on April 4, 2017 — also against Rask. David Pastrnak, David...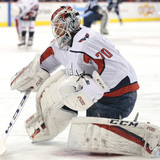 A Vezina Trophy winner is about to take a backseat, at least for a little while. "He hasn't had a real good stretch," Washington Capitals head coach Barry Trotz said of starting goaltender Braden Holtby, speaking to the Washington Post's Isabelle Khurshudyan. The reigning Jennings Trophy winner allowed three goals on just nine shots before getting chased in last night's 4-0 loss...
BOSTON -- CLNS' Bruins Insider, Jimmy Murphy goes 1-on-1 w/ Tuukka Rask on BRUINS trade deadline. Bruins goalie Tuukka Rask discusses what Don Sweeney's moves at the NHL Trade Deadline meant to the team and the job Sweeney is doing overall. --------------------------------------------------------------------------------- SUPPORT CLNS MEDIA: Powered by... RXBar, go to http:/...
It was November 26, 2017. The Boston Bruins had just dropped a 4-2 loss to the Edmonton Oilers and goaltender Tuukka Rask's abilities were questioned again as the losses seemed to be nonstop for the 2014 Vezina trophy winner. Fast-forward to the present, it's February 4 and Rask hasn't had a regulation loss since that Sunday in November. His stellar 18-0-2 record in the Bruins last...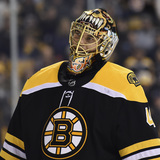 This season has not started off on a great foot for either the Boston Bruins or their starting goalie Tuukka Rask. Through 22 games, the Bruins are 10-8-4. It's not a bad record, but it is incredibly mediocre. While there are certainly a multitude of reasons why this Bruins team is underperforming (injuries being the biggest), Rask's goaltending is a significant part of it.Rask has...
The energy at TD Garden Sunday evening was high. The Boston Bruins were set to play against the Edmonton Oilers and were aiming for their fifth straight win to continue their first winning streak of the season. Unfortunately, the compete level and energy weren't there and the Bruins fell to the Oilers 4-2. The Bruins continued with their inability to provide support for number one...
It has been a few years since the Boston Bruins were a dominant team in the NHL. They won the Stanley Cup against the Vancouver Canucks in 2011 and made it back a few years later but lost in the finals against the Chicago Blackhawks in 2013. The NHL is better when one of the first six teams are dominant and it has been a few years since the Bruins were. A positive spin on the Bruins...
MORE STORIES >>
Bruins News

Delivered to your inbox

You'll also receive Yardbarker's daily Top 10, featuring the best sports stories from around the web. Customize your newsletter to get articles on your favorite sports and teams. And the best part? It's free!