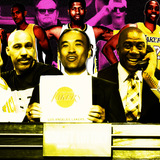 The annual NBA Draft lottery will take place on Tuesday night. It's a crucial night for every team in the lottery, but tonight's outcome is of the utmost importance to the Los Angeles Lakers and their new president of basketball operations, Magic Johnson. You see, depending on how things shake out, the Lakers will either be lined up to stockpile on talent over the next three seasons...
AJ ALLMENDINGER NO. 47 KROGER® / KINGSFORD® CHARCOAL CHEVROLET SSINDIANAPOLIS MOTOR SPEEDWAY PREVIEW Race:  Crown Royal Presents the Jeff Kyle 400 at the BrickyardDate/Time: Sunday, July 26th / 3:30 PMTV/Radio: NBCSN / IMS / SIRIUSXM TEAM QUOTES: Dinger throws out first pitch at Reds game with Daugherty as catcher: "I left out early this morning (7/21) with Tad (Geschickter, JTG...
Following a season that saw them as part of the Chase for the Sprint Cup, JTG Daugherty is looking to expand on that success in 2015. An important piece of being able to have success is having dedicated partners, which is something that Geschickter was proud to mention during the media tour. "We have a new shiny three year relationship with the Clorox company," team co-owner Tad...
JTG Daugherty Racing has some of the finest quality brands activating in the NASCAR Sprint Cup Series with the No. 47 Chevrolet SS team and are proud to announce the addition of Hungry Jack® pancake mixes and breakfast syrups, which are part of The J.M. Smucker Company. Hungry Jack offers a no frills, no fuss way to enjoy a hearty breakfast.   Hungry Jack will have prominent positioning...
JTG Daugherty Racing has a lot of decisions to make in the next few weeks. First, what to do about Bobby Labonte, the 49-year-old veteran racer who fell off of his bike on Wednesday and broke three ribs. Although A.J. Allmendinger was officially named the driver of the No. 47 car for 2014, he was only signed up for three more races with the team this year. Sunday's Cup event at...
Whether it's Todd McCullough's professional pinball success, Rony Seikaly's deejaying career or Brad Daugherty's foray into NASCAR broadcasting, basketball players have made some unlikely career choices once their playing days ended.Still, are any of those more improbable than Derrick Caracter's backup plan if his professional basketball aspirations don't pan out?Caracter, whose...
MORE STORIES >>
Poker News

Delivered to your inbox

You'll also receive Yardbarker's daily Top 10, featuring the best sports stories from around the web. Customize your newsletter to get articles on your favorite sports and teams. And the best part? It's free!