Daria Kasatkina upset Venus Williams 4-6, 6-4, 7-5 in a nearly three-hour baseline struggle to reach the final of the BNP Paribas Open on Friday night.
Venus Williams beats Spain's Carla Suarez Navarro to reach the semi-finals of the BNP Paribas Open at Indian Wells.
Venus Williams defeated Carla Suarez Navarro 6-3, 6-2 to reach the semifinals of the BNP Paribas Open. She'll square off against 20-year-old Russian Daria Kasatkina, who has yet to drop a set in four matches at Indian Wells.
Seven-time grand slam winner Venus Williams eased past Carla Suarez Navarro and into the Indian Wells Masters semifinals.
It only gets easier for Venus Williams. A day after beating sister Serena at Indian Wells, Venus was back on the court facing a very different opponent, but with the same winning result.
A day after dismissing her sister, Serena, Venus Williams won another straight-sets battle, this time over Anastasija Sevastova to move on to the quarterfinals of Indian Wells.
Venus Williams overcame a late rally from youngster sister Serena to reach the fourth round at Indian Wells on Monday.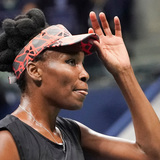 Tennis legend Venus Williams won't face charges in the car accident from June that resulted in the death of 78-year-old Jerome Barsons in Palm Beach Gardens, Florida."Palm Beach Gardens PD released their findings on Wednesday and said no charges will be filed in the case," TMZ Sports reported. "Cops say neither Venus nor the Barsons — the couple in the car that t-boned Venus — violated...
Saturday marked a big day for Sloane Stephens and Jozy Altidore.Stephens won the US Open, giving her her first career major. Her boyfriend, Altidore, scored two goals in Toronto FC's MLS match against the San Jose Earthquakes.Altidore was interviewed at halftime of his game and told that Stephens had won the U.S. Open. He told TSN that he was "thrilled" for Stephens."I'm thrilled...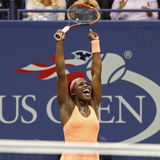 Sloane Stephens reflected upon her journey after reaching the first major final of her career, noting how much she's grown in the past few years.Stephens beat Venus Williams in three sets in their semifinal match Thursday to advance to the finals at the US Open. This is the farthest Stephens has advanced in a major since she reached the semis of the Australian Open in 2013. In between...
MORE STORIES >>
Tennis News

Delivered to your inbox

You'll also receive Yardbarker's daily Top 10, featuring the best sports stories from around the web. Customize your newsletter to get articles on your favorite sports and teams. And the best part? It's free!