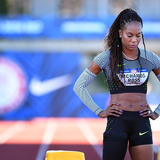 Sanya Richards-Ross, an Olympic track and field athlete who is married to former NFL cornerback Aaron Ross, recently published a memoir that included a very personal account of a difficult decision she and her husband made back in 2008.Just weeks before she was set to compete in the Beijing Olympics, Richards-Ross decided to have an abortion so she could continue to pursue her dream...
Sanya Richards-Ross bid a tearful adieu to track after pulling up a little more than halfway through her 400-meter preliminary at Olympic Trials.The 31-year-old Olympic champion has been dealing with foot and hamstring injuries most of the year. In Friday's opening round, she made it about 250 meters before pulling up. Moments later, she was blowing kisses to the fans, who gave her...
The Olympic gold medalist talks about her final year of competition.
The Olympic gold medalist talks about her last year of competition.
Jamaican American 400-meter World Champion Sanya Richards-Ross has her sights set on the 2016 Summer Olympic Games in Rio de Janeiro. RELATED:  Sanya Richards-Ross's Training Progression Last Monday, Richards-Ross posted a video of herself
Disappointment, tears and that oh-so-unsatisfying color - bronze - are all in the past for Sanya Richards-Ross.
MORE STORIES >>
Track and Field News

Delivered to your inbox

You'll also receive Yardbarker's daily Top 10, featuring the best sports stories from around the web. Customize your newsletter to get articles on your favorite sports and teams. And the best part? It's free!
THE TRACK AND FIELD HOT 10