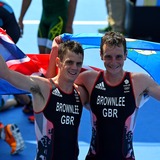 Great Britain's Alistair Brownlee had a chance to win the final race of the World Triathlon Series in Cozumel on Monday, but he instead chose to help his brother cross the finish line. Jonny Brownlee, Alistair's younger brother, could have won the series if he finished in first and Spaniard Mario Mola finished no higher than fourth. Heading into the final kilometer of the 10-kilometer...
RIO DE JANEIRO (AP) Just like four years ago in London, Alistair Brownlee grabbed a British flag, slowed to a trot and then walked across the finish line to win the gold medal in the men's Olympic triathlon. He dropped to the ground in exhaustion again. Only this time, moments later he got celebrate with his little brother. Jonathan Brownlee upgraded his bronze from 2012 to silver on Thursday.
LONDON (AP) Gwen Jorgensen raced to her 10th straight ITU World Triathlon Series victory Sunday, leading a U.S. sweep for the second time this season. Gwen Jorgensen, the defending series champion from St. Paul, Minnesota, finished the 750-meter swim, 20-kilometer bike, 5-kilometer run in 55 minutes, 45 seconds. Jorgensen has won every WTS race she has started since May 2014 and...
BUFFALO, N.Y. -- Three-time Olympic triathlete Hunter Kemper won a record seventh career men's national title Saturday and Beijing Olympian Laura Bennett earned her third women's crown at the USA Triathlon Elite National Championship. Kemper, of Colorado Springs, Colo., captured his first national championship since 2006, finishing the 1.5-kilometer swim, 40-kilometer bike and 10...
Hey Yardbarker!               It has been a long time since I have posted and I thought I'd give a video blog a try. It is definitely a bit scary to do a video, but I finally got over myself and so here it goes...               I'll be sharing tips for health, fitness and competition, but I would love to devote regular vblogs to answering your questions. Anything...
Hey Yardbarker! I can't believe it is already August. Mom says time goes faster and faster as you get older. Eek. In between losing tons of money in a virtual stock game (Garmin and Electronic Arts tanked my portfolio) I've been busy easing my way back into some racing. I've been stretching myself a bit, trying some things I have never done before. On July 26 I competed in...
Hey Yardbarker! It has been an exciting week with the Olympic Trials for Track & Field wrapping up and of course, the Tour de France. (Don't get me started on Beltran). I've been flat on my back half of the week following my latest visit to the doc, but its given me an opportunity to read, write and watch some great sporting action. Here is an brief excerpt from my latest...
Great Britain's Chrissie Wellington is nothing short of amazing. This time last year no one in the world of triathlon had heard of this spunky Brit. The Ironman World Champ and three time Ironman winner made it four titles today as she won Ironman Germany. As far as I know there is no triathlete who has won their first four Ironmans. Even more amazing is that Wellington posted the...
Hey Yarbarker! I've been enjoying my time here in Ventura. I'm taking some time to digest my back diagnosis and figure out how to cope with the reality of a body that has limitations. The doctor is not optimistic that I can return to competitive running or racing, but doctor's don't always have the final word. The great thing about triathlon is that there are three sports. I'll...
Hey Yarbarker! I'm currently in the Ventura/Santa Barbara, Calif. area to escape for a week or two to some of my favorite training haunts. I arrived in Ventura on Friday night and not a moment too soon. It was a rough week. I went in for another MRI last Monday to get some updated pictures of my back. The pictures were telling and the story not the type you want to write for...
Hey Yardbarker! I've updated my blog...check out the link for the continuation of the article below. It would be an understatement to say that I am frustrated. In 2003 I had the first hints of something not being 'right' with my back. At first it was a little twinge that showed up in my lower back. What has transpired since 2003 includes a never ending treadmill of trips to...
Hey Yarbarker! My name is Rachel Sears Casanta and I will be blogging here on Yardbarker...the Yard's first professional triathlete! Triathlon combines the sports of swimming, cycling and running and while it is a lot of work, its a great lifestyle. I hope that by reading my blog you'll become a fan of triathlon or even try one yourself. At minimum, I think you'll find the...
MORE STORIES >>
Triathlon News

Delivered to your inbox

You'll also receive Yardbarker's daily Top 10, featuring the best sports stories from around the web. Customize your newsletter to get articles on your favorite sports and teams. And the best part? It's free!