The 2012 World Series is one game in, and it was not the start that the Detroit Tigers were expecting against the San Francisco Giants. Sending Justin Verlander to the mound is almost always a must win scenario for the Tigers, especially in a postseason series. Having him go up against Barry Zito seemed to make things even more attractive, as Zito hasn't really been all that playoff relevant since 2006. But after allowing three home runs to Pablo Sandoval and five runs in all, Verlander failed to get the job done, and the Tigers dropped Game 1 by a final score of 8-3. I know that it may sound extremely short sighted to say that Game 1 of a best-of-seven game series can ever be called a must win situation, but is it at least somewhat reasonable in this case? Three times in a World Series a team who swept the League Championship Series [LCS] faced off against a team who won its' LCS in seven games. In all three of those instances, the team who won in seven defeated the team who swept. In fact, it happened with the Tigers back in 2006, when they were defeated by the St. Louis Cardinals. Detroit swept the Oakland Athletics in the ALCS, while St. Louis needed the full seven in the NLCS to eliminate the New York Mets. Could we be headed down that same path in Motown? Yes, it was just one game. But it could not have gone much worse for the Tigers. Their ace was way off his game. Jose Valverde was brought in late to give him some confidence in a non-save situation, but that backfired. In my opinion, last night should be the final time we see Valverde in a Tigers' uniform, at least in 2012. But the offense struggled to get things going as well. They did not score until the sixth inning after a long layoff, and their bats looked rusty. While they did start to wake up a bit late in the game, the opportunity to catch up had already passed. The Tigers lost game one on the road. They say that a series is not a series worth discussing until the home team loses. But thanks to another poor performance by Verlander in the 2012 MLB All-Star Game, as well as one in which suspended Giants' outfielder Melky Cabrera helped the National League earn home field advantage in the Fall Classic, the Tigers will be looking to steal Game 2 tonight in the Bay. If you look at tonight's pitching matchup, the Tigers would once again appear to have the edge on paper. Doug Fister has been pitching very well as of late, and also came up big for Detroit in last year's postseason. He will be opposed by Madison Bumgarner, who has not started a game since October 14 against the Cardinals in the NLCS. But he pitched so poorly that the Giants removed him from the starting rotation in favor of Tim Lincecum, who came in in relief of Zito last night and shut out Detroit for more than two innings. On paper, at least, the Tigers should have the advantage. But they had a huge edge on the mound in Game 1, and look how that worked out for the losing team. The bottom line is that one game generally does not make a series. Especially when the home team wins. But when you consider the starting pitchers, as well as the history of having a long layoff, Game 1 may have been a must win game for the Tigers. But they blew it. Can you have back-to-back must win games if you lose the first one?   The post 2012 World Series: Did Detroit Tigers Blow Must Win Chance With Game 1 Loss to San Francisco Giants? appeared first on Hardball Chat Baseball Blog.
Original Story:
http://www.hardballchat.com/2012/10/2...
MORE FROM YARDBARKER
All Sports News

Delivered to your inbox

You'll also receive Yardbarker's daily Top 10, featuring the best sports stories from around the web. Customize your newsletter to get articles on your favorite sports and teams. And the best part? It's free!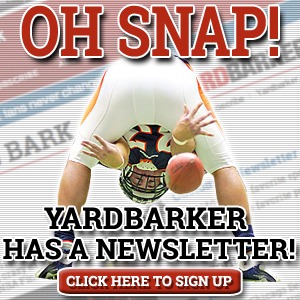 Latest Rumors
Best of Yardbarker

Today's Best Stuff

For Bloggers

Join the Yardbarker Network for more promotion, traffic, and money.

Company Info

Help

What is Yardbarker?

Yardbarker is the largest network of sports blogs and pro athlete blogs on the web. This site is the hub of the Yardbarker Network, where our editors and algorithms curate the best sports content from our network and beyond.