Found December 31, 2012 on Optimum Scouting:
While Vanderbilt isn't known for pumping out talented in the SEC outside of Jay Cutler, the Commodores have a handful of NFL talent on deck as they face off against NC State. After firing coach Tom O'Brien, it won't be an easy task facing off against one of the best young coaches in James Franklin, but Mike Glennon, Tobais Palmer, and NC State have the talent offensively to hang with any team. The scouts on hand will be focusing on Mike Glennon against an SEC defense, but checking and focusing on Zac Stacy and Tobais Palmer would be a wise move for fans and scouts as well. Notes by Eric Galko and Alex Brown of Optimum Scouting Mike Glennon, QB, NC State - #10, 6'6, 232 Mike Glennon has gone from pre-season trendy mid round sleeper QB to now being thrusted into the limelight as potentially the top quarterback in the 2013 NFL Draft (thanks ESPN, Kiper). Despite not being an elite quarterback prospect, he still flashes elite QB qualities that could give him an argument to go in the Top 10 to a QB needy team. He has a big time arm, spins a consistently clean ball, and has very good ball placement in the short area, as well as vertically. He transitions through his reads well, and uses his eyes to direct deep safeties well. His issues lie with decision making vs. interior zone, adjusting/decision making vs. interior pressure, and being too anxious when transitioning off his first read at times. Still, it's the size, arm, and flashes of brilliance that could lead Glennon to being a Top 15 overall selection on draft day. Tobais Palmer, WR, NC State - #4, 5'11, 176 Not a consistent force in the offense (though he ended the season with 21 catches and 5 TDs in his final 3 games), Palmer flashes the vertical ability and kick return upside to still warrant a mid-round pick if he tests well in the post-season. He has fantastic vision as a returner, and has great lower body strength to stay low to the ground and bounce off tackles in open space. He gets upfield quickly as a receiver, but lacks great separation in the short area and great route transitions/adjustment vision to be effective in the mid range. As a vertical receiver, he shows experience/definition in double moves, a decent catch radius vertically, and separation downfield to exploit defenses using his speed. Not a complete/polished receiver, he could make for a big play, vertical slot receiver. David Amerson, CB, NC State - #1, 6'3, 200 The 6'3, 200 pound cornerback has ideal size, and has flashed the physicality downfield, the ball skills, and the savvy-ness in coverage to develop into a feature cornerback on a roster. But struggles with his hip fluidity and reaction to the receiver's routes have been an issue this year. Both concerns are fairly major, however, as they seem to be critical factors for evaluating cornerbacks, especially when considering if he can get vertical in man coverage against bigger bodied receivers. It does, however, seem that he could still fit smoothly in a Cover 2 and/or zone based system, and has the length to finish tackles and the physicality to win the short area. Still, it's unclear if he'll have Top 20 or even first round value as a zone only cornerback, but could have enough talent to be a dominating force in the ideal system. Jordan Rodgers, QB, Vanderbilt – #11, 6'2, 210 Mobile and strong-armed, Jordan Rodgers flashes big play ability but more consistently disappoints with flawed mechanics. Too often, Rodgers delivers the football from a standstill, failing to generate ideal weight transfer at the end of his pass drop. When able to step into the throw with proper mechanics, Rodgers showcases a big-time arm and ability to fit the ball into tight windows; still, issues with his setup and release result in wobbly deep throws and inconsistent accuracy across the board. Rodgers needs to do a better job of maintaining a proper throwing base when sliding and resetting his feet within the pocket when pressured, and be smart with the football to avoid turnovers. Likely to be a priority free agent, Rodgers certainly has the pedigree to earn a late draft selection. Zac Stacy, RB, Vanderbilt – #2, 5'9, 210 Stacy was a steady climber in our rankings at Optimum Scouting, beginning the year as a 6th round projection and finishing the season as a 4th round projection. Able to alternate between being light on his toes to swiftly cut through traffic or being heavy with his lower half to anchor and power through first contact, Stacy produced extremely well between the tackles with a well-rounded skill set. Stacy compensates his lack of long speed, with excellent vision, ideal balance and a sturdy frame. Short and very stocky at 210 pounds, Stacy has the build to handle a workload and the strength to move the pile.  Jordan Matthews, WR, Vanderbilt – #87, 6'3, 200 (JR) The prototype outside receiver prospect with a "plus" size-speed combo, Matthews lit up the stat sheet in 2012 and placed himself on the map as a potential high round 2013 draft prospect. Having the soft hands and wide catching radius to snatch the football cleanly off his frame, Matthews does a tremendous job of attacking the football at the catch point to help his quarterback out. Matthews' ability to accelerate out of the break and change directions sharply for a taller target should draw second or third round grades from NFL teams. He'll draw an exciting matchup with NC State's junior cornerback David Amerson, and should have the upper hand in the speed department. Others to Watch: RJ Mattes, OT, NC State - #78, 6'6, 314 Early Wolff, S, NC State - #, 6'1, 210 Brandon Bishop, S, NC State - #, 6'2, 215 Josh Jelesky, OG, Vanderbilt - #69, 6'5, 290 Rob Lohr, DT, Vanderbilt – #84, 6'4, 290 Trey Wilson, CB, Vanderbilt - #8, 5'11, 192 Kenny Ladler, S, Vanderbilt - #1, 6'0, 205 (JR)
Original Story:
http://www.optimumscouting.com/draft/...
THE BACKYARD
BEST OF MAXIM
RELATED ARTICLES
Jay Cutler threw for 257 yards and a touchdown and helped seal the game with a late scramble, and the Chicago Bears kept their playoff hopes alive - for now - with a 26-24 win over the Detroit Lions on Sunday. Chicago (10-6) still needs a Minnesota loss to Green Bay to reach the postseason. The win by the Bears eliminated the defending champion New York Giants from the playoff picture...
DETROIT (AP) -- Jay Cutler threw for 257 yards and a touchdown and helped seal the game with a late scramble, and the Chicago Bears kept their playoff hopes alive -- for now -- with a 26-24 win over the Detroit Lions on Sunday. Chicago (10-6) still needs a Minnesota loss to Green Bay to reach the postseason. The win by the Bears eliminated the defending champion New York Giants...
Upon hearing the news that his head coach Lovie Smith had been fired, Chicago Bears quarterback Jay Cutler tweeted, "Change isn't always a bad thing. Sometimes change can be good."   Oh.   Gonna help coach pack his bags and drive him to the airport, Jay?   Say this for the current Bears' brain trust, [...]
Too little, too late is all can be said about how the Chicago Bears ended the 2012 season at 10-6 and now the potential Chicago Bears offseason moves need to be assessed. What will the Chicago Bears do to get better in the 2013 season? The first place to look to where they need to improve, is by examining the players that will be possibly be saying sayonara to the Chicago Bears in...
It was somewhat a surprise when after a 10 win season the Chicago Bears decided to part ways with Lovie Smith.  Smith became one of several "Black Monday" victims joining multiple other NFL coaches who were fired.  The question now for the Bears becomes who?  Who will be the next head coach in Chicago?  What about Andy Reid?  After 14 seasons Reid has been fired as the head...
To say that the Chicago Bears 2012 season was a disappointment would be a huge understatement.  A team once hyped as Super Bowl contenders truly proved to be pretenders as they became the first NFL team since 1999 to start a season at 7-1 and miss the playoffs.  Plenty of shortcomings can be cited as the reasons behind the Bears demise but looking ahead to 2013 there are several...
Okay... Here we go... Here's Chicago... ((HT: WLS-TV)) ((HT: WLS-TV)) Jay Cutler seems to have fallen on the sword a little bit, but admits change might be good for the long term... Here's the noon lead in Buffalo after the firing of Chan Gailey and his staff... ((HT: WGRZ-TV)) And, now, Kansas City and Crennel... ((HT: KSHB-TV Kansas City))
8 a.m. ET: While the NFL has handed out plenty of pretty presents so far this season, it truly saved the best to last. Tucked away in Week 17 like that extra present hidden under the couch, the NFL's final set of games may have the most intrigue of any time so far this year. As well as a load of divisional matchups and some games that promise to make the most of impending winter...
Inconsistent, hard to watch, and downright woeful for most of the 2012 season, the focus will be squarely on Jay Cutler and the Chicago Bears offense as they make a bid for the playoffs in Sunday's regular season finale in Detroit. First-year offense coordinator Mike Tice has fared no better, and in many cases worse, than predecessor Mike Martz. The [...]
Another year, another let down for the Bears and Cowboys. When will these two organizations realize they don't need their QBs? I'm not saying that these teams are horrible. Both teams have enough talent to win a Super Bowl without their respected quarterbacks. NFL teams have been committed to their QBs over the years, but teams have won Super Bowls because they parted...
A total of 15 teams remained standing as the clock struck 1 PM EST on Sunday afternoon, the day before New Year's Eve.From there, in three or four hour increments, that list whittled down to the mandated 12 necessary to form a playoff pool.We here at the Football Nation Medical Examiner's Office know how difficult this last week of post-mortem examination can be.Well, not...
DETROIT -- Jay Cutler passed for 257 yards, including a 60-yard touchdown to Earl Bennett, and the Chicago Bears forced four turnovers as they kept their playoff hopes alive with a 26-24 win over the Detroit Lions at Ford Field on Sunday. Matt Forte rushed for 103 yards and scored a touchdown and while Olindo Mare kicked four field goals for the Bears (10-6), who needed a Green...
All Sports News

Delivered to your inbox

You'll also receive Yardbarker's daily Top 10, featuring the best sports stories from around the web. Customize your newsletter to get articles on your favorite sports and teams. And the best part? It's free!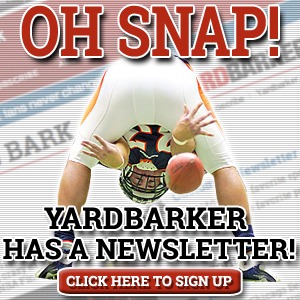 Latest Rumors
The Backyard

Today's Best Stuff

For Bloggers

Join the Yardbarker Network for more promotion, traffic, and money.

Company Info

Help

What is Yardbarker?

Yardbarker is the largest network of sports blogs and pro athlete blogs on the web. This site is the hub of the Yardbarker Network, where our editors and algorithms curate the best sports content from our network and beyond.