Well the finish line is in sight. Unfortunately for Buffalo, they aren't exactly sprinting to the finish line. Based on their season, I'd say it's more of a slow and painful crawl. Once again Bills fans won't be seeing Buffalo in the playoffs and it's been far too long. Following next week's game against the Jets, Bills fans will be in NFL Draft mode. Here at QCS we'll analyze potential picks for Buffalo as the draft nears so make sure you come back and visit often following the end of the regular season. Following Buffalo's 24-10 defeat at the hands of the Dolphins, here are 5 things I "Billieve." 1. If one player is responsible for this loss, it's Stevie Johnson. Johnson had a horrendous game. On Buffalo's first series of the game, the Bills were driving and the Dolphins were on their heels. Ryan Fitzpatrick was actually throwing the ball accurately! Things were running smoothly (besides Scott Chandler getting injured). Johnson ran a slant route and Fitz connected with Johnson in stride. Johnson then was stripped of the ball which was recovered by the Dolphins. Nine plays later the Dolphins scored a touchdown. It was a swing of 14 potential points. On Buffalo's third drive C.J. Spiller had just run for a 62-yard gain putting the Bills on the Dolphins 23-yard line. The next play was another perfectly placed throw by Ryan Fitzpatrick. Johnson caught the ball and fell into the endzone. However, when Johnson hit the turf the ball popped out. Incomplete pass by NFL rules. The Bills ended up kicking a field goal, but Johnson cost Buffalo 4 points here as well. Johnson finished with a delay of game penalty later in the game, but the Bills ended up scoring a touchdown on the drive. I still like Johnson a lot and think the Bills will be throwing to him often against the Jets to try to get him to 1,000 yards receiving, but he hurt the Bills a lot against the Dolphins. 2. Next week will be Chan Gailey and Ryan Fitzpatrick's final games as Buffalo Bills. I'm a believer in continuity, I truly am. However, the Bills cannot afford to show continuity with Chan Gailey or Ryan Fitzpatrick. Gailey's offense is far from innovative and he does not use his best offensive talent, C.J. Spiller, wisely. That alone is enough to hand Gailey his walking papers. As for Fitzpatrick? His contract is basically a series of one year deals now so Buffalo would be wise to cut ties with him and place the savings toward Jairus Byrd or Andy Levitre. The 2012 Draft isn't full of elite NFL QB prospects, but there are plenty of very good QBs available and I rather take a shot on one of these prospects in 2013. 3. The Bills May Finish with a Top 5 Pick. If Buffalo loses to the Jets and some other games go their way, Buffalo could pick as high as 4th in the 2013 NFL Draft. Right now, Buffalo sits at pick 6 and there are plenty of great prospects that will be available for Buffalo. Manti Te'o and Jarvis Jones are two that come to mind. Also, if Nix was serious about trading up for a QB, going from pick 4 to pick 1 is a possibility. It'd be costly in terms of picks, but a definite possibility if they fall in love with Geno Smith. 4. Add Tight End to Buffalo's List of Needs. Scott Chandler's injury was exactly what the Bills didn't need. He may not be ready for the start of the 2013 season, so the Bills are likely to add another TE via free agency or the draft. Chandler's importance cannot be ignored as he's become a reliable pass catcher and a threat in the red zone. Hopefully the Bills can find someone to fill in for him until he recovers. 5. Buffalo Isn't As Bad of A Destination for Potential Head Coaches As Some Think. I'm not sitting here saying the Bills are going to land a hot college prospect like Chip Kelly or a top notch coach like Bill Cowher, but plenty has changed since 2009. First, Buffalo's roster is drastically improved from 2009. Their record may not show it, but the Bills have a star at RB, a good WR, excellent offensive and defensive lines, and some young talent in the secondary. Also, having a high pick in the 2013 draft will be somewhat appealing too. This is minor, but it's still good for the Bills. Next, there are only 32 NFL head coaching positions and there will only be so many openings this year. If you want to be an NFL head coach, you'll explore all of your options. Last, money talks. If Buffalo is serious about adding a big time head coach, they'll pay handsomely for it. Buffalo has some uncertainty attached to it with an aging owner, but Buffalo's new lease should quell some of that uncertainty in terms of relocation.     The post 5 Things I Billieve Following Buffalo's 24-10 Loss to the Dolphins appeared first on Queen City Sports.
Original Story:
http://queencitysports.net/bills/5-th...
MORE FROM YARDBARKER
Bills News

Delivered to your inbox

You'll also receive Yardbarker's daily Top 10, featuring the best sports stories from around the web. Customize your newsletter to get articles on your favorite sports and teams. And the best part? It's free!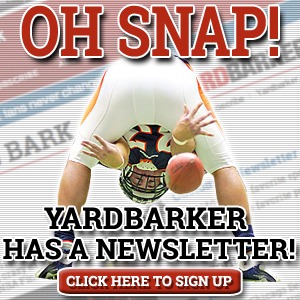 Latest Rumors
Best of Yardbarker

Today's Best Stuff

For Bloggers

Join the Yardbarker Network for more promotion, traffic, and money.

Company Info

Help

What is Yardbarker?

Yardbarker is the largest network of sports blogs and pro athlete blogs on the web. This site is the hub of the Yardbarker Network, where our editors and algorithms curate the best sports content from our network and beyond.