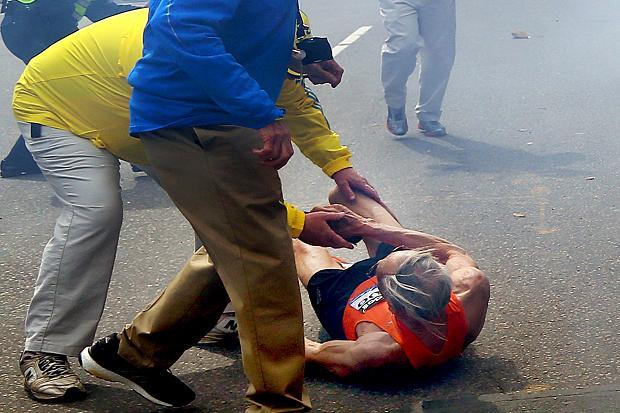 The elderly man captured on video getting knocked to his feet — at the moment the first blast went off near the finish line of the Boston Marathon Monday — and John Tlumacki's dramatic photo have become two of the most viewed images of the tragedy.  Now the man's face has come to represent the spirit and determination to overcome this senseless crime after he got up and finished the race. Bill Iffrig, the 78-year-old man in the orange tank top was knocked off his feet just yards from the finish line when the first explosion detonated, said his legs turned to "noodles" from the force of the blast after running four hours in his third Boston Marathon. As Boston cops, race volunteers and spectators scattered for safety and to help others, Iffrig was helped up by a race official and managed to cross the finish line. Last night he told ESPN how he knew he was "going down" when he was knocked over by the explosion and knew it was a bomb. "It was only....feet away from me," he s...
Read the rest of this story...
MORE FROM YARDBARKER:
Cult of Sport: Before there was Ezekiel Elliott, there was Eric Dickerson
MORE FROM YARDBARKER
All Sports News

Delivered to your inbox

You'll also receive Yardbarker's daily Top 10, featuring the best sports stories from around the web. Customize your newsletter to get articles on your favorite sports and teams. And the best part? It's free!