Found July 19, 2013 on NY Rangers Blog:
According to iSport.cz, a Jaromir Jagr/Rangers reunion could be in the works. iSport says that the Rangers have the fiscal space to sign the UFA Jagr as they are $3M under the cap. ...apparently the guys over at iSport haven't been following the Rangers this offseason. While they're correct that the Rangers have $3M in cap space, they left out the fact that the Blueshirts have yet to re-sign Stepan and Zuccarello. And I'm not sure about you guys, but I think bringing Stepan back is a tad more important than a Jagr/Rangers reunion. ...Jagr is one of the biggest reasons the Rangers were able to climb out of the dark ages of the late 90s/early 2000s and I think he'd bring a nice veteran presence as well as some goal scoring to the Rangers, but I'm not ready for them to radically alter their roster to open up cap space and bring in a 41-year old former super star. That's the old Rangers way of doing things. ...i don't see this happening. ...
Original Story:
http://www.nyrangersblog.com/2013-art...
THE BACKYARD
BEST OF MAXIM
RELATED ARTICLES
The NHL released the 2013-14 schedule Friday and revealed new division names.   The new four division names are Atlantic, Metropolitan, Central and Pacific. The Atlantic and Metropolitan divisions make up the Eastern Conference and each division has eight teams. The Central and Pacific 
NOT IN OUR HOUSE
Justin Bieber created a stir last week when he visited the United Center and stood on the Chicago Blackhawks logo in the team's locker room. Bieber is from Canada, so many hockey fans felt he should know that stepping on the team logo is bad luck and considered disrespectful. He insisted it was an innocent [...]
After a small delay, the NHL has finally released their season schedules for each team.  It had been delayed because of trying to work around Olympic scheduling. Without any further delay let's dig into what these season holds for the Bruins.   2013-2014 Schedule (Games in Bold = Intriguing Contest) OCTOBER: Thu. Oct. 03 Tampa Bay 7:00PM Sat. Oct. 05 Detroit 7:00PM Thu. Oct....
Bruins forward Jordan Caron, who has bounced back and forth between Boston and Providence over the last three seasons, will call Boston his permanent home starting this fall. CSNNE.com Bruins insider Joe Haggerty is reporting that the B's have signed Caron to a one-year, one-way deal worth $640,000. Caron was a restricted free agent. The Bruins first round pick in 2009 is coming...
We last heard from Jaromir Jagr on Tuesday of this week when he posted a strange video on his Facebook page. In it, he said that he would have an update for us on Wednesday and that when it comes to his NHL future he "sees a lot of black." Well, it's now Friday and we've yet to hear an update from Jagr and his search for a new NHL team. What we do have is a report...
So apparently Jordan Caron signed a one year contract recently, but no one really knew about it. The amazing people of Capgeek tweeted out Caron's contract details, which look like this:  So Caron basically takes a 50% paycut to stay on the team. You have to wonder if Chiarelli is going the Tuukka Rask route and told the kid he needs to prove himself before they give...
In case you forgot, pop sensation Justin Bieber broke a cardinal hockey superstition when he unwittingly stepped on the Blackhawks logo in the Chicago dressing room while snapping a photo of the Stanley Cup earlier this month. With the Biebs in town to play the TD Garden on Saturday night, the Boston Bruins were taking no chances, as they hilariously set up a barricade around their...
Have Jaromir Jagr and his amazing playoff beard skills found a new team? (AP Photo) Finding a new NHL team is nothing new for 41-year-old winger Jaromir Jagr. The ageless forward made a return to NHL action in 2011-12 with the Philadelphia Flyers before playing with Dallas and Boston in 2012-13, making his first Stanley Cup appearance since 1992. Now, after a lengthy free agency...
Boston Bruins draftee and current UND goalie Zane Gothberg coaches a group of youth hockey players during a clinic in Burlington. Gothberg is currently attending the Boston Bruins prospect camp. Related articles Check out the O'Gara Blog Zane Gothberg mention (ndgoon.blogspot.com)
It's been almost two months since the Boston Bruins swept the Pittsburgh Penguins in the Eastern Conference finals, which is apparently enough time for Pens star Sidney Crosby to begin the emotional-healing process. It's also enough time for him to begin the physical-healing process, as his surgically repaired jaw continues to mend. Shortly after the series ended, Crosby...
The Bruins and the rest of the NHL found out their schedule for the 2013-14 schedule on Friday afternoon, and with the return to the 82-game schedule this season, the B's will get a look at the entire league. After getting a quick glance at the Bruins' schedule, there are a handful of games that stand out right away. Here's a quick look at some of the games to watch this season...
After what happened to the CHicago Blackhawks, the Boston Bruins weren't about to risk having Justin Bieber step on their sacred logo in their locker room. The Bruins put up a barricade so the Biebs wouldn't be able to step on their logo. Smart. [Barstool] Article found on: Next Impulse Sports
Bruins News

Delivered to your inbox

You'll also receive Yardbarker's daily Top 10, featuring the best sports stories from around the web. Customize your newsletter to get articles on your favorite sports and teams. And the best part? It's free!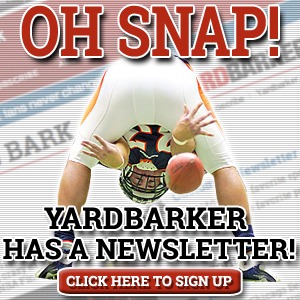 Latest Rumors
Best of Yardbarker

Today's Best Stuff

For Bloggers

Join the Yardbarker Network for more promotion, traffic, and money.

Company Info

Help

What is Yardbarker?

Yardbarker is the largest network of sports blogs and pro athlete blogs on the web. This site is the hub of the Yardbarker Network, where our editors and algorithms curate the best sports content from our network and beyond.