Found February 11, 2013 on Obstructed View OLD:
Last year was the final time that the Cubs really flex their financial advantage on the IFA market. After missing on Yoenis Cespedes (who is incredible), the Cubs hit on two of the big-ticket Latin American players. The first was Gerardo Concepcion, who is pretty much a non-prospect at this point. The other is Jorge Soler, who looks like he could be a very good player. Soler signed a 9-year, 30 million dollar deal that will pay him through 2020 (though he can opt out and go to arbitration when that starts). The Cubs never pay him more than 4 million in a single year, and his last year years will be age 26, 27, and 28. That's what a nice IFA contract looks like. Offense Soler doesn't have a great batting stance, from what I've seen. He's sort of straight up, and his swing seems really hard on his lower back. That being said, he's got prototypical power from RF. He could hit 25-30 HR as long as his hit tool progresses like it should. He didn't strike out that much and walked well enough for the lower levels. His bat speed (it's great) should allow him to make decent contact, and hopefully he won't strike out a ton. Soler has pretty good speed so he should be able to maintain a higher-than-average BABIP and provide some value on the basepaths. He likes to steal bases (12/1 last year in 149 PA and 35 chances), so look for that to be a part of his game in the future as well. Year Age Tm Lg Lev Aff G PA AB R H 2B 3B HR RBI SB CS BB SO BA OBP SLG OPS TB GDP HBP SH SF IBB 2012 20 2 Teams 2 Lgs A-Rk CHC 34 149 134 28 40 7 0 5 25 12 1 12 19 .299 .369 .463 .832 62 3 3 0 0 2 2012 20 Cubs ARIZ Rk CHC 14 61 54 14 13 2 0 2 10 8 0 6 13 .241 .328 .389 .717 21 0 1 0 0 0 2012 20 Peoria MIDW A CHC 20 88 80 14 27 5 0 3 15 4 1 6 6 .338 .398 .513 .910 41 3 2 0 0 2 1 Season       34 149 134 28 40 7 0 5 25 12 1 12 19 .299 .369 .463 .832 62 3 3 0 0 2 Defense Some scouts say that Soler's arm is his best tool. He has a consensus cannon from RF, and the speed to play the position very well. Soler should be a plus defender in the big leagues; however, I wonder why he isn't tried out at CF (probably because he doesn't have plus speed). Scouts also say he has poor routes; I expect that to be fixed by the minor league coaching. Summary Soler is very, very raw. He didn't have much competition in Cuba, and I the level of competition he faced is maybe comparable to Low-A. He's going to work through the minors as slowly as a normal high-school prospect. He'll need to learn how to hit good pitches, and he'll probably have to clean up his stance a little bit. On the plus side, he's got plenty of tools in the toolbox. He's got legit plus power and a plus arm. He's got more than enough speed to be a great RF and the bat speed to be competitive in the majors. There is significant risk to Jorge Soler, but the upside is huge. The post Better Know a Cub: Jorge Soler appeared first on Obstructed View.
Original Story:
http://www.obstructedview.net/minor-l...
THE BACKYARD
BEST OF MAXIM
RELATED ARTICLES
A little over a week ago, we started our 2013 Cubs projections series by looking at Welington Castillo. The plan is to just go from catcher to 1st to 2nd and so on. Up today is Anthony Rizzo. For more than half a decade the Cubs got a .385 wOBA out of their 1st baseman. Derrek Lee was traded midseason in 2010, but from 2004 through 2010 he posted a .385 wOBA, put up a couple MVP...
The Chicago Cubs approached pitcher Jeff Samardzija about a contract extension this winter offering the right hander a five-year deal. After some talking Samardzija turned down the Cubs offer. "We both want me to be here and both want me to be part of this team for a long time. When we feel like we're on the same page with that, we'll get it done." Samardzija told the Chicago...
Cubs pitchers and catchers report today so we can finally get down to talking about some serious baseball stuff like bunting tournaments and if there is any purpose at all for Steve Clevenger. But for now, this is the time on Sprockets when we dance! The post Mesa, Arizona, Cubs Pitchers and Catchers are In You appeared first on Obstructed View.
The Chicago Cubs added a little depth to their roster on Sunday when the team announced they reached a two-year agreement with OF Scott Hairston. The deal is worth a reported $5 million for two years. In order to clear a roster spot for Hairston, the team made a move with OF Tony Campana, who was designated for assignment. Chicago general manager Jed Hoyer told reporters that he...
As an initial partnership with Chat Sports, World Series Dreaming is going to look at the five Cubs players that we believe will be most interesting to watch as the 2013 season gets underway.  This team, while not expected to seriously contend, is still deeper and more talented than the 2012 version that lost 101 games.  There have been multiple additions to the starting rotation...
Remember this picture? This was one of the very first things Chicago Cub fans saw after Theo Epstein was hired as the new President of Cubs Baseball Operations. Those of you who do not know of Christian beliefs, this image mimics Jesus Christ walking on water, giving one sign that he was more than a mere mortal man. This act, gave one disciple all he needed to believe that he was...
News out of Mesa, Arizona today on the first day that pitchers and catchers report. The Chicago Cubs and outfielder Scott Hairston agreed to terms: two-years, $5 million contract. To make room for Hairston on the 40-man roster, outfielder Tony Campana was designated for assignment. The deal was reported last month and is now finalized. Scott Hairston, who can earn an additional ...
The Cubs finalized a deal with newly-acquired outfielder Scott Hairston, who they signed as a free agent last month.   That they got Hairston, who signed a two-year deal, into the fold isn't necessarily the real story in Chicago. Yes, he hit 20 home runs with the New York Mets last season, and yes, he [...]
Just about every media outlet that matters, including Carrie Muskat, has reported that Tony Campana has been designated for assignment to make room for Scott Hairston.  The Cubs 40-man roster is now full up again, but just replace Campana's name with Hairston's.  At this point the Cubs have 10 days to waive, trade or release Campana.  But I think there's a good chance that...
The devastating news du jour as pitchers and catchers reported today was that Cubs legend (TM) Tony Campana was designated for assignment and thus likely exposed to waivers assuming that the Cubs can't trade him.  There is actually a good chance that some random team (my guess is the Atlanta Braves) will use one of their open spots to claim Tony, and then the cycle of Cubs fan...
One of the benefits of being a parent is being able to watch television shows that you would otherwise feel guilty about watching by yourself. My daughter has become a fan of the most recent version of the Teenage Mutant Ninja Turtles. The new version has made numerous changes to the cartoon and movies that I watched as a child, but the same basic premise of the main characters is...
Cubs News

Delivered to your inbox

You'll also receive Yardbarker's daily Top 10, featuring the best sports stories from around the web. Customize your newsletter to get articles on your favorite sports and teams. And the best part? It's free!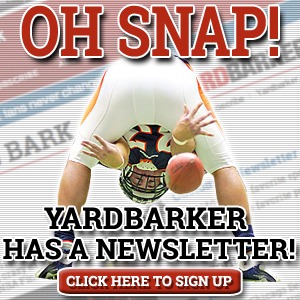 Latest Rumors
The Backyard

Today's Best Stuff

For Bloggers

Join the Yardbarker Network for more promotion, traffic, and money.

Company Info

Help

What is Yardbarker?

Yardbarker is the largest network of sports blogs and pro athlete blogs on the web. This site is the hub of the Yardbarker Network, where our editors and algorithms curate the best sports content from our network and beyond.