Catch up on the last 24 hours in Nationals news as we patiently wait for pitchers and catchers to arrive in West Palm Beach, FL. Less. Than. One. Week. Until. Baseball. Things. Heres the news from Nats Park:
Former major league general manager and current MLB Network analyst Dan O'Dowd said outfielder Juan Soto, ranked at No. 29 on MLB.com's top 100 prospects list, is another nice outfield prospect that brings a lot to the table, but a little bit different than what you would see from top ... Read More
Catch up on the last 24 hours in Nationals news before you get an early start on your weekend... So, here we are, two days
MLB.com released its annual top 100 prospects list and the Nationals had three players ranked. Center fielder Victor Robles was listed at No. 6, while outfielder Juan Soto is No. 29 and shortstop Carter Kieboom checks in at No. 90. This list was in contrast to the Baseball America 2018 ... Read More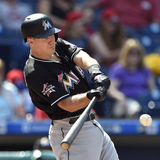 As the Marlins' offseason fire sale continues with the trade of Christian Yelich, it seems attention will now turn to catcher J.T. Realmuto. With three years of control remaining, he's even closer to free agency than was Yelich, so perhaps only a sufficient offer stands in the way of a deal.At this point, the Nationals are the organization that is "most heavily engaged" in pursuit...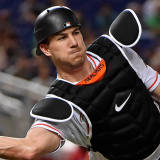 A new ownership group in Miami (headlined by Derek Jeter) has kicked off a fire sale. Dee Gordon is now a Mariner, Giancarlo Stanton a Yankee, and Marcell Ozuna a Cardinal, and there's no telling whether the Marlins are done yet.In the wake of this significant shift in direction for the organization, catcher J.T. Realmuto has reportedly requested a trade out of the city. While the...
Two outstanding outfielders round out the list of top 10 Nationals prospects for 2018, according to Baseball America: Juan Soto and Victor Robles. This entry is devoted to Soto and his immense potential for this upcoming season. Baseball America national writer Carlos Collazo said injuries slowed Soto's maturation process in ... Read More
A couple of weeks ago, I looked at the 10 hitting prospects who had most improved their KATOH+ projections over the season's first few weeks. Now that we have a more meaningful sample of games to analyze and a new Baseball America top-100 list baked in, I'm repeating that exercise. It's still early in the season, but not too early to start identifying players who are performing better...
In an effort to keep up with their parent club, the Hagerstown Suns of the Low-A South Atlantic League have gotten off to a blistering start; going 19-12 through 31 games on the back of their high powered-offense. One of the driving forces behind Hagerstown's success has been Dominican outfielder Juan Soto, who has caught the eye of scouts across the baseball world. The young outfielder...
Nationals prospect Juan Soto went down with a right ankle injury in a game May 2. The right fielder injured the ankle sliding into home when he got tangled up with the catcher. Soto, from Santo Domingo, Dominican Republic, has been placed on the seven-day disabled list. Team officials say ... Read More
MORE STORIES >>
Nationals News

Delivered to your inbox

You'll also receive Yardbarker's daily Top 10, featuring the best sports stories from around the web. Customize your newsletter to get articles on your favorite sports and teams. And the best part? It's free!