Found November 13, 2012 on Kukla's Korner:
from Jeff MacGregor of ESPN, And in the whole, long history of disasters and capitalism, has there ever been a bigger disaster than the National Hockey League or its mortician, Gary Bettman? The decommissioner has managed in just 20 years to make the league invisible. An afterthought. An unfunny punch line to a joke no one recalls. By his own accounting, the league is poised on the brink of insolvency. Again. Still. A constant invalid. Bettman's legacy will be $60 million league "relocation fees," a shell game of mishandled franchises and indifferent cities, ineptitude and cupidity and a National Hockey League too big in fact and too small in the imagination. And a long history of bungled union-busting. On behalf of his owners, whenever the CBA comes up for renewal it has been Bettman's practice to bring a gun to what should be a butter knife fight. And even those fights he loses. The game staggers on. In arenas built by taxpayers. All due respect to t...
Original Story:
http://kuklaskorner.com/hockey/commen...
THE BACKYARD
BEST OF MAXIM
RELATED ARTICLES
Ansar Khan of Mlive answers questions from readers... Q. From all that I have read and heard, the players and fans have one common enemy, Gary Bettman. The level of hate regarding this man is epic. The players could win over the fan base by saying to the owners, "We will take less if you would remove Mr. Bettman as commissioner.'' Have you heard anything along these...
Gary Bettman is not a popular person. With anyone. He's been the face of the owners in the NHL lockout and so far, the owners have been accused of being everything from tone deaf to Satan. That doesn't give the guy a lot of good PR. Factor in the fact that he also gets the blame (sometimes justifiably, sometimes no) for everything ever wrong about the NHL, and you get a lot...
from Nicholas J. Cotsonika of Yahoo, The Hockey Hall of Fame is not a church. It just feels like one – the stained-glass ceiling soaring in the Great Hall; the Stanley Cup sitting upon a pedestal, like a chalice upon an altar; the honored members immortalized on frosted-glass plaques, looking like ghosts. It is tempting to call it "the sanctuary of our game,&quot...
from Ian Mendes of Sportsnet, As for those media members who are suggesting that his presence tonight will be a major distraction, I have a simple question for you: Who controls the stories that are published on a daily basis? Last time I checked, those of us in the mainstream media dictate the major hockey stories of the day. So what if we decided that for the next...
from Bruce Garrioch of the Ottawa Sun, Ray isn't blaming the owners or the players. He believes both sides have to share responsibility for not being able to get a deal in place to avoid this mess, but he did note that commissioner Gary Bettman has a track record. "I could sit and say Bettman is a jerk but he's done a decent job growing the game and with TV...
from Mark Spector of Sportsnet, Even people on Gary Bettman's side no longer know what they're fighting for. Three league executives contacted Monday all gave the same general answer when we asked why Gary Bettman should care how the players' money gets split up, as long as he gets them to 50-50 with the players. To a man, the three voices echoed the same...
#CBA According to Fehr, NHL commissioner Gary Bettman said during meeting that "we're past the point of give-and-take." — Katie Strang (@KatieStrangESPN) November 11, 2012   #CBA Fehr said he "suspects it won't be too long" before 2 sides meet again, but no immediate plans. PA will also request talks shift to TO — Katie Strang (@KatieStrangESPN...
from Damien Cox of the Toronto Star, Attack NHL commissioner Gary Bettman. Personalize the disagreement. Make it appear as though the labour battle is all Bettman's doing. Emphasize that the union gave "massive" concessions seven years ago. Question why owners are gagged and not allowed to speak freely. NHLPAers have hit those notes consistently over the first 60 days...
Comedian Lenny Clarke was not pulling any punches in his rant against Gary Bettman and Donald Fehr on NESN Daily. He called the commissioner of the NHL and the executive director of the NHLPA "morons," and said that they needed to get the game back on the ice. Clarke certainly echoed the feelings of many hockey fans when he said he wanted to get the NHL players back home from...
from Michael Arace of the Columbus Dispatch, The players are united and more or less willing to wait it out. As for the owners, some of them like the lockout because they are not losing money, so they're adamant about gouging the players; others are following the hardliners because they are just wired that way; still others are yachting because they will be printing money...
I love football, but this Thursday Night Football nonsense has got to go. It's a shameless money grab by a shameless corporation; nothing more. The games are awful. The players hate it. The coaches it. As a fan, I hate it. It's the worst decision any group of owners has ever made since the NHL owners said in 1993, "Hey we should hire that Gary Bettman guy." And yet, here...
All Sports News

Delivered to your inbox

You'll also receive Yardbarker's daily Top 10, featuring the best sports stories from around the web. Customize your newsletter to get articles on your favorite sports and teams. And the best part? It's free!
THE HOT 10: Who's Trending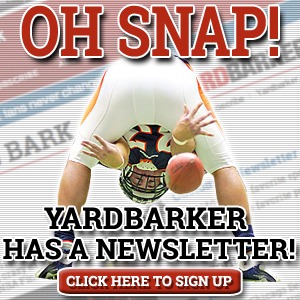 Latest Rumors
Best of Yardbarker

Today's Best Stuff

For Bloggers

Join the Yardbarker Network for more promotion, traffic, and money.

Company Info

Help

What is Yardbarker?

Yardbarker is the largest network of sports blogs and pro athlete blogs on the web. This site is the hub of the Yardbarker Network, where our editors and algorithms curate the best sports content from our network and beyond.