Found 26 days ago on Sports Mockery:
PLAYERS:
Brad Richards
,
Paul Stastny
,
Jason Spezza
,
Brian Boyle
,
Olli Jokinen
,
David Legwand
,
Vincent Lecavalier
,
Rick Nash
,
Martin St. Louis
TEAMS:
Chicago Blackhawks
,
St. Louis Blues
,
Dallas Stars
,
Tampa Bay Lightning
,
Nashville Predators
,
Ottawa Senators
,
Philadelphia Flyers
,
New York Rangers
,
New Jersey Devils
As a pessimist by the very definition I must admit that on July 1st I let my inner-optimist get the best of me upon discovering the Blackhawks had signed veteran center Brad Richards. Nearly half a day had passed since free agency officially opened and just about every name transcribed on my free agent wish list had been scratched off by this point in time. To make matters even worse, a number of free agency's most coveted names were acquired by division foes. As a realist and avid NHL aficionado, my prospects weren't very high as the market opened. I was aware that unless the Blackhawks were able dump at least $5-6 million in cap space the prospects of landing such big names as Paul Stastny, Ryan Kesler or Jason Spezza were simply unrealistic. The remaining names on my list, if I could remember correctly, included centers Brian Boyle, Olli Jokinen, David Legwand and Brad Richards, "consolation prizes"  as I referred to them. While Boyle is a situation center who specializes in face off wins and penalty killing,  Jokinen, Legwand, and Richards are seasoned veterans that could provide just enough spark to jump start the Blackhawks offense from good, but flawed, into elite status. If the outrageous contracts other sub-star players were receiving on July 1st were any indication of what Boyle, Legwand, Richards and Jokinen were demanding, I expected each to be well out of the Blackhawks price range. Then the news broke. "Highway robbery" I thought as it was announced Richards had signed with the Blackhawks for a minuscule 1-year contract worth $2 million. "Finally a second-line center!" I thought. After years of experimentation the Hawks had finally gotten their man. Then time passed and I came to my senses. The pessimist in me had returned. The prospect of Brad Richards at second-line center began transitioning into the reality of Brad Richards at second-line center. This reality: Richards had utilized his previous three seasons to become the NHL's poster child for hype and ultimate disappointment. In his prime, Richards was an offensive force for the Tampa Bay Lightning. Along with forwards Martin St. Louis and Vincent Lecavalier, the eventual Conn Smythe winner helped lead the Lightning to a Stanley Cup championship in 2004. It's no mystery that the 34-year old Richards is no longer the player he was a decade ago. After setting a career high in points (91) during the 2005-2006 season, Richards' offensive production decreased significantly in the years following. This was until 2009-2010 when Richards erupted as a member of the Dallas Stars for another 91 point season to match his career high. The following year Richards posted 77 points in 72 games. Coming off his two most productive seasons in nearly five years, Richards was awarded a colossal 9-year, $58.5 million deal with the New York Rangers. Evidenced through the media praise the signing had garnered, the Rangers were convinced they had finally found their missing puzzle piece at second-line center. The Rangers had been on the verge of a major breakout for years. Richards, along with the acquisition of winger Rick Nash, were viewed as essential pieces that would undoubtedly elevate the Rangers to an elite level. In his first season as a Ranger, Richards recorded only 66 points in 82 games – well below the point-per-game average the centerman had achieved during his previous two seasons with Dallas. Richards' first season was not a complete failure, though; as he led the team in points during a postseason run which saw the Rangers reach the Eastern Conference finals, ultimately falling the New Jersey Devils in 6 games. 2012-2013 marked Richards' harshest season to date. Injuries limited the aging center to only 46 contests during the regular season. During that stretch of action, Richards logged only 34 points in 46 games. The 2013 playoffs proved to be the stuff of nightmares for Richards. Richards was a healthy scratch for the final two games of the Rangers 12 game playoff run. The preceding three contests saw Richards demoted to the team's fourth line. In 10 playoff contests, Richards recorded only a single point and finished with a plus/minus of -3. Fans and media, alike, were growing restless with the $6.6-million cap hit. Richard's final season with the Rangers proved no different: 82 games, 51 points. The Rangers even acquired Richards' former linemate with the Tampa Bay Lightning Martin St. Louis to help jumpstart the faltering veteran. The acquisition of St. Louis, the previous seasons' Art Ross Trophy winner, proved ineffective. Again Richards was a virtual no show during a Stanley Cup Playoff run which saw the Rangers qualify for their first Stanley Cup final since 1994, amassing only 12 points and -2 rating in 25 games. On June 20th, 2014, Richards was bought out three years into his nine-year contract. Where I am getting at Blackhawks fans is this: Don't believe the headlines that declare Richards the messiah to all the team's problems -like this bozo. A messiah, Brad Richards is not. Richards is cement inside a pothole – a quick fill. His purpose is to temporarily solidify the second-line position until the long-term solution is ready. This is evident within his contract. The Blackhawks needed a center and Richards needed a home that provided him with a chance to win. If the Blackhawks truly believed they were getting their man, Richards would be making much more than $2 million. This was a no risk signing – a playful experimentation which brings in a aging but skilled center at the tail end of his career into a melting pot of talented youth, savvy veterans and elite superstars. If Richards excels with the Blackhawks, which he very well could, then be sure to print out this article and litter my front lawn with it. If worst comes to worst, Brad Richards is your newest fourth-line center and the Blackhawks simply revert to the strategy of second-line center juggling that garnered the franchise two Stanley Cups in four years. Until then, beware of Brad Richards.   Sources: ESPN, New York Times, Bleacher Report 39 total views, 39 views today The post Beware of Brad Richards appeared first on ✶ Sports Mockery ✶ Chicago Breaking Sports.
Original Story:
http://sportsmockery.com/2014/08/bewa...
THE BACKYARD
BEST OF MAXIM
RELATED ARTICLES
Lets set things straight. Patrick Sharp isn't going anywhere. …for the time being. It is all but set in stone that when the Blackhawks take the ice on October 9th against the Dallas Stars your beloved #10 will be in his familiar position on a wing along with fellow linemates Jonathan Toews and Marian Hossa. Will he last the entire season with the Blackhawks, though, is anyone's...
The Chicago Blackhawks will no longer play "The Stripper" during their Shoot the Puck contests. They made this decision in response to public outcry from Blackhawks fans who find the song sexist and demeaning to women. The #BanTheStripper hashtag which launched the Twitter movement, as well as the petition for the Blackhawks to treat their female fans the same as their male fans...
Back in 2010 the Chicago Blackhawks used the 24th overall pick to draft a talented but very young Kevin Hayes. At the time Hayes was still in High School and decided to go to college, spending the last four years playing for and often winning with Boston College. When he graduated this year the hockey world was rife with speculation about where he'd sign. Having been drafted by...
Former Chicago Blackhawks center and current NHL on NBC analysts Jeremy Roenick has never had issues finding the words to express how he feels no matter if it's praise or criticism. In a recent interview with ESPN Roenick talked about how much he liked the fact that the Blackhawks have now locked up Patrick Kane and Jonathan Toews until 2023… "When I signed my contract, the...
The Kevin Hayes saga has finally come to an end as the once highly touted Chicago Blackhawks prospect has signed with the New York Rangers. Word's out: Kevin Hayes agrees to deal with Rangers. Location was important. MSG's an easy trip for #bigdaddy — Mark Divver (@MarkDivver) August 20, 2014 If you remember Hayes was drafted by the Blackhawks in the first round of the 2010...
"I think they're one of the strongest built teams in the league. With them, they have amazing star power surrounded with good quality core players. The addition of Brad Richards coming over there as a role player who can help on the power play and be a good leader, brings another experienced guy into a locker room of winners." "I think team has done a very good...
Coveted college free agent Kevin Hayes, originally a first-round draft pick of the Blackhawks, has signed with the New York Rangers today. The 6'2″, 201 lb. right wing just finished up a collegiate career at Boston College where he scored 44 goals and had 132 total point in 142 games. The Blackhawks made Hayes the No. 24 pick in the 2010 draft, but could not agree to a contract...
All Sports News

Delivered to your inbox

You'll also receive Yardbarker's daily Top 10, featuring the best sports stories from around the web. Customize your newsletter to get articles on your favorite sports and teams. And the best part? It's free!
THE HOT 10: Who's Trending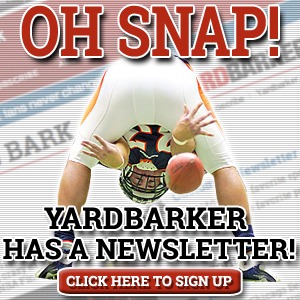 Latest Rumors
Best of Yardbarker

Today's Best Stuff

For Bloggers

Join the Yardbarker Network for more promotion, traffic, and money.

Company Info

Help

What is Yardbarker?

Yardbarker is the largest network of sports blogs and pro athlete blogs on the web. This site is the hub of the Yardbarker Network, where our editors and algorithms curate the best sports content from our network and beyond.