Found December 10, 2012 on Ravens Football Machine:
Usually a team fires its offensive coordinator when it is mired in the depths of a losing season. The Ravens are 9-4 with a 2-game lead in their division race. What caused the panic that resulted in the firing of OC Cam Cameron, who's been with the Ravens since 2008 and has been a part of 5 playoff season drives since then ? My own theory is Joe Flacco wants to run no-huddle---and Cam Cameron takes him out of it. Something had to give. Two consecutive 3-point losses forced the issue. We may never know the whole story. Whom was John Harbaugh arguing with on the headphones at the Redskins game? The plot thickens...         I feel bad for Cam. He has settled in the Baltimore suburbs and has kids who are greatly involved in local schools and sports activities. Nobody doesn't like Cam Cameron the gentleman and family man. There are only the flamethrower fans and media slaves who hate Cam's playcalling. Most of the time these unqualified critics are completely off base in their understanding of exactly what an OC is up against in his challenge to counter a given defense on a given set of downs. It is always changing, a dynamic set of metrics. It's not just about schemes, it's also about personnel packages. Nothing is constant. And for those geniuses out there who say Ray Rice must get 20 touches a game, there will be days when there are 8 or 9 in the box, or when Rice is double-teamed or triple-teamed in coverage. Cam's not going to call #27's number a whole bunch of times on days like that. Only an idiot would. Meh, we'll get to the bottom of Cameron's dismissal eventually. Ironically, the guy called a great series of playoff games just this past January. He came within a tragic dropped pass of going to the Super Bowl. Ravens coach John Harbaugh, who has long stood by Cameron amid tremendous criticism from the fan base, informed him of the decision this morning. Cameron left the team facility after hearing the news. Harbaugh then met with the coaching staff and with Flacco, who was in the building to watch film of Sunday's game with QB coach Jim Caldwell. Caldwell, who has never had the title of offensive coordinator in his career, will assume play-calling duties.  With Cameron calling the plays, the Ravens haven't ranked better than 13th in the NFL in terms of yards per game and better than ninth in points scored per game. But so what, as long as you are winning?---and Cameron's teams in Baltimore have won despite a lack of elite offensive playmakers. In what was billed as a potential breakout season for the offense, the current group is ranked 17th in yards per game (108.8) and ninth in points per game (25.5). However, Flacco hasn't shown the progress that most expected this season and he's recently shown outward signs of frustration with how the offense was playing. In an interview with The Baltimore Sun last week, Flacco admitted that he was frustrated that the team had gone away from the no-huddle offense. Asked why that happened, Flacco replied, "I don't know." It's been widely known that Flacco and Cameron have never had the best working relationship, but the Ravens' decision today goes beyond that. Cameron has been criticized for running too vanilla of an offense and not involving Pro Bowl running back Ray Rice in the game plan more. Flacco has been making big-time throws that have not been caught. That much is evident to me. Had catchable deep balls been hauled in as often as they should have been caught this season, we'd be singing the praises today of Cam and Joe's high-powered high-flying offense. You can go back and watch the tape and figure that out for yourself. In fact, on the WBAL-AM broadcast of the Redskins game, announcer Gerry Sandusky openly questioned Torrey Smith's eyesight related to the drops or depth perception of Joe's passes. And frankly, it would not surprise me if both Smith and Jacoby Jones are overdue for visits to the opthalmologist. But Cam takes the fall for the great deep plays that ended up as drops. "It's not about fair or unfair, right or wrong," Harbaugh said today. "My responsibility is to the whole team and what's best for them right now. We need a change. Our plan and our goals are to win games, win our division and get to the playoffs. We have a lot of work to do, and we have the coaches and players in place to achieve our goals this season. We are working on that right now. I'm excited about where we are and where we are going." Be careful what you wish for, John. Because you're headed into a 3-game meatgrinder of a schedule the rest of December 2012 that may leave you wishing you had kept Cam around.  
Original Story:
http://www.ravensfootballmachine.com/...
THE BACKYARD
BEST OF MAXIM
RELATED ARTICLES
Every since I moved to Baltimore in 2010, I have heard nothing but endless criticism of Cam Cameron and his play calling abilities.  There was no doubt Cameron was successful with previous teams, and the Ravens fans weren't scared to admit this fact, but he was not utilizing Baltimore's weapons the way the fan base wanted. As the seasons wore on, the fan base agreed that Cam...
Cam Cameron has been fired as offensive coordinator of the Baltimore Ravens, who have lost two straight and are still striving for consistency in the running and passing game. Cameron ran the team's offense since the start of the 2008 season, when current coach Jim Harbaugh replaced Brian Billick. Since that time, the Ravens' attack has repeatedly taken a back seat to the...
It was another disappointing loss for the Baltimore Ravens, the AFC North divisional leader, who were beaten by the Washington Redskins in overtime yesterday 31-28.In a tight division two straight losses can mean self destruction for your divisional lead.Luckily, both the Pittsburgh Steelers and Cincinnati Bengals lost their games leaving Baltimore with a two game cushion for the...
According to ESPN's Adam Schefter, the Baltimore Ravens have fired offensive coordinator Cam Cameron and have replaced him with quarterbacks coach Jim Caldwell. Ravens dismissed offensive coordinator Cam Cameron and replaced him with quarterbacks coach Jim Caldwell. — Adam Schefter (@AdamSchefter) December 10, 2012 You typically don't see a team with a 9-4 record fire any...
ABC 2 News in Baltimore is reporting that the Baltimore Ravens franchise has fired offensive coordinator Cam Cameron this morning. This comes on the heels of the Ravens losing two home games back-to-back. ABC2 reports that it's currently believed that former Indianapolis Colts head coach Jim Caldwell will assume the role for the remainder of the season. The Ravens offensive coordinator...
After losing a crucial second game in a row, the Ravens have fired their offensive coordinator Cam Cameron and replaced him with former Colts head coach Jim Caldwell. Ravens dismissed offensive coordinator Cam Cameron and replaced him with quarterbacks coach Jim Caldwell.— Adam Schefter (@AdamSchefter) December 10, 2012Cameron has often been the subject of much criticism from pundits...
In a move that registered a "huh" on the Gallagher Scale Of Shock, the Baltimore Ravens fired offensive coordinator Cam Cameron and replaced him with a cardboard cutout named Jim Caldwell. The move surprised me in that the Ravens had won nine of 13 games, are currently leading their division and are ranked 9th in [...]
With yesterday's news that Cam Cameron has been relieved of his post I'm left feeling a bit off. This must be how Jay Leno felt in the waning days of George W. Bush's presidency… suddenly, I'm going to need all new material. In my own personal version of the #FireNorv campaign I have been fairly critical of Cameron throughout his reign as OC of the Ravens. Baltimore checks...
Baltimore Ravens offensive coordinator Cam Cameron has been fired, according to Jeff Zrebiec of the Baltimore Sun on Twitter. Former Indianapolis Colts coach, Jim Caldwell will take over. Caldwell led the Colts to the Superbowl two seasons ago – before getting fired after last season when the team went 2-14.  
After years of being under fire, the Ravens have relieved offensive Cam Cameron of his duties. This seems to have been building for years. To take Cameron's place on the staff, the Ravens have elevated quarterbacks coach Jim Caldwell to offensive coordinator. Caldwell was brought on this past offseason after a stint as Colts head coach. Of the coaching move, John Harbaugh had this...
Quite a newsworthy day for the Ravens. Earlier I wrote about Cam Cameron being fired by the team with Jim Caldwell being elevated to offensive coordinator for the rest of the season. Some more notes to start the week. * The Giants-Ravens game that will take place next Sunday will now be a 4:25 p.m. start, according to reports. * Arthur Jones and Pernell McPhee, both injured in Sunday's...
Denver (10-3) stampedes into Baltimore (9-4) with three extra days rest, a league-best eight-game winning streak and the AFC West title already clinched.Baltimore receives them on a two-game losing streak, the AFC North still up for grabs and with an undisputed claim for the third seed in the AFC playoffs on the line.Think they are feeling the pressure on the Inner Harbor?Baltimore...
Ravens News

Delivered to your inbox

You'll also receive Yardbarker's daily Top 10, featuring the best sports stories from around the web. Customize your newsletter to get articles on your favorite sports and teams. And the best part? It's free!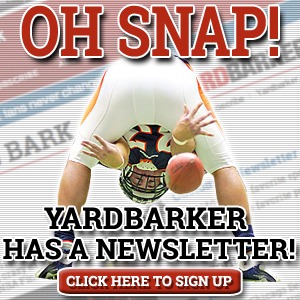 Latest Rumors
Best of Yardbarker

Today's Best Stuff

For Bloggers

Join the Yardbarker Network for more promotion, traffic, and money.

Company Info

Help

What is Yardbarker?

Yardbarker is the largest network of sports blogs and pro athlete blogs on the web. This site is the hub of the Yardbarker Network, where our editors and algorithms curate the best sports content from our network and beyond.