Found May 06, 2012 on Race Review Online:
PLAYERS:
Brad Keselowski
,
Kyle Busch
,
Joey Logano
,
Regan Smith
,
Ryan Newman
,
Aric Almirola
,
Dave Blaney
,
Carl Edwards
,
Terry Labonte
,
Jeff Gordon
,
Kurt Busch
,
Denny Hamlin
,
A.J. Allmendinger
,
Kevin Harvick
,
Michael Waltrip
,
Paul Menard
,
Matt Kenseth
,
Greg Biffle
,
Kasey Kahne
,
Clint Bowyer
,
David Ragan
,
Trevor Bayne
,
Jeff Burton
,
Jamie McMurray
,
David Gilliland
,
Marcos Ambrose
,
Bobby Labonte
,
David Reutimann
,
Bill Elliott
,
Tony Raines
,
David Stremme
,
Joe Nemechek
,
Martin Truex, Jr.
,
Dale Earnhardt Jr.
The last time a Dodge was in Victory Lane at Talladega Superspeedway was in 1976 when Dave Marcus piloted his Dodge to victory at the 2.66-mile high banked speedway. Brad Keselowski updated that stat today with his second victory at the famed high banked track, which was also his second victory of the season in the Aaron's 499.
Keselowski used a great move that no one had ever previously seen to give himself enough distance between second-place finisher Kyle Busch to win by 0.304-seconds. That seems like a huge differential compared to many of the Talladega finishes that we've been accumstomed to over the years.
Keselowski was pushed to the lead by Busch coming to the white flag and used a brillant move in Turns 3 and 4 to take the victory. The duo used the tandem draft to pull ahead of the field. Keselowski took his No. 2 Miller Lite Dodge to the high line entering Turn 3 with Busch in tow, and then dove to the bottom exiting Turn 4, giving him enough separation so that Busch couldn't close back in and slingshot past him as we've seen so many times throughout the years.
Normally, Busch would have pushed Keselowski to the tri-oval and pulled out for the victory at the start/finish line. That was done to Busch yesterday in the Nationwide Race by his teammate Joey Logano. But Keselwoski masterminded the brilliant plan to enter high and move to the bottom lane, and the rest was history.
The win pretty much solidifies Keselowski a spot in the 2012 Chase for the Cup as he currently sits 11th in the points standings and leads the two wild card spots with two victories. Busch would have been the second wild card spot with his win last week in Richmond, but with the second-place finish, he moved up to ninth in the standings.
As for the rest of the race, it was pretty tame until 45 laps to go. The only caution prior to Lap 143 came when Regan Smith's No. 78 Furniture Row Chevrolet engine blew up early. That seemed to be a theme for most of the Chevrolet powered teams with Ryan Newman and Jimmie Johnson also retiring before the halfway point with their engines going sour as well. A lot of the other Chevy drivers had to move up and back through the draft to keep their engines cool and most of them were in threat of overheating all day.
The one caution for four laps seemed tame compared to the four cautions in the last 45 laps.
The first one came when some of the cars were running out of fuel coming to green flag stops. Aric Almirola's No. 43 Ford lost fuel pressure while running the low line entering Turn 3. Dave Blaney couldn't slow down quick enough and sent the both of them up the track. Juan Pablo Montoya had nowhere to go and hit the two cars, and that stacked up Martin Truex Jr., Carl Edwards, Terry Labonte, and Landon Cassill. Truex Jr. came down from the top of the banking and clipped Jeff Gordon's right front fender and sent Gordon hard into the outside wall in Turn 4.
For Gordon, who was the pole-sitter and looked like he could be a contender, it was just the latest episode in his season-long run of bad luck. He finished 33rd with the wreck and that dropped him back to 23rd in the standings, 146 points out of the lead and last in the standings among the four Hendrick cars.
After that first wreck, the saying that cautions breed cautions came into play as the intensity picked up nearing the end. Casey Mears cut a tire and wrecked, and that forced the field to use their final pit stops and bunch them up with nine laps to go.
A lap after the restart, Keselowski sent Kurt Busch spinning through the edge of the tri-oval and into the inside wall across from the start/finish line. Busch's contact wasn't too extreme and he continued on with slight damage to the front end and the right rear quarter panel.
The field came to the green flag with just three laps to go, but as soon as the cars crossed the start/finish line, Denny Hamlin and A.J. Allmendinger made contact and caused another big accident. Hamlin, Allmendinger, Kevin Harvick, Michael Waltrip, Tony Stewart, Joey Logano, Robert Richardson Jr., and Paul Menard all were collected and the incident took all eight out of contention.
Matt Kenseth led the field to the green flag in overtime but was passed by Keselowski and Busch and finished third. This year's Daytona 500 champion was the strongest all day and gained two spots in the points with his third-place finish. Kenseth now sits only seven points behind Roush Fenway teammate and today's fifth-place finisher Greg Biffle in the standings entering next Saturday's race in Darlington.
Meanwhile, Kasey Kahne finished fourth and is really starting to turn his season around after nearly being out of the top 35 in the points after five races. Kahne led his first laps of the season today and now sits 18th in the standings after his second top-five finish in three races.
The rest of the top ten was Clint Bowyer in sixth, David Ragan seventh, Trevor Bayne eighth, Dale Earnhardt Jr. ninth, and Jeff Burton tenth.
Junior lost a spot in the points today and now is nine out in third place, while Denny Hamlin and Kevin Harvick round out the top five in the points standings after 10 races. The bottom half of the top 10 in the standings are Martin Truex Jr., Tony Stewart, Jimmie Johnson, Kyle Busch, and Clint Bowyer.
Aaron's 499 Finishing Order
1.  2 Brad Keselowski
2. 18 Kyle Busch
3. 17 Matt Kenseth
4.   5 Kasey Kahne
5. 16 Greg Biffle
6. 15 Clint Bowyer
7. 34 David Ragan
8. 21 Trevor Bayne
9. 88 Dale Earnhardt Jr.
10. 31 Jeff Burton
11.  1 Jamie McMurray
12. 43 Aric Almirola
13. 38 David Gilliland
14.   9 Marcos Ambrose
15. 22 AJ Allmendinger
16. 93 Travis Kvapil
17. 27 Paul Menard
18. 13 Casey Mears
19. 55 Michael Waltrip
20. 51 Kurt Busch -1
21. 47 Bobby Labonte -2
22. 10 David Reutimann -2
23. 11 Denny Hamlin -2
24. 14 Tony Stewart -4
25. 29 Kevin Harvick OUT
26. 20 Joey Logano OUT
27. 23 Robert Richardson Jr. OUT
28. 56 Martin Truex Jr. OUT
29. 32 Terry Labonte OUT
30. 36 Dave Blaney OUT
31. 99 Carl Edwards OUT
32. 42 Juan Pablo Montoya OUT
33. 24 Jeff Gordon OUT
34. 83 Landon Cassill OUT
35. 48 Jimmie Johnson OUT
36. 39 Ryan Newman OUT
37. 97 Bill Elliott OUT
38. 33 Tony Raines OUT
39. 30 David Stremme OUT
40. 78 Regan Smith OUT
41. 87 Joe Nemechek OUT
42. 26 Josh Wise OUT
43. 98 Michael McDowell OUT
Sprint Cup Series Points Standings After 10 Races
1. 16 Greg Biffle 378
2. 17 Matt Kenseth -7
3. 88 Dale Earnhardt Jr. -9
4. 11 Denny Hamlin -27
5. 29 Kevin Harvick -45
6. 56 Martin Truex Jr. -46
7. 14 Tony Stewart -50
8. 48 Jimmie Johnson -54
9. 18 Kyle Busch -70
10. 15 Clint Bowyer -76
11. 99 Carl Edwards -78
12.   2 Brad Keselowski -79 (Wild Card #1)
13. 39 Ryan Newman -92 (Wild Card #2)
14. 27 Paul Menard -91
15. 20 Joey Logano -119
16.   1 Jamie McMurray -125
17. 42 Juan Pablo Montoya -126
18. 31 Jeff Burton -129
19.   5 Kasey Kahne -132
20.  22 A.J. Allmendinger -136
Original Story:
http://sports-at-work.com/20120507217...
THE BACKYARD
BEST OF MAXIM
RELATED ARTICLES
What a race. A great one at that, but it's a damn shame so many competitive drivers had to wreck there at the end. Who am I kidding, that was Talladega racing boys! In the end, the driver of the #2 Miller Lite Dodge Charger delivered when it counted. The victory for Brad was his second at Talladega in just four years. Keselowski picked up the first win of his career in the very...
TALLADEGA, Ala. – Brad Keselowski, driver of the No. 22 Discount Tire Dodge Challenger in the NASCAR Nationwide Series (NNS), finished 20th in the Aaron's 312 at Talladega Superspeedway (TSS) on Saturday afternoon. A former winner of this event, Keselowski was in position to challenge for the win in the final laps of the race before being hit from behind by the No. 43 of Michael...
TALLADEGA, Ala. -- Brad Keselowski got a huge push from Kyle Busch to take the lead with a lap to go Sunday, then used a calculated move to prevent Busch from taking the win away from him at Talladega Superspeedway. A nine-car accident with four laps remaining brought out the yellow flag, setting up a two-lap overtime sprint to the finish. Daytona 500 winner Matt Kenseth was the...
FVP loves when NASCAR drivers speak openly to the media. Say what you will about Kyle Busch and his attitude, he definitely is unfiltered. Sunday was no different, speaking his mind in his usual irreverent manor after a respectable second place finish to race winner Brad Keselowski. Some of his answers were the usual curt replies. You'd think the guy would be happy coming home...
Brad Keselowski allowed his inner daredevil to emerge at Talladega Superspeedway Sunday. "At Talladega, you don't have a plan," Keselowski said. "You go up front and race your butt off all day long. You either get to the front or you don't." But Keselowski did indeed have a plan. He knew precisely what his strategy would be if he could maneuver his way...
Brad Keselowski avoided trouble through three cautions that marred the final 13 laps of the Aaron's 499 at Talladega (Ala.) Superspeedway on Sunday to take the checkered flag, his second win of the season and his second-career series win at the largest track on the NASCAR circuit. The win by the No. 2 Penske Racing Dodge was also the first win for Dodge at Talladega since Dave...
Brad Keselowski picked up his sixth Sprint Cup victory with a nice push from Kyle Busch at Talladega Superspeedway on Sunday. Matt Kenseth, who led the most laps, finished third, followed by Kasey Kahne and Greg Biffle. The green-white checkered flag finish was set up when AJ Allmendinger collided with Paul Menard coming out of a restart with four laps to go. There were 19 cars...
By: NASCAR Wire Service Talladega , Ala. — Executing perfectly a move he had saved for the right occasion, Brad Keselowski pulled away from Kyle Busch on the final lap to win Sunday's Aaron's 499 NASCAR Sprint Cup race at at Talladega Superspeedway in a green-white-checkered-flag finish. Busch had pushed Keselowski to the lead on [...]
  It looks like more crew chiefs are trying to be like Chad Knaus. Of course, pushing the rules limits is in the job description of being a NASCAR crew chief. Only difference is, these guys aren't smart enough to get away with it. And it's not like this is some under-the-radar team. The two cars in question are the No. 22 of Brad Keselowski and the No. 12 of Sam Hornish...
Welcome to the May 7, 2012 edition of Start 'N' Park Blog's Stock Watch. Each week we'll take a look at who's rising, falling, and treading water in the world of NASCAR. This stretches all division and all aspects of NASCAR, including drivers, owners, crew members, media and fans. Finding their way onto this week's watch includes Brad Keselowski, Joe Nemechek, David Ragan...
All Sports News

Delivered to your inbox

You'll also receive Yardbarker's daily Top 10, featuring the best sports stories from around the web. Customize your newsletter to get articles on your favorite sports and teams. And the best part? It's free!
THE HOT 10: Who's Trending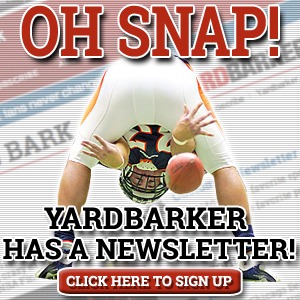 Latest Rumors
Best of Yardbarker

Today's Best Stuff

For Bloggers

Join the Yardbarker Network for more promotion, traffic, and money.

Company Info

Help

What is Yardbarker?

Yardbarker is the largest network of sports blogs and pro athlete blogs on the web. This site is the hub of the Yardbarker Network, where our editors and algorithms curate the best sports content from our network and beyond.