When I first took a look at Brendan Gaughan's NASCAR racing history, specifically at Watkins Glen International, the term 'road racer' didn't jump out at me. He has three career starts: two in the Nationwide Series and one in the Sprint Cup Series. His average finish of those three races is 29th. When I talked to him Friday morning, he corrected me quickly. "I've been a road racer since the 90's. I was here (Watkins Glen) in the 90's racing stuff, I grew up wanting to go IndyCar racing and doing sports cars. I've always loved road racing," Gaughan said. Part of that misconception, on the NASCAR side, has been the lack of road course races in the series he has driven in. When he ran the Truck Series, between 2002-2008, there were no road course races. He went to the Nationwide Series in 2009 and 2010 where there were five races on road courses. He had so-so results at Montreal and Watkins Glen each year; but in 2010, he finished 3rd at Road America. "I won the Rolex 24-hour race (2011 at Daytona) a few years ago with the TRG guys. I've been good at it and always enjoyed it. It's really an art that I like a lot. At Road America, we drove the #21 car for Richard Childress Racing and all four teams had the same problem that weekend, we could never just get over that hump of what was wrong with all of them. We had mediocre days, so we could never show what we had. Here we've fixed that problem and we're going to be fast," explained Gaughan. This weekend Gaughan will be driving the #33 South Point Casino Chevrolet, which has had a handful of different drivers race it this year, but there's been one common denominator. No matter who's been in the car, they have been fast. "We came here to win the race. Ernie Cope (crew chief) and that 33 car have had a lot of drivers in there this year and he's chomping at the bit right now. He's had a few races he could have won and I hope I live up to his expectations and get the win," said Gaughan. The key to getting that victory will be fast and consistent laps on the 2.45 mile track. While most drivers point to turn one as the most critical for a fast lap, that's not the case in Gaughan's observations of the Sprint Cup races. Changes in the track have also pushed the envelope in what he can do behind the wheel. "I think Marcos Ambrose proved to everybody that the bus stop (aka inner loop) is more important than they realize. He kills people through that bus stop, it's fun to watch him do it. Here the main thing is if you wanted a decent finish, you used to say 'don't go off the track.' That was when we had pea gravel traps, which was more in a road racer's favor because there were penalties for screwing up (getting stuck in the pea gravel). Now the penalties aren't as big. Turn one has all that run out (paved area) that you can go to, in turn 10 has one too. So the old statement of keeping all four tires on the pavement is still the most important adage; you go off, and can screw things up, but you can be more aggressive now because you can push those areas without much penalty," commented Gaughan. Like most drivers who have been asked this weekend, count Gaughan among the many who would like to see Watkins Glen utilize what is called "The Boot." It's a section of track in the shape of a boot that has only been used for IndyCar races and a few other events. For NASCAR they use the "short course" which means they skip over that section of track. "Absolutely I'd love to run the boot here. It bums me out that we don't. I think Sears Point, and I'll get flack for this, is the most boring road course in the world because they don't run their carousel. They did it (reconfigure the layout for the NASCAR race) for NASCAR drivers and now you look there is no advantage to being a road ringer at Sears Point. I think Watkins Glen is tough enough that the road ringers still have a shot, but you add that boot and you give a road course driver a distinct advantage again. I love the boot here, it's one of my favorite aspects of Watkins Glen and I wish we ran it. That's why I love Road America, I love Montreal, I love us going to MoSport because we're going back to ligament, tough, hard road races that take the extra skill to do it," said Gaughan. The expectations are high for Gaughan and his team and he is eager to prove them correct. The Zippo 200 can be seen live at 2 PM EST on ABC and you can see if Gaughan can get to the front a stay there.
Original Story:
http://startnparkblog.com/?p=30462&ut...
MORE FROM YARDBARKER
All Sports News

Delivered to your inbox

You'll also receive Yardbarker's daily Top 10, featuring the best sports stories from around the web. Customize your newsletter to get articles on your favorite sports and teams. And the best part? It's free!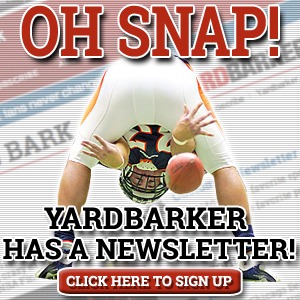 Latest Rumors
Best of Yardbarker

Today's Best Stuff

For Bloggers

Join the Yardbarker Network for more promotion, traffic, and money.

Company Info

Help

What is Yardbarker?

Yardbarker is the largest network of sports blogs and pro athlete blogs on the web. This site is the hub of the Yardbarker Network, where our editors and algorithms curate the best sports content from our network and beyond.