Found March 30, 2012 on Extra Pine Tar:
There was something a little bit calming in watching the Bruins lose to the Capitals on Thursday night.
It sounds strange to sound relieved after a loss, but the Bruins showed a lot more than a 3-2 shootout loss would normally indicate on paper. They're not dead, and while they're certainly not the favorites going forward, it's clear now that the team's mid-season swoon was more about complacency than it was about not being good enough. With only five games remaining in the regular season, it's nice to hear myself say that the Bruins have found a way to right the ship and are playing their best hockey since January.
Thursday night's game proved it. Playing against a Washington team that needs every point it can get to even get in to the playoffs (currently tied for eighth in the East), the Bruins looked slow in the early going and then just couldn't find a way to score through the middle part of the game. When the Caps went up 2-0 in the third, it looked like the Bruins were finished.
But then they showed the type of resolve that makes you wonder what they can accomplish if they're all on the same page. First, David Krejci scored on a re-direct of a Zdeno Chara slapshot with 3:10 left in the game, and Andrew Ference tied the score just under two minutes later with a goal from the point. Two goals in less than two minutes. In a game that meant more to the Caps than it did for the B's, at least from a playoff standpoint, the Bruins didn't even come close to folding.
When the game finally got to a shootout, the Caps just made better individual plays. I can't get on the Bruins for losing a shootout when they're 8-3 in them this season. It happens. The better takeaway, though, is the significance of just getting to that point. It wasn't a perfect game, but it was resiliency at its best, and it was a crucial display of having balls - something that the Bruins haven't had for long stretches this year.
The Bruins have now scored points in six of the last seven games they've played. They've won five of them, and the only one they lost in regulation was that Sharks game where they were starting a West Coast swing. Overall, it's been a pretty damn good stretch.
All of this also comes on the heels of the team reaching one of its low points of the season, losing four consecutive games and finding itself in danger of being one of the bottom seeds in the conference when the playoffs rolled around. Not anymore. They've got a stranglehold on the Northeast Division with a six-point lead and only five games to play.
Barring a five-game losing streak to end the season or something, the Bruins will take the ice as the No. 2 seed in the postseason. For how bad things were for a long time around here, there shouldn't be a single complaint about the position the Bruins are now in.
The team itself is playing more cohesively, more confidently, and Thomas has started to resemble (if only slightly) the guy that he was last season. He's still not there, but he's on a steady upswing. Hell, even Marty Turco played a game and only gave up two goals. If that's not a sign that things are starting to look up, then nothing is.
There is also the news that Tuukka Rask wants to try to play few regular season games before the playoffs. If he could perform like he was pre-injury, obviously that's a huge lift. But that aside, there are two significant reasons that everything has started to improve.
They're pretty easy to guess. You ready? Brian Rolston. Rich Peverley.
Right? The addition of Rolston and Peverley's return from injury have turned the Bruins back in to who they were offensively - a team with the ability to seamlessly cycle lines without losing very much, regardless of who is on the ice. Obviously, you're better when Lucic or Bergeron is out there, but when all four lines are playing, and playing effectively, the team is better. It's not rocket science. Rolston and Peverley have made the team deeper, bumping guys who were playing on higher lines back down to where they should be.
Peverley hasn't quite hit his stride yet, which is understandable given the time he's missed. Still, he's getting 16 minutes or so a game, which was about his average before he was hurt. Claude clearly sees no reason to ease him back into things. Peverley was even one the shooters in Thursday's shootout (it was an awful shot, but at least he was out there). The obvious assumption, then, is that he's going to get better with time. That'll only help, but his presence alone for these past three games has already genuinely helped.
But Rolston, man, he's been a God send. The team would have been in some serious trouble if they didn't pick up a winger at the deadline, and the addition of Rolston was nothing if not underwhelming at first. He's quickly shut up any talk of him not being an impact addition. He's been a model of consistency.
He's currently on a seven-game points streak, and he's a plus-nine during that time. He's not scoring a ton of goals, but he's making everybody around him better. Against Toronto two weeks ago, he picked up three assists and a goal. He's a legitimate difference-maker, and it turned out to be exactly what this team needed.
Now we've just got to see if they can keep it up. There are no excuses at this point. After lulling everybody into thinking that they were a bunch of underachievers, they've rebounded and expectations are suddenly high again. People want a playoff run. They want a team they can get behind and root for, not one that turns the puck over constantly and seems to get bullied.
People want the Bruins to be the bullies.
The last five games of the season are against the Islanders, the Rangers, the Penguins, the Senators and the Sabres. Besides the Islanders game, that's a pretty gut-testing way to end the season. They'll play the Rangers and Penguins - easily the co-favorites in the East right now - back-to-back in a three-day span, with the Rangers game on the road. It's tough.
But it's also an opportunity. It's an opportunity to keep up what the team has done over the past two weeks, and it's an opportunity to get squarely back in the discussion with the Rangers and Penguins as the class of the conference. Even with their playoff spot all but locked up, it would be a shock if the Bruins let up on the gas pedal now.
It's almost playoff time, and the Bruins are playing well again. Finally.
Original Story:
http://extrapinetar.com/articles/arti...
THE BACKYARD
BEST OF MAXIM
RELATED ARTICLES
Brad Marchand snapped a third-period tie with his team-leading 27th goal, and the playoff-bound Boston Bruins ended the New York Islanders' minuscule postseason chances with a 6-3 victory on Saturday. The defending Stanley Cup champion Bruins, who lead the Northeast Division, had plenty of support as a large throng of fans cheering ''Let's Go Bruins'' throughout...
Marchand's Mullet A.B. Brad Marchand definitely wins best/worst mullet after The Boston Bruins' Cuts For A Cause event. And all styling opinions aside – you have to love the business in the front, party in the back approach that Brad took. This way with a helmet on he can still rock a sick flow out the back. Then when the helmet comes off – well that's another story....
Tyler Seguin and Brad Marchand have a chance to do the unthinkable. And Milan Lucic has an outside chance at making the Black and Gold faithful's heads spin. Seguin and Marchand entered Thursday night's game with 26 tallies apiece and are inching toward the ever-evasive 30-goal plateau with six games remaining. Lucic, at 24, still has a shot to get hot and bury six in six...
The Bruins needed two points to clinch a spot in the playoffs on Thursday night. They only managed one. It was a dramatic way to earn a point, for sure, but it was nonetheless only one point. No matter how great it was that Andrew Ference tied the game with little time remaining, the ultimate victory went to the desperate Capitals. Still, NESN Nation's Dan Duquette is awarding...
BOSTON – For the first 70 games of the season, Joe Corvo was a fixture on the Bruins defense. He was one of just a handful of players to dress for every game to that point, but had struggled for much of the season. With the depth added at the deadline with the acquisition of veteran blueliners Greg Zanon and Mike Mottau, Corvo found himself suddenly out of the mix, a healthy scratch...
BOSTON -- The Bruins can clinch a playoff spot Thursday against Washington, but they'll have to do it without one of their top defensemen. Dennis Seidenberg, whose reunion with Zdeno Chara on the top pairing has helped turn things around for the Bruins, did not participate in the morning skate and will miss his first game of the season with a leg infection from a cut suffered...
Brad Marchand and Tyler Seguin are neck and neck when it comes to the team lead in goals this season. But that isn't stopping the duo from lending each other a hand. Seguin set up Marchand with a pass upon entering the offensive zone, and Marchand carried it into the slot area, eventually slipping the puck past Islanders goalie Al Montoya. The Islanders looked like they were...
Claude Julien, Andrew Ference, and Joe Corvo interviews after the jump.
If you've been a long time reader of Days of Y'Orr, you know our undying love for Shannon. She's been at both of our viewing parties, she's been seen rocking DOY signs at the Garden. ****, she even got Johnny Boychuk to congratulate us for winning Bruins Blog of the Year from TruFan. Well, Shannon has come through again and we ******* love her for it. Yesterday at...
It pains me to say it as a both a Flyers fan and a jaded advertising nincompoop, but this Boston Bruins parody title sequence knocks it out of the park. This is what happens when you take a good idea on paper and produce the living **** out of it. The direction, the editing, the music, the titles…it's no Nanook, but it's mighty fine work. Posted by Dan from wheeeeeeee.com...
The Boston Bruins clinched a playoff berth without even touching a puck on Friday.The Buffalo Sabres fell 5-3 to the Pittsburgh Penguins, which allowed the idle defending Stanley Cup champions to clinch a playoff berth for the fifth consecutive season. The New York Rangers, Philadelphia Flyers and Penguins also have guaranteed passes to the postseason.Boston has a six-point lead...
Bruins News

Delivered to your inbox

You'll also receive Yardbarker's daily Top 10, featuring the best sports stories from around the web. Customize your newsletter to get articles on your favorite sports and teams. And the best part? It's free!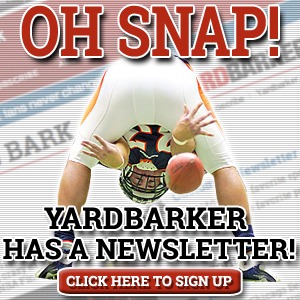 Latest Rumors
Best of Yardbarker

Today's Best Stuff

For Bloggers

Join the Yardbarker Network for more promotion, traffic, and money.

Company Info

Help

What is Yardbarker?

Yardbarker is the largest network of sports blogs and pro athlete blogs on the web. This site is the hub of the Yardbarker Network, where our editors and algorithms curate the best sports content from our network and beyond.