Since free agency opened on July 1, 2006, Zdeno Chara has been a force in Boston. After signing his first contract with the Boston Bruins and being named as captain, Chara led the Bruins to a Stanley Cup victory in 2011, their first since 1972. Not only is he a shut-down defenseman, the 6-foot-9 Slovakia native also holds the record for the hardest slapshot in the league at 108.8...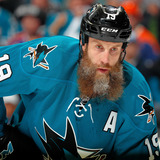 At the opening of training camp, there seemed to be no doubt in the San Jose Sharks dressing room that Joe Thornton would be ready to hit the ice again one the season gets underway. But the 38-year-old big man, who underwent knee surgery this off-season, still has to prove that he has enough left in the tank to compete with the league's up-and-coming youngsters. And he isn't the...
The action on the ice during an NHL game is an entirely different world which is only exposed when the players or officials wear microphones. The conversations and discussions are usually far different – and far more frequent – than what you might expect if you're only used to watching games on TV.Several officials were mic'd up during the opening round of the playoffs and the end...
MORE STORIES >>
Bruins News

Delivered to your inbox

You'll also receive Yardbarker's daily Top 10, featuring the best sports stories from around the web. Customize your newsletter to get articles on your favorite sports and teams. And the best part? It's free!