Found June 08, 2012 on Start 'N' Park Blog:
Carl Edwards, driver of the No. 99 Kellogg's Ford Fusion, came into the Pocono Raceway infield media center to talk about how testing is going for this weekend's Pocono 400, in addition to some other issues currently surrounding NASCAR and his race team.
HOW HAS TESTING GONE SO FAR?  "I haven't been very fast, so I've still got a little bit to work on.  We've been working on different things we wanted to try in testing.  The track looks completely different.  It took me a minute juts to get used to the different visual cues and braking points and the transitions in the corners and stuff, but it looks great.  It drives really well and it's fast.  It looks like they used a different aggregate and it seems like it grips just a little better than some of the other new repaves.  We'll see how it goes with the line widening out once we race a little bit and I think it's definitely gonna be a faster race.  The cars have a ton of grip.  I don't know if it will be better or not, but at least the track will last longer and I don't see any huge negatives.
HOW RADICALLY HAS THE INCREASED SPEED CHANGED CORNER ENTRY AND SHIFTING POINTS?  "It changes it quite a bit for me.  I've always enjoyed racing here and felt I had a good handle on it and where the braking points were and how I'd apex my corners and now that's completely out the window as far as I'm concerned.  It feels like a new race track to me.  The way you drive into turn one, you can be much more aggressive on the throttle.  You can be really aggressive on the brakes.  It feels different, so I think it will be an opportunity to really shake things up here.  The guys who normally run well here don't have an advantage anymore.  It's a new day."
CAN YOU TALK ABOUT THE RACING GOING TO 400 MILES?  "It's obviously going to be a different length of race, so it will affect a lot of things.  It won't be the same outcome as if it would be if it was 100 miles longer.  The way it was described to me that made it much more palatable is they took the middle 100 miles out."
YOUR REACTION ON THE KURT BUSCH SUSPENSION?  "I don't have any reaction.  That's none of my business.  I'll say this, it's interesting to watch and read about, but that's all it is.  That's not really my business."
HAVE YOU EVER WORRIED ABOUT A COMPETITOR ON THE TRACK OR WERE CONCERNED THAT ONE OF THEM COULD LOSE THEIR MIND?  "Have you ever seen me raced when I'm mad?  Look, we're race car drivers.  We're not manners teachers.  We're race car drivers.  We don't get through a race, much less a career, with any success by always being kind and always saying and doing the right things.  We're competitors and I can only speak for myself, but sometimes it's very difficult to remember that you're on television and there are a lot of people watching and you have to control yourself.  I think all of us, I can't think of a guy who hasn't had an incident where they've kind of forgotten that, but I think we've got a really good group of guys out there on the race track and I don't ever feel any risk like anyone is a danger or anything.  It's competition and things happen in competition, but nothing like you're talking about."
WHAT'S IT LIKE FOR YOU WITH SOME OF THESE TRACKS COMING UP BEING ON THE BUBBLE OF THE TOP 10 AND CHASE POSITION?  "It's tough.  There's a lot on the line and it's so competitive right now.  I can't describe how competitive it is.  If you look at our 99 team and our situation, our teammates are leading one and two.  We're outside of the Chase right now and it's not because we haven't run as well as those guys, we have not been able to put together everything.  Luck has been a big factor, but we haven't been able to put it together and if we have a couple of bad races, it could be really, really ugly so these races are very important.  We have to run well, so the pressure is on, which is kind of fun in a way.  I think it was last year at this point in the season we were leading or close to leading and there was really no pressure.  We just had a win, we won the All-Star Race, and we were cruising, so this is like a good workout before a big game.  We've got to keep the pedal down and go.  Someone was asking me the other day about our situation and a Roush car has been leading the points over the last couple of years for a majority of the time, I think, so as a team I want to point out that we're doing very well.  I'm glad Denny's happy and he's feeling good because we're not.  We've got to go."
DOES IT MATTER WITH SO MANY VARIABLES AT THESE REPAVED TRACKS?  IS IT SOMETHING YOU THINK ABOUT WHEN YOU'RE DRIVING?  "It matters.  Last week was a complete surprise.   It was a shock to drive down in the corner.  The day was going perfect and we were planning everything the right way, we had the right strategy, the car was good, and all of a sudden something caused the sidewall of the right-front to blow out.  I don't know if something hit it or if it was a problem with the tire.  Goodyear is still looking at it, but that's the kind of thing that reminds you that it's not over until it's over.  Anything can happen and we need all the insurance we can get right now.  We need a couple wins is what we really need.  It almost feels as important and as tough as those last few races of the championship last year because we realize these next 10 races or so are gonna determine whether or not we even have a shot this season.  We're serious about it right now, that's why I'm not paying attention to the other stuff.  I'm trying to focus on the race car."
GREG FINALLY GOT TOWARD THE TOP OF THE SPEED CHART, BUT THE FORDS SEEM SLOWER OVERALL COMPARED TO THE OTHERS.  IS THERE ANYTHING TO READ INTO THAT?  "Yeah, that's not good.  We need to be faster.  Last week, I don't think I would have traded my car with anyone other than maybe Jeff Gordon.  His car looked really good.  I couldn't quite tell how fast Jimmie was, so from last week I felt like we had superior cars at Dover to this week.  This is only the second day of testing.  Bob and I are over there almost coming to blows over there.  I'm saying, 'We've got to go faster.'  And he's like, 'We've got a test plan.  We've got to stick to our plan.'  I'm like, 'No, we've got to go faster.'  So he has a way of working through everything and by the end of tomorrow if we're not good, then maybe it's time to make some big changes to the car.  But right now we're just going through the plan and I'm trying my hardest when I get out of the car to walk by and kind of put the blinders on and not look at the sheet because I know we're testing and not going for all-out speed, but Mark Martin is fast.  I followed him a little bit and he's very spectacular in that car."
IS THERE ANYTHING TO BE SAID ABOUT THE THEORY YOU WERE IN THE TITLE HUNT UNTIL THE END OF THE YEAR THAT YOU COULDN'T PREPARE FOR THIS SEASON OR HAVEN'T CHANGED WHAT WORKED FOR YOU LAST YEAR?  "It makes perfect sense, and I'd say, 'Man, I think you're right,' but we knew that exact statement we knew that could happen before we even started, so we said, 'OK, let's not do this.  Let's not rest on what we did, keep our heads in the sand and not develop anything.'  We actively and consciously tried to avoid the exact thing you're talking about.  I think as a team we've shown, with Greg and Matt's success in the points, that it's worked out.  I feel like I'm up here making excuses, but the reality is we had the tire at Dover, the fuel at Phoenix, the wreck at Talladega and the wreck at Bristol.  That's a lot of points.  It's like my brother was telling me last week.  He said, 'It's just luck.  Last year, your luck was awesome.  This year, it's terrible.'  Hopefully, we can kind of use all that bad luck and still make the Chase and turn it around because I know we can do it.  That's the thing, but I do want to be very clear.  I'll be honest with you guys, if I felt there was a hangover from last year or we were down-and-out because we didn't win, I'd tell you guys that we have to get our game faces on, but we really are, I think, doing a good job and I don't feel like anyone over there is ashamed of what we did last year or anything like that, it's just plain bad luck.  At the same time, we still have to run better, but I don't feel like it's because of last year.  Now, 2009 was because of 2008.  I'll tell you that.  We did what you said back then."
DO YOU LOOK AT WHAT PEOPLE ARE WRITING ABOUT YOU AND YOUR TEAM OR DO YOU TRY TO STAY AWAY FROM THAT KIND OF THING?  "You guys know me pretty well, you've been around me a lot, I've tried really hard the last couple of years especially to really just ignore that stuff because at the end of the day you guys, fans, we all don't really know each other that well.  Nobody goes home and sees what people are like at home and sees how they really are.  All we can base everything off of is a bunch of stuff that happens in a really competitive environment, so what I try to do is just say, 'Hey, I'm gonna do what I think is best.  Whatever somebody wants to say about it, that's fine.  They can say it.  That's their opinion and I'm grateful that we live in a place where people can have opinions.'  But it is interesting you bring that up now because last week we blew the tire, hit the wall, I went back and watched it on DVR while they were fixing the car just to see if I could see anything and right away one of the commentators says, 'You see, that's just like what happened to Denny.  They had that good run the year before,' and so I made sure to tell my guys when I got back over there I said, 'Don't listen to any of that crap,' because that's what it is.  It's talk to try and describe what we're doing simply and it's not like that, so I do make a point to tell my guys whenever I think it's important.  'Don't listen to that stuff.  That's not reality.  That's just commentary and someone trying to describe something in a way when they don't have the full information, so I am conscious of that because it's really easy.  You guys know, anytime you're the center of something or something happens, like maybe Pockrass this week, people start to judge you and you go, 'Wait a second, you don't know the whole story,' so you can't put much weight in that stuff.  I think that's a bad path to go down."
Original Story:
http://startnparkblog.com/?p=7426&utm...
THE BACKYARD
BEST OF MAXIM
All Sports News

Delivered to your inbox

You'll also receive Yardbarker's daily Top 10, featuring the best sports stories from around the web. Customize your newsletter to get articles on your favorite sports and teams. And the best part? It's free!
THE HOT 10: Who's Trending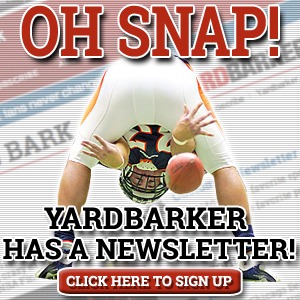 Latest Rumors
The Backyard

Today's Best Stuff

For Bloggers

Join the Yardbarker Network for more promotion, traffic, and money.

Company Info

Help

What is Yardbarker?

Yardbarker is the largest network of sports blogs and pro athlete blogs on the web. This site is the hub of the Yardbarker Network, where our editors and algorithms curate the best sports content from our network and beyond.