Found January 23, 2013 on Fox Sports Ohio:
From the first day he sat down behind his executive desk in Great American Ball Park in 2005, one of the many missions of Cincinnati Reds PresidentCEO Bob Castellini was to snag the All-Star Game for his team, his fans and his city.The All-Star game has not been in Cincinnati since 1988, at old Riverfront Stadium, and it never has been played at Great American Ball Park, which unlocked its gates for the first time in 2003.Castellini kept after it, kept the bug in the ears of Baseball Commissioner Bud Selig, asking when the game would land in Cincinnati.When Castellini and Selig were together, surrounded by media, a media representative from Cincinnati would ask Selig, When will the All-Star Game be in Cincinnati again? Castellini would smile and tell Selig, I didnt plant that question, but he smiled broadly when the commissioner would say, Soon, we hope. Very soon.Well, now Castellini can say of one of his many missions, Mission accomplished.The All-Star game is coming to Cincinnati in 2015. Selig was in Cincinnati Wednesday afternoon to make the announcement Reds fans have been waiting to hear:It give me great pleasure, on behalf of Major League Baseball, to award the 2015 All-Star game to the Cincinnati Reds, Selig said in front of a media conference.Selig emphasized that Cincinnati to those who were around for the 1988 game in Riverfront wont recognize the 2015 event.It used to be a one-day event, he said. The game would be played on one day and then the players left town. Now it is a five-day event that will benefit charities all over the city, referring to events like the ever-popular Home Run Derby the the Futures Game involving minor-league stars.Selig said the All-Star game should pump 80 million to 100 million into the Cincinnati economy.The game was held in Kansas Citys refurbished Kauffman Stadium last year and the city said it generated 60 million for the city.Even though there are 30 major-league teams and the All-Star game is on a rotating basis, fans wondered what took so long for it to return to Cincinnati, although it will be only 27 years since the 1988 stop.In recent times, the game has gone to cities with new stadiums or refurbished stadium, but Great American opened in 2003 and it took 12 years to get the game. Newer stadiums like Citi Field in New York opened in 2009 and is the site of this years game. Minnesotas Target Field, opened in 2010, hosts the 2014 game.But all that is forgotten now. Castellinis mission is accomplished and the city is thrilled that the event belongs to Cincinnati in 2015.It will be the fifth time for the All-Star game to be played in Cincinnati. Old Crosley Field hosted it twice and Riverfront Stadium hosted it twice.In fact, the 1970 game was the first baseball game played in Riverfront when it opened in July of that year and became famous as the All-Star game that was won by the National League when Cincinnati native Pete Rose crashed into Cleveland catcher Ray Fosse to score the winning run in the 12th inning.Selig cited Cincinnatis historic significance in baseball, including the games first professional team in 1869, through the Frank Robinson years of the 1950s and 1960s, the Big Red Machine Era, the Barry Larkin-Ken Griffey Jr. era and the current team, Of Brandon Phillips, Jay Bruce and Joey Votto.The honor has been earned by the fans, our corporate sponsors and civic partners who have loyally supported this team, said Castellini. Baseball truly could not have selected a more grateful or worthy community with whom to partner. We appreciate baseballs confidence in entrusting us with one of baseballs most treasured traditions.
Original Story:
http://www.foxsportsohio.com/01/23/13...
THE BACKYARD
BEST OF MAXIM
RELATED ARTICLES
It has been rumored that the Reds have been trying to work out a long-term deal with several of their players this offseason. Namely, Mat Latos and Homer Bailey. The practice of signing younger players before they blossom into stars is one used all across the big leagues. It's designed to not only lock players into place for many years down the road, but it's designed to...
With some guys already in Arizona and preparing for the year, it seemed like a good time to take a look back at the 2012 Reds draft. Rounds 1-5: Nick Travieso (RHP), Jesse Winker (OF), Jeff Gelalich (OF), Tanner Rahier (3B), Daniel Langfield (RHP), Jon Moscot (RHP) and Mason Felt (LHP). The Good: Jesse Winker has one of the best debuts of any draft pick in recent memory after finishing...
Wrong kind of pepper Is the offseason over yet? I'm ready for some baseball. It's been a while since I posted anything as I have been busy with a few other commitments but I've found some time today to put together what I hope will become a regular thing. Today it's called Playing Pepper. Next time it could be called something else. I'm still working that...
by: Jon Davis Staff Writer #16 Donald Lutz 1B @braunerhulk on Twitter Next on the list we have Donald Lutz, a 6-foot-3, 235-pound first baseman, who was a non-drafted free agent, signed in July of 2007 out of Germany. He was born in New York, but raised in Germany and still retains dual citizenship. He is "a flip flopper", just like No. 11 Ryan LaMarre...
Veteran third baseman Scott Rolen still hasn't decided if he'll return for the 2013 season or call it a career, but if he does elect to play his first choice is to re-sign with the Cincinnati Reds, according to Jayson Stark of ESPN. Scott Rolen still hasn't made a final decision but has told people that if he plays, his 1st choice is to return to #Reds — Jayson...
by: Jon Davis Staff Writer #18 Tucker Barnhart C @Tucker_Barnhart on Twitter Here at No. 18 we find Tucker Barnhart, a 5-foot-11, 185-pound switch-hitting catcher. The Reds drafted him in the tenth round of the 2009 draft out of Brownsburg High School in Indiana. In 2011, playing for the Dayton Dragons, he hit .273 with a .344 on-base in 372 plate appearances. Then last...
The Cincinnati Reds will play host to the 2015 All-Star Game, commissioner Bud Selig announced Wednesday. Cincinnati has not had an All-Star Game since 1988, long before Great American Ball Park was built in 2003. It will be the city's fifth time as the host. The game was previously played in old Crosley Field in 1938 nd 1953 and in Riverfront Stadium in 1970 and 1988. The...
John Fay of the Cincinnati Enquirer is reporting that the All-Star Game will be coming to Cincinnati in 2015. It's about damn time. Back when Great American Ball Park opened in 2003, it seemed like the Reds would be hosting an All-Star Game at any moment. But then, what with one thing and another, three years passed. Then comes the new ownership, and surely Major League Baseball...
BACK WHERE WE STARTED
A report states that the Queen City will be awarded the 2015 MLB All-Star game. Cincinnati was the home for the first professional baseball team back in 1869.
While the Delmon Young rumors are cooking up, Jeff Schuler of the Morning Call reports that pitcher Tom Cochran will be returning to the Phillies organization as will Brian Bass who pitched in Lehigh Valley during the 2011 season. Also in the mix is outfielder/third baseman Joe Mather who got...
If playing America's national pastime at Great American Ball Park in the middle of the summer doesn't scream U.S. patriotism, then what does, really? According to John Fay of the Cincinnati Enquirer, the 2015 MLB All-Star Game will be played in Cincinnati, marking the first time the city will host the event since 1988. This will be the fifth All-Star Game played in Cincinnati...
Reds News

Delivered to your inbox

You'll also receive Yardbarker's daily Top 10, featuring the best sports stories from around the web. Customize your newsletter to get articles on your favorite sports and teams. And the best part? It's free!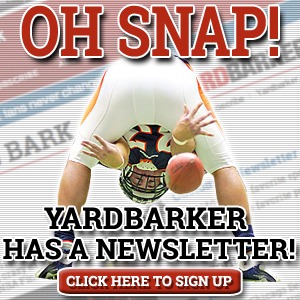 Latest Rumors
The Backyard

Today's Best Stuff

For Bloggers

Join the Yardbarker Network for more promotion, traffic, and money.

Company Info

Help

What is Yardbarker?

Yardbarker is the largest network of sports blogs and pro athlete blogs on the web. This site is the hub of the Yardbarker Network, where our editors and algorithms curate the best sports content from our network and beyond.