Found March 27, 2012 on isportsweb.com:
Although the White Sox were off to a slow start in Spring Training, the Southsiders went 5-2 this past week and seem to be settling into a groove. These wins put the Sox at a more respectable 10-13 overall, mostly thanks to the arrival of some serious offense. The Sox scored 13 runs in last Wednesday's win over the Seattle Mariners and routed the Kansas City Royals 16-4 the next day. Highlights of Wednesday's game were Alexei Ramirez' three hits and three RBIs, as well as new addition Kosuke Fokudome having two hits of his own. The biggest event of Thursday's game was definitely Adam Dunn hitting two out of the park and contributing six RBIs on the day. Dunn looking ready to play Naturally, this level of offense could not be maintained throughout the weekend. The highest run total in any one game was six and that was against the Milwaukee Brewers and Arizona Diamondbacks. However, Sox pitching showed noticeable improvement. Excluding a 17-4 split squad loss against the Los Angeles Dodgers, Sox hurlers did not let up more than four runs in any game the rest of the weekend. Obviously the regular season hasn't started yet and these are small victories. That being said, Sox fans everywhere are likely to be knocking on wood every time they hear the words, "Dunn's really turned it around hasn't he?" His 12 RBIs, four homers, and 12 walks are each team highs, which really indicate that he is seeing the ball well. With his batting average at an adequate .250, this is the Dunn the big money is paying for. Another player that is giving Sox fans reasons to feel optimistic is the ever consistent Paul Konerko. The team captain is dutifully executing his role, batting .362 with a team high 17 hits. There were some doubts as to whether or not the first baseman could maintain the high level of success he has shown these past two years. As it stands right now, it isn't looking like age will be a factor come opening day and hopefully we can see another 100 RBI season. All things considered, John Danks should be feeling confident when he throws the first pitch on opening day. Offense and defense seem to be turning a corner and the fact that Dunn is red-hot is relieving to say the least. All I can say is that April 6th can't get here soon enough.
Original Story:
http://isportsweb.com/2012/03/27/chic...
THE BACKYARD
BEST OF MAXIM
RELATED ARTICLES
The Chicago White Sox farm system is easily the worst in baseball. A big part of the reason for their putrid system is that they've shied away from spending money in the draft. The old saying goes, you get what you pay for. In this case, the saying is correct. Top 5 fantasy baseball prospects 1- Addison Reed, RP Reed blew threw the minors last year starting the year...
Most people consider Ozzie Guillen to be an annoying loudmouth. Apparently many players view him the same way. During a radio interview on "The Dan Patrick Show" Thursday, Dodgers manager Don Mattingly referred to the Marlins manager as "this little s***." Patrick asked Mattingly if there was any manager he wanted to physically confront. "No, not at all," Mattingly...
Cleveland Indians starter Ubaldo Jimenez allowed three runs and seven hits in five innings of a 7-1 loss to the Chicago White Sox on Tuesday. The White Sox's Paul Konerko hit two doubles, including an RBI double in the fourth inning. The White Sox scored three runs in the fourth inning against Jimenez. Zach Stewart, a candidate for the White Sox bullpen, allowed a run and...
Minor league pitchers for the Cleveland Indians and Chicago White Sox have been given 50-game suspensions after testing positive for performance-enhancing drugs. The commissioner's office imposed the penalties Thursday under the minor league drug program. White Sox prospect Andre Rienzo, from Brazil, also tested positive for metabolites of Stanozolol, a performance-enhancing...
Talk radio goes days and days without something that piques our interest. Blah, blah, blah. And then Don Mattingly comes on the Dan Patrick Show and drops a "this little sh*t" bomb when referencing Ozzie Guillen. You just figure Donny will talk some baseball, keep it clean and get off the phone. Nope. Commence the iPhone i-Team! VIDEO! NOW! HURRY!  Later in the show Dan asked...
At age 6, I had my first best friend. I do not remember why I was chosen as companion and owner of this particular Teddy Ruxpin, but he was mine. This robot-bear existed solely to read children's stories via a tape player tucked in his stomach pouch. But it was easy for me, a wallflower with a stuffed animal obsession, to relate to the animatronic bear on a deeper level. I would...
Dave Cameron laid out the methodology behind the rankings last Friday. Remember that the grading scale for each category is 20-80, with 50 representing league average. 2012 Organizational Rankings #30 – Baltimore #29 – Houston #28 – Oakland #27 – Pittsburgh #26 – San Diego #25 – Minnesota Chicago's 2011 Ranking: #14 2012 Outlook: 43 (21st) Boy, things looked a lot better...
No need to set the scene for this one.Dan Patrick sets it up nicely and Dodgers manager Don Mattingly knocks it out the park. Via Busted Coverage
White Sox News

Delivered to your inbox

You'll also receive Yardbarker's daily Top 10, featuring the best sports stories from around the web. Customize your newsletter to get articles on your favorite sports and teams. And the best part? It's free!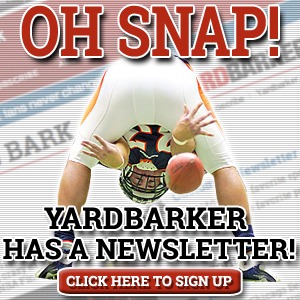 Latest Rumors
Best of Yardbarker

Today's Best Stuff

For Bloggers

Join the Yardbarker Network for more promotion, traffic, and money.

Company Info

Help

What is Yardbarker?

Yardbarker is the largest network of sports blogs and pro athlete blogs on the web. This site is the hub of the Yardbarker Network, where our editors and algorithms curate the best sports content from our network and beyond.