Found February 19, 2013 on BlackSportsOnline:
I get asked this question a lot. "Rob, can people change?" My answer is always the same, at your core you are the same person that you were, when you came out of the womb.  I react to certain situations now, the same way I did when I was 6 years old.  Your core personality is what it is. But, people can evolve.  You can get smarter and wiser with age.  The mistakes you made in the past, you don't repeat in the future.  You assess situations better and make more sound decisions. We all have a past and there are things in everyone's past that I am sure they would like to change.  A lot of times though, those struggles are what shape your present day situation. The reason I mention all of this, is because right now Adrienne Bosh's past is starting to creep into her present day situation.  Let's be clear, Lil Wayne violated several man laws by publicly saying he slept with another's man wife, well before she was married.  What he said was weak and immature, but it wasn't a lie. Now, others are coming out the woodwork to try to dragged Adrienne's past into her present.  Here is what the source told Global Grind. According to reports, Mrs. Bosh, then Adrienne "short stack" Williams, was a regular in the industry night life and she worked up quite a rep for herself. They say she was a fixture in the VIP sections at a lot of popular Atlanta nightclubs back in the day. Wayne messed with her when she was still modeling for magazines like Smooth Magazine, but things turned sour when she allegedly scammed Lil Wayne out of a lot of money.   According to our source, Adrienne told Lil Wayne she was sick with cancer and needed money for treatment. When Weezy gave her the cash, she vanished. Word got back to Lil Wayne that she hustled him, but he wrote it off and charged it to the game.  What does all this really mean, besides Manti Te'o would fall in love with her instantly?  To me, it doesn't mean much.  She hustled Lil Wayne and probably some other ballers and entertainers. I saw that happen 27 times during All-Star Weekend, so it isn't an uncommon occurrence.   At some point, she smarten up and realized that wasn't the best life for her.  Bosh was aware of her previous lifestyle and didn't care.  She is now married, with a kid and chilling with President Obama. She didn't change, she evolved.  A lot of women in the industry could learn something from that.
Original Story:
http://blacksportsonline.com/home/201...
THE BACKYARD
BEST OF MAXIM
RELATED ARTICLES
DISLIKE A BOSH
Lil Wayne's beef with the Miami Heat doesn't seem to be going away anytime soon, especially after what he said in regards to the wife of Heat star Chris Bosh.
It's safe to say Lil Wayne is not even close to being over recently getting kick out of the Heat-Lakers game in Miami – and the YMCMB rapper made that clear at Birdman's birthday party in Houston last night. "Lil Tunechi" began by leading a "F*ck the Miami Heat" chant, and continued the epic rant by dissing the "Big 3″ and claiming he slept with Chris Bosh's wife...
WHAT A KOOK
  Chris Bosh is not playing one of his best games right now during the first half of the NBA All Star game. Other than the continuos missed shots Bosh had, the most embarrassing had to be when Chris Paul dribbled between his legs. Bad thing is, Tony Parker did as well. At the end of the first half the West lead 69-65, with Wade leading the east with 12 points and Durant leading...
Chris Bosh capped off  his comical performance at Sunday night's All-Star game by photobombing Chris Paul's MVP photo:
Rapper was angered by NBA ban.
The post SCUMBAG STEVE'S TAKE ON THE CHRIS BOSH LIL WAYNE DRAMA appeared first on THEHUSKER.COM.
I think Lil Wayne just says things at times because it sounds good and controversy causes tongues to wag. Sunday night in Houston, Young Tunchi was on stage at Stereo Live. Wayne went off on a tangent about he'd been banned from all NBA events and it was the Miami Heat's fault and threw in that he had sex with Chris bosh's wife. The NBA is responding yet again saying that...
The post LIL WAYNE BELIEVES HEAT WIN TITLE appeared first on THEHUSKER.COM.
Still confused as to why Lil Wayne seems to have waged all out war on the Miami Heat? Me too. Luckily for us, Hip-Hop 365 has a source who provides a theory to consider. Lil Wayne is allegedly upset because LeBron doesn't want to be his friend? That's just the tip of the iceberg: According to a member of LeBron's inner-circle who spoke on the condition of anonymity, Lil Wayne...
Lil Wayne apologized to LeBron James for saying F**k LeBron James but said he isn't sorry for what he said and won't apologize for being him or, anything else that he said. In an interview with Miami's interview with Miami's Felisha Monet of 99 JAMZ, he said that he's really cool with LeBron's mom so he takes that back but nothing more.  Wayne also said that Dwyane...
Heat News

Delivered to your inbox

You'll also receive Yardbarker's daily Top 10, featuring the best sports stories from around the web. Customize your newsletter to get articles on your favorite sports and teams. And the best part? It's free!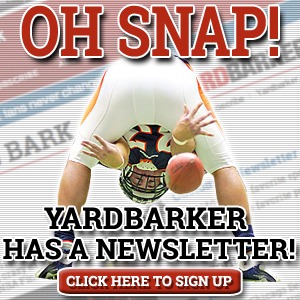 Latest Rumors
Best of Yardbarker

Today's Best Stuff

For Bloggers

Join the Yardbarker Network for more promotion, traffic, and money.

Company Info

Help

What is Yardbarker?

Yardbarker is the largest network of sports blogs and pro athlete blogs on the web. This site is the hub of the Yardbarker Network, where our editors and algorithms curate the best sports content from our network and beyond.