Found February 05, 2013 on Waiting For Next Year:
I watched Doug Dieken receive a lifetime achievement award at the Greater Cleveland Sports Awards a couple weeks ago. Dieken is a guy who figured it out. He played hard his whole career in Cleveland, then stuck around and built a very nice life for himself and his family, starting a couple of businesses and becoming a commentator for the Browns. He isn't the greatest color commentator. He wasn't the greatest offensive tackle. He was good, and he had a long career for the Browns. Like several other Cleveland athletes, Dieken is beloved in town long after his playing days are over. To be honest, it really shouldn't be that hard to do. With a new crop of athletes coming to Cleveland every year, I feel like there should be some kind of primer- a tip sheet if you will. Truthfully, most of the things on the list seem like common sense, but as we all know sense just isn't very common these days. So these are my tips for the new athlete in Cleveland. If you want the fans to like you, and be set for life in town after your career is over, try following these suggestions. The most important rule- be a decent human being. Seriously. That trumps most everything else. What do we mean by "being a decent human being"? It really is simple- treat other people like they matter. Smile at people when they smile at you. Acknowledge the kid waiving at you from across the street. The waiter or waitress at the restaurant? Chances are they told you their name when he or she first came to the table. Why not call him or her by name? Oh, and tipping? You don't have to be over the top. But I promise you that athletes who are bad tippers are well known around town. I've never been a celebrity, so I won't pretend to know what it is like to be asked to sign something or take a picture with someone everytime you go out. But in the grand scheme of things, a couple minutes here or there seems like a small price to pay for adulation. Don't waste your opportunity. Look, you work hard- but you also have been given an amazing gift. It's one that thousands of kids dream of having. Yes, it is your life to live. But for the relatively short time you get to spend in the highlight reels, just stay out of trouble. No matter what Charles Barkley says, he and you are role models. You can either be a good one, or a bad one. Don't be the athlete that dads have to have a talk with their sons about. Don't be the guy that mistreats women. And don't be the guy that makes a dad have to explain the phrase "banned substance". Understand the passion of Cleveland fans. Up until now, these tips could apply to any athlete anywhere. Now we get a little specific to Cleveland. Facts are facts. The psyche of the average Cleveland fan is pretty fragile these days. I apologize for that. No, this is not your fault. You are coming from Texas or California or Florida and have no clue what it's like here. Cleveland fans can be desperate and a bit paranoid. Losing games and losing star players will do that to you. Be sensitive to the idea that we've had to say goodbye to so many stars. Don't joke about leaving. It really won't go over well. Don't tell us you plan to stay forever either. We've been told that before. More than likely you won't come off as sincere, even if you are. Support the other teams in town. You don't have to go to every Cavaliers game for example, but be seen there sometime. Wish the other teams well when in the media scrum. Go to a high school football game around town. Go see the Lake Erie Monsters or the Crushers. I'm not even insisting that they become your favorite teams. Look, if you grew up in Chicago and are a big Cubs fan, nobody is going to begrudge you that. It is how you come across that is more important. Downplay your allegiance in public. Enjoy your favorite team in private. For the love of all that is good in this world, don't wear a Miami Heat or New York Yankee hat. Period. This town is so hungry for a winner. The team that ends that championship drought will have statues in their likeness and streets named after them. You will not pay for meals. Kids will be named after you. Around town you will be forever remembered and loved. Not a bad trade off when you think about it. Be cautious about social media. Believe me, I appreciate athletes on Twittter as someone that sometimes needs to find something to write about. I will say that the fastest place where an athlete can get tripped up is on twitter. No question it can be a great place to make a fan's day. If you had a goal to make a splash quickly in town, that would be the place to start. But the trade off can be ugly. You won't want to read what some fanatics will say after a loss or tough performance. Winning isn't everything. Chances are good you will play your career and never win a championship. If you play your career in Cleveland, there is unfortunately a decent chance you won't even get to see the post-season very often. When you hang 'em up, if you were never fortunate to be on a winning team, you can still be known as a winner in this community. Refer to rule number 1. It's why fans around here love guys like Phil Dawson. It's why Doug Dieken got a lifetime achievement award. It's why Austin Carr is loved in town, even though most people didn't even see him play. Good luck rook. We're cheering for you.
Original Story:
http://www.waitingfornextyear.com/201...
THE BACKYARD
BEST OF MAXIM
RELATED ARTICLES
Colt McCoy Terry Pluto of the Cleveland Plain Dealer "hears" that the Browns new front office doesn't see QB Colt McCoy as "a viable starting option" moving forward. McCoy took the backseat to rookie QB Brandon Weeden this season, but the rookie didn't exactly have the greatest first year in the league. McCoy is still a young quarterback who could be a serviceable...
A strange thing happened this past weekend: Cavaliers point guard Kyrie Irving, who previously could do no wrong, irked a few fans when he candidly admitted that he was agitated and became disinterested midway through a basketball game. A game wherein the All-Star was benched for the entire fourth quarter — alongside the rest of the team's starting unit — while his team would...
The Browns have released defensive end Frostee Rucker after one season. A top free-agent signing by Cleveland last year, Rucker is the first casualty of the team switching from a 4-3 to multi-front defensive scheme under first-year coach Rob Chudzinski. Rucker made $6 million last season, when he started all 16 games and finished with 48 tackles and four sacks. Rucker was due to...
According to the Akron Beacon Journal Online, the Cleveland Cavaliers could be looking to trade Marreese Speights.  This is after the Cavs acquired the forward from the Memphis Grizzlies on [...]
Hot News for DE Frostee Rucker
CLEVELAND -- Byron Scott wanted the Cavaliers to display more energy against crummy opponents, and man, no one better to use for a trial run than the Charlotte Bobcats. Theyre as crummy as they come. But instead of stinking right along with them, the Cavs turned Wednesdays game at the Q into 48 minutes of garbage time. Final score: Cavs 122, Bobcats 95. But lets forget about...
We're pleased to announce a prodigious addition to the Cleveland Frowns roster: Matt Borcas is a second-year journalism student from Ohio State, a Mentor, Ohio native, who recently emerged from a field of 4,000 competitors to land a part-time job writing about the NFL for ESPN's Grantland. Matt will be writing a weekly column on the NFL Draft here all the way up to the 2013 edition...
With a refocused Kyrie Irving, the Cleveland Cavaliers are hoping to add to their recent success. A visit from the Charlotte Bobcats could also help in that attempt. The Cavaliers will try to earn their sixth win in nine games and fifth in their last six at home Wednesday night against the struggling Bobcats. After averaging 35.7 points and shooting 61.2 percent over a three-game...
All Sports News

Delivered to your inbox

You'll also receive Yardbarker's daily Top 10, featuring the best sports stories from around the web. Customize your newsletter to get articles on your favorite sports and teams. And the best part? It's free!
THE HOT 10: Who's Trending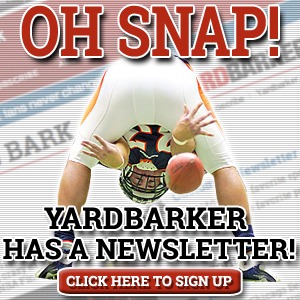 Latest Rumors
Best of Yardbarker

Today's Best Stuff

For Bloggers

Join the Yardbarker Network for more promotion, traffic, and money.

Company Info

Help

What is Yardbarker?

Yardbarker is the largest network of sports blogs and pro athlete blogs on the web. This site is the hub of the Yardbarker Network, where our editors and algorithms curate the best sports content from our network and beyond.