Found August 03, 2012 on Start 'N' Park Blog:
CORNELIUS, N.C. – No. 15 5-hour ENERGY Toyota driver Clint Bowyer spent Monday attending the Goodyear Tire test at Michigan International Speedway. In Bowyer's first season with Michael Waltrip Racing, the No. 15 team has tested Daytona, Texas, Pocono, Bristol and twice at Michigan. Plus an additional road course test to prepare for Sonoma. Bowyer says the test time has helped his new team build their notebook and get up to speed faster than it may have in previous seasons. Now the No. 15 5-hour ENERGY team is heading to Pocono for Sunday's NASCAR Sprint Cup Series race.
Bowyer's first season at MWR has also been the best of his Sprint Cup career.  A victory, four top-five finishes, and holding 10th place in the points standings in 2012 are all career bests after 20 races. Bowyer's history shows he could add to those totals this weekend. He owns one top-five and five top-10 finishes in 13 starts at Pocono. The MWR team is 10th with a 55-point lead over the 11th-place driver. Only six races remain before the start of the 10-race Chase.
ON TESTING: "We just don't have as many opportunities to test as we used to. NASCAR has really regulated our opportunities, so you have to make the most of a test when you can. You have to take full advantage of it and try to learn for no matter where you go. You have to learn that package and what adjustments work around that package. That's what we've really been trying to do with some of the packages that we've been working on. We try to learn how to adjust within that package. It may not be the best package for Michigan, but it may be the best package for Pocono. We just have to figure out how to adjust around it."
"It's been really beneficial to be as young of a team as we are – or as new as we are at working together to have tested as much as we have this year. We've tested more this year than we have in quite some time because the tracks are repaving. Tracks like Michigan, Pocono, Bristol – even Kansas coming up is going to have a new surface. And for a group of guys that are all working together for the first time, it has been an advantage. We've learned a lot about each other, the setups and what we like. It's been a huge help and I think we've been fortunate to test as much as we have."
ON MICHIGAN TEST: "The test was good. We were able to go through some of our things that we've been wanting to try which is a good thing. We are documenting some laps for Goodyear. The tire looks good. It has good grip. I think it's kind of in-between the tire that we had before and the tire that we ended up racing on (in June) as far as speed. It's not crazy fast like that first one was, but not as far off as the one we raced. Tire wise, we are all pretty happy. I'm just working on some balance things and trying to learn some things for when we come back here. The speeds are great and everybody is pretty happy so far.
"First and foremost it's a test for Goodyear. It really doesn't matter what we're doing with our car balance wise as long as we're in the ballpark of where we are going to race lap time wise – those tires don't know the difference as to what setup is underneath of it, so changing and setup don't affect what Goodyear sees as far as their tire data one bit."
HOMETOWN BOY: On Saturday, July 21 Clint Bowyer hosted his Support Emporia 2012 Charity Event at Emporia Municipal Golf Course in Emporia, Kan. The event raised more than $350,000 to benefit the Emporia Community Foundation through Bowyer's "79 Fund."  Participants played golf and enjoyed dinner, an awards ceremony, live auction and music at the Emporia Municipal Building following the golf tournament.
BOWYER AT INDY: Bowyer started 33rd and raced his way into the top-20 before a spin on lap 47 caused damage to the rear of the car. After multiple pit stops for repairs, Bowyer restarted 31st and rallied to a 15th-place finish.
CHASSIS NOTES: Primary Chassis No. 733 started 16th and finished sixth at Pocono in June. Backup chassis No. 721 has served backup duty at multiple races, but has not raced. It served as the backup at Las Vegas, Fontana, Texas, Kansas, Darlington, All-Star, Charlotte, Pocono and Michigan. Chassis No. 721 tested Pocono on June 6 and Michigan on June 14.
2012 BOWYER vs. CAREER BOWYER: Clint Bowyer has scored one win (Sonoma), four top-five and 10 top-10 finishes and ranks 10th through the first 20 races of 2012. In his six previous seasons, Bowyer best ranking through 20 races was 10th in 2007, most top-five finishes was four in 2008 and most top-10s was 11 in 2010. See side bar for additional comparison.
MORE ON 2012: Bowyer has led 78 laps – three at Las Vegas, two at Martinsville, one at Michigan, 71 at Sonoma and one at New Hampshire. At Sonoma, Bowyer scored his sixth career Cup Series win and his first on a road course. He has an average finish of 12.3 and start of 14.9. Bowyer's best average finish for a season came in 2007 when he averaged a finish of 13.8 and finished third in the final point standings.
MWR IN 2012: MWR's five Cup Series drivers have scored a combined record of one win (Bowyer at Sonoma), 12 top-five and 28 top-10 finishes through the first 20 starts of the season. Four of the five drivers have recorded two or more top-five finishes – Truex Jr. has four, Bowyer has three and Mark Martin and Brian Vickers each have two. All five drivers, including Michael Waltrip, have recorded a top-10.
LEADING THE WAY: MWR's Toyotas have led 623 laps in the first 19 Sprint Cup Series races of 2012. Martin Truex Jr. leads the MWR charge with 320 laps, followed by Brian Vickers with 125, Martin with 79, Bowyer with 78 and Waltrip with 21.
TESTING AT MICHIGAN: All three MWR teams participated in the Goodyear Tire Test at Michigan International Speedway on Monday, July 30. Clint Bowyer drove the No. 15 Toyota, Martin Truex Jr. in the No. 56 and Mark Martin in the No. 55.
REVIEWING JUNE: Bowyer scored 191 points in the month of June – second only to Jimmie Johnson. He climbed from 12th in points up to seventh. His average starting position was ninth and finish was seventh. He had one win, two top-five and four top-10 finishes in five races. He led 72 laps (one at Michigan and 71 at Sonoma).
5-hour ENERGY VIP SWEEPSTAKES – ENTER BY AUG. 1: The 5-hour ENERGY VIP Racing Experience Sweepstakes winner will receive travel accommodations to Charlotte, N.C., unique team access at the track, honorary pit crew memberships, the winner's name on the No. 15 Toyota, NASCAR Hall of Fame tickets, a MWR shop tour, and meet and greets with Michael Waltrip and Bowyer. For information or to enter, please visit the online entry form.
Original Story:
http://startnparkblog.com/?p=9285&utm...
THE BACKYARD
BEST OF MAXIM
All Sports News

Delivered to your inbox

You'll also receive Yardbarker's daily Top 10, featuring the best sports stories from around the web. Customize your newsletter to get articles on your favorite sports and teams. And the best part? It's free!
THE HOT 10: Who's Trending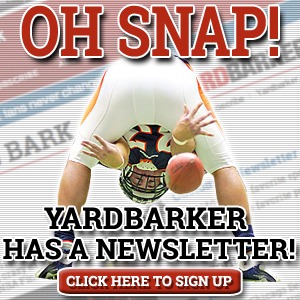 Latest Rumors
The Backyard

Today's Best Stuff

For Bloggers

Join the Yardbarker Network for more promotion, traffic, and money.

Company Info

Help

What is Yardbarker?

Yardbarker is the largest network of sports blogs and pro athlete blogs on the web. This site is the hub of the Yardbarker Network, where our editors and algorithms curate the best sports content from our network and beyond.