Found June 02, 2013 on Fox Sports West:
Cal Poly right fielder Nick Torres was worried about the outfield lights at dusk Friday night at Jackie Robinson Stadium. Torres, a sophomore out of nearby Lakewood, said all of the Mustang outfielders were having a tough time picking up the path of fly balls with the sky still light. Sure enough, a fly ball came his way. It became a play that changed the entire course of the game, as No. 1 seed UCLA came back from a four-run deficit to overtake No. 2 Cal Poly 6-4 in the fourth game of the Los Angeles Regional. Feels like it always seems to happen like that. Just for that one inning where the lighting was really bad, Torres said. We came out the next inning and of course it was dark enough and we could see the ball clear. With UCLA (41-17) trailing 4-1 in the top of the sixth, the Bruins had the bases loaded with two outs and had just chased starter Matt Imhof from the game. Cal Poly (40-18) closer Reed Reilly looked to be out of a jam when Kevin Williams hit a routine fly ball to right field. Except it wasnt so routine. Torres lost the ball in the lights. It dropped a few feet in front of him at the warning track and Williams made it all the way around to third, effectively clearing the bases and tying the game. The fly ball was clearly a break, said UCLA head coach John Savage. They lost the ball in the sky, thats a tough sky at night. When I hit it, I thought I just got under it a little bit, Williams said. I looked up and realized that I had a tough time seeing it, realized that he couldnt see it either so I got on my horse and went to third. UCLA tacked on two more runs in the seventh to ensure a spot in the championship game for the second straight year and the fourth time with Savage at the helm. The Bruins will play at 6 p.m., and face the winner of the 2 p.m., matchup between Cal Poly and No. 3 San Diego. Coveys Emergence Local product Dylan Covey was a big name in the 2010 MLB Draft, but didnt sign with Milwaukee. It wasnt clear why until a few months later when he revealed he had been diagnosed with Type 1 diabetes. He chose to attend San Diego because of the proximity to his Pasadena home and the UCLA medical center where he receives treatment. Its been far from a smooth ride for Covey, now a junior and once again a big name in the draft. His ERA has taken some bloating but he has shown remarkable resilience and that dominant, filthy stuff is still there. Saturday afternoon against crosstown rival No. 4-seed San Diego State, the Dylan Covey everyone knew was there emerged as he earned the win in seven and 23 innings of work. Covey gave up three earned on four hits and struck out two in the win, his fifth of the season. You look at Dylan covey today, for all he has been through and on the biggest stage to throw a gem, said San Diego (36-24) head coach Rich Hill. Weve been in the losers bracket, punched in the gut in opening weekend. Whoever we put on the mound is going to game it. Tipped Out or Tipped Off? Imhof carried a no-hitter through five innings against UCLA, but in the sixth his luck suddenly turned, starting when Pat Gallagher drilled the first pitch he saw down the left field line for a double. Gallagher started what would become a crucial four-run rally. According to Imhof, the Bruins knew what he was going to throw. They started picking me in like the fourth or fifth. I was tipping my pitches I guess, Imhof said. In the sixth it started becoming a little more routine. I think they almost got every pitch in the sixth. I gave them enough of an advantage that they were able to put some good swings on some balls. However, UCLAs hitters didnt see things the same way as Imhoff. Uh, no, Williams said, shaking his head. That would have been nice but we didnt have any tipped pitches or any verbals or anything, just tried to compete at the plate. Around the Big West Cal Poly rival UC Santa Barbara was edged 3-2 by No. 1 seed Oregon State in the Corvallis, Ore., Regional. However, Cal State Fullerton took the award for the most bizarre game of the night. It took No. 4-seed Columbia 13 innings to upset No. 3 New Mexico oddly enough, the 13th-ranked team in the nation forcing No. 1 Cal State Fullerton and No. 2 Arizona State to being play at 9:45 p.m., Pacific. The game was further delayed when a dog a Husky, to be exact ran on to the field. In case you missed the start of the dog days of summer at CSF last night: facebook.comBigWestConfere Big West Conference (@BigWestSports) June 2, 2013 The Titans couldnt have asked for a cuter streaker.
Original Story:
http://www.foxsportswest.com/06/02/13...
THE BACKYARD
BEST OF MAXIM
RELATED ARTICLES
A baseball glove worn by Jackie Robinson in the 1955 and 1956 World Series has been auctioned for $373,002. Steiner Sports said the glove was sold Sunday in an online auction by Steiner Sports Memorabilia. A Jackie Robinson Louisville Slugger bat, thought to be from the 1956 season, sold for $114,000. Steiner executive vice president Brett Schissler said Monday the same person...
Baseball fans may have shied away from baseball cards as a valued memorabilia commodity, but game worn apparel will always have its appeal.  A Jackie Robinson glove worn in the 1955 and 1956 World Series sold for just over $373K on Monday at auction, according to MLB.com.  The winning bidder also snapped up a Robinson bat for $114K.  The glove was verified as the real-deal, according...
NEW YORK — A baseball glove worn by Jackie Robinson in the 1955 and 1956 World Series has been auctioned for $373,002. Steiner Sports said the glove was sold Sunday in an online auction by Steiner Sports Memorabilia. A Jackie Robinson Louisville Slugger bat, thought to be from the 1956 season, sold for $114,000. Steiner executive vice president Brett Schissler said Monday the same...
It was a breakthrough day for the Cal Poly baseball program. The Mustangs earned their first-ever Division I regional win when they defeated No. 3 seed San Diego 9-2, Friday afternoon at UCLAs Jackie Robinson Stadium. The second-seeded Mustangs also posted their third 40-win season in program history and starting pitcher Joey Wagmans win, No. 13 on the season, was also a new single...
One lucky buyer secured this Jackie Robinson glove for a cool $373,000 at an auction. It is believed to have been worn during the final season of Robinson's illustrious and barrier-breaking career.
A baseball glove believed to be used by Jackie Robinson in the 1955 and 1956 World Series sold for a whopping $373,000 in an auction that ended Monday.Believe it or not, the glove fell short of the record for the highest dollar amount ever paid for a glove at an auction. That title belongs to a glove worn by Lou Gehrig, which sold for $387,500 in 1999.Other items sold at the auction...
I completed my first trade with Austin, who commented on my post about Jackie Robinson Night earlier this year. In that post, I mentioned that I only had cards of note for two of the three guys on the statue that the Dodgers gave out that night. I was without anything of Don Newcombe, and Austin offered up a sweet vintage Newk. We met up yesterday and made the always enjoyable in...
LOS ANGELES -- The Jackie Robinson Stadium crowd held its breath during the sixth inning of Sunday afternoons game between Cal Poly and San Diego. San Diego, the No. 3 seed in the Los Angeles Regional, led the second-seeded Mustangs 6-4 and needed to hold on to the win in order to advance to the championship game. It was just as if Hollywood scripted it when Kris Bryant, the Toreros...
All Sports News

Delivered to your inbox

You'll also receive Yardbarker's daily Top 10, featuring the best sports stories from around the web. Customize your newsletter to get articles on your favorite sports and teams. And the best part? It's free!
THE HOT 10: Who's Trending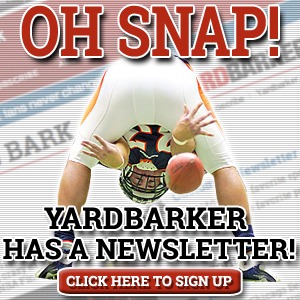 Latest Rumors
The Backyard

Today's Best Stuff

For Bloggers

Join the Yardbarker Network for more promotion, traffic, and money.

Company Info

Help

What is Yardbarker?

Yardbarker is the largest network of sports blogs and pro athlete blogs on the web. This site is the hub of the Yardbarker Network, where our editors and algorithms curate the best sports content from our network and beyond.