Posted September 27, 2012 on AP on Fox
Playing with emotion makes Ahmad Bradshaw one of the NFL's toughest running backs. Putting them on display Sunday with the running game struggling came close to getting the New York Giants veteran in big trouble with coach Tom Coughlin. An angry and frustrated Bradshaw slapped Victor Cruz in the back of the helmet after the receiver missed a block on a third-quarter run, and then screamed at his 66-year-old coach minutes later to run the ball more as the offense went on the field following a Redskins' turnover. A disciplinarian, Coughlin yelled right back at Bradshaw. The coach addressed the issue Monday with his No. 1 running back, but would not disclose what was said a day after the Giants (5-2) rallied for a 27-23 win over Washington on a 77-yard pass from Eli Manning to Victor Cruz with 1:13 to play. ''There's never been any question about Ahmad Bradshaw's toughness, his intensity level,'' Coughlin said. ''He plays the game hard. You'd like to have everybody play as hard he plays, to be honest with you. He gives it everything he's got. You want people to recognize that fact, but sometimes you do have to control yourself and control your emotions ... and he's working on it.'' Bradshaw said Coughlin's response was as animated as his, but both men felt it was a heat-of-the-moment exchange. ''That is the thing about this team, we all just want to win and anything we can do to help, I think it helps,'' said Bradshaw, who tossed his helmet after sitting on the bench following the incident. Bradshaw, who had rushed for a combined 316 yards the previous two games, let his emotions get the best of him in the third quarter of a game in which Washington was stuffing New York's run repeatedly. It started after a 15-yard run to the left, his longest run on an afternoon where he gained 43 yards on 12 carries. The play had the potential for more, but Cruz missed a downfield block on Washington's Madieu Williams and the safety upended Bradshaw. The running back quickly got up, went right at Cruz and screamed at him while slapping him in the back of the helmet. Cruz laughed when asked if he suffered a concussion from the hard slap. But he also said he wasn't offended, saying Bradshaw wants the best from everyone on the offense. ''We understand what kind of person Ahmad is and we understand he's emotional and he wears his heart on his sleeve,'' Cruz said. ''He's the pulse of the offense sometimes. The way he runs the ball, he wants the ball every chance he gets. And we understand that. The emotions (are) just what he brings to the table. We respect it. Obviously from the outside looking in, it looks a little iffy. ''But all that matters is what we think about him in this locker room, and (on) the coaching staff.'' Manning said the Giants appreciate how Bradshaw works, especially in a week where he was bothered by a foot injury. ''He does a great job in running hard and I think he thought he had a shot to break even a bigger run on that play,'' Manning said. ''So, he's trying to make sure those guys know that he tries to do everything to protect and give them opportunities to make plays. He wants the same in return.'' Teammates had no problem with Bradshaw's actions. "Hey, if I'm going to a fight, I'm taking Ahmad with me,'' safety Antrel Rolle said. ''I love that guy, I love his passion, I love the attitude he brings to a game. He's a very emotional guy. Nothing he does is meant to be disturbing to anyone else. It may come across like that, it may not. But we all know Ahmad means the world (to us). ''We ride or die with Ahmad.'' Guard Kevin Boothe said football is an emotional game and players yell at times, noting Bradshaw's blowup drew more attention because he is a high-profile player on a champion team. ''He's the starting running back for the New York Giants,'' Boothe said. ''If he's yelling, I think that draws more attention than if I'm yelling. I think if we're both yelling on the sideline, chances are you guys will pick up Ahmad Bradshaw rather than Kevin Boothe.'' Tight end Martellus Bennett said Bradshaw is the same person whether he's on the field, in the locker room or eating lunch. ''That's why we love him,'' Bennett said. ''I don't know a good adjective to describe him, but Ahmad is Ahmad. That's who he is.''
Original Story:
http://msn.foxsports.com/nfl/story/ne...
THE BACKYARD
BEST OF MAXIM
RELATED ARTICLES
Thanks for the tips Juan… Ahmad Bradshaw is back this week and looks like he enjoyed the week off from football.  He will most likely be splitting carries with new sensation and journeyman Andre Borwn, but Coughlin has already stated he will ride the "hot hand", otherwise known as annoying for fantasy. Week 4 Snap Count Breakdown Week 4 Practice Report
Ahmad Bradshaw is ready to return as the New York Giants top running back after being sidelined for a game by an inflamed disk in his neck. Bradshaw has not missed a practice in preparing for Sunday night's game against the Eagles (2-1) in Philadelphia, and coach Tom Coughlin intends to start him. Coughlin added that Bradshaw would split time with Andre Brown, who was outstanding...
Giants running back Ahmad Bradshaw has been cleared to practice this week and is expected to return as the team's starter, according to a New York Daily News report. This pushes fill-in Andre Brown, who ran for 113 yards and two touchdowns last Thursday against the Carolina Panthers, back to the bench. Also, wide receiver Hakeem Nicks told the paper that he'll "definitely...
New York Giants running back Ahmad Bradshaw will return to the starting lineup on Sunday against Philadelphia, according to ESPN New York. Bradshaw sat out last Thursday's game in Carolina with a neck injury. He suffered the injury early in week 2 against Tampa Bay. Bradshaw could be eased back in with fellow running back Andre Brown coming off a career game. Brown rushed...
Ahmad Bradshaw may see his role limited this Sunday (Photo by stephen_d_luke, used under Creative Commons License) Jim Mancari BGB Assistant Editor Andre Brown has turned heads the past two weeks with his power running style, which has helped the Giants earn their first two wins of the season. Starting running back Ahmad...
While the New York Giants will be getting running back Ahmad Bradshaw back from a neck injury Sunday during their primetime contest against the Philadelphia Eagles, the team is listing wide receiver Hakeem Nicks as doubtful. Nicks missed last Thursday's game against the Carolina Panthers due to a knee injury, but most expected him to return this weekend after the...
Giants head coach Tom Coughlin has told the media that Ahmad Bradshaw will start at RB on Sunday night over Andre Brown. He was explaining to the media on how they use three running backs all season long and he will give Andre Brown touches during games. I would rather see Andre Brown start instead of Ahmad Bradshaw because he has been fantastic since Ahmad Bradshaw went down...
As the New York Giants continue to deal with a bunch of injuries, the good news is that running back Ahmad Bradshaw (neck), wide receiver Hakeem Nicks (foot), and cornerback Michael Coe (hamstring) were back at practice today. Bradshaw did mentioned that his neck feels great, but it could flare up again at any time. There's no doubt in my mind that both Nicks and Coe will play...
Call it thunder and lightning. Call it the starter and the back-up. Call it a timeshare, platoon, backfield by committee or change of pace. Call it whatever you want. All that is known is that the New York Giants said that Ahmad Bradshaw will return as the starting running back when they face the Philadelphia Eagles on Sunday Night Football. That means that Andre Brown will not remain...
New York Giants offensive coordinator  Kevin Gilbride indicated on Thursday that they'll run the ball with whoever has the hot hand, whether that's Ahmad Bradshaw or Andre Brown. "He's really played well," said Gilbride, per Ralph Vacchiano of the New York Daily News. "He's gotten opportunities that probably would not have occurred if it wasn't for the injury to...
In their last five quarters, the Giants have scored 61 points, rushed for 143 yards, and passed for 531 yards -- numbers that head coach Tom Coughlin attributed to improved focus on assignments and techniques. This week, the Giants will face the Philadelphia Eagles, a 2-1 team that, over the same five quarters, has scored just 13 points, rushed for 145 yards, and passed for 269...
I am a little tired of the constant complaint of Philly fans who demand a more "balanced" offense out of the Eagles attack... Offensive "balance" is a myth in today's NFL... This sport has evolved into a chess match...and the key word is "match"... Teams that win in the NFL today are the ones who identify and exploit "mismatches...
Giants News

Delivered to your inbox

You'll also receive Yardbarker's daily Top 10, featuring the best sports stories from around the web. Customize your newsletter to get articles on your favorite sports and teams. And the best part? It's free!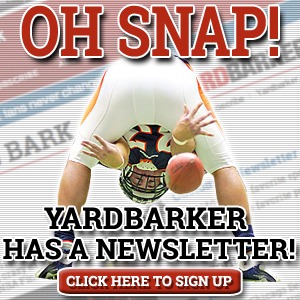 Latest Rumors
The Backyard

Today's Best Stuff

For Bloggers

Join the Yardbarker Network for more promotion, traffic, and money.

Company Info

Help

What is Yardbarker?

Yardbarker is the largest network of sports blogs and pro athlete blogs on the web. This site is the hub of the Yardbarker Network, where our editors and algorithms curate the best sports content from our network and beyond.