Found November 17, 2012 on MaizeAndGoBlue:
Michigan beat Iowa 42-17 and Denard Robinson, in his last game in Michigan Stadium saw snaps at quarterback, running back, and receiver. He started the game at running back in his first game since his injury suffered at Nebraska and amassed 122 total yards (98 rushing, 24 receiving). He spoke to the media afterwards and got a little bit choked up at times. Denard speaks to the media for the last time in Michigan Stadium (Justin Potts, M&GB) On what it meant to be a senior leader and a Michigan quarterback… "It means a lot. It's hard to put into words what this means to me. Being the leader on this team and being one of the guys that was picked by the team to be a captain and a leader, it's kind of hard to swallow right now because it's come to an end." On when he knew he would play today and when he started working on playing running back/receiver… "I've been getting treatment a lot and [it] has been getting better and better, so once I got a chance to get the go-ahead, I went out and started practicing, started playing a lot of stuff." On how desperately he wanted to play in his last game and whether he had to campaign the coaches to do so… "Oh no. I think everybody knew. They know me, and they know that I'll do whatever it takes for the team. I'm the kind of person that if I can go, I'm going to go and I won't hold back. I'll do whatever for this team – that's my family." On how his elbow feels now, and whether he could have thrown the ball if he had to… "It feels pretty good. I threw the ball in warmups, so we'll see next week." On who's idea it was to play the role he did today… "Coach. Coach Borges. He dialed up some good stuff and I was all for it." On getting the ball from Devin Gardner instead of him throwing to Devin like it was in the first half of the season… "It is kind of funny, but we never talked about it. It was just, let's go with it." On what he was thinking about walking up the tunnel for the last time… "All the memories that I had with the team and being with these guys. Everything we went through – the ups and downs in the stadium – just memories that kept going through my head." On whether there is a memory that stands out more than others… "Not really. I think just thinking about it being my last time playing in the Big House. It just blows my mind because time went by so fast. It just surprised me that it went by so fast. I guess we were having fun, and when you're having fun, time goes." On when he started practicing again… "This week, I got the go-ahead." On whether he practiced the last couple of weeks… "I did a little bit, and it was day to day what I could do and what I couldn't do." On whether he has any discomfort at all with his elbow. It looked like he grimaced after patting an Iowa defender on the helmet after a play… "No, I was good. He made a good hit on me so I gave him a slap on the hat." On Devin Gardner's performance the last three weeks… "He's doing great and he's been playing well. We all faith in him and we all knew he could do it. I'm behind him 100 percent. I support him and we support him. He's doing a great job and I can't wait to see what he can do in the future." On his comfort level with the role he played today and what the challenge was in that role… "Of course, going against another defense, but our offensive line did well when I did run the ball. When I did get it off a screen pass or something like that I feel like they did a great job blocking. I just had to try to make a play." On whether this gives Ohio State more to think about for next week… "Oh yeah (laughs), oh yeah. It's going to be a great game and it's going to be a physical game, but right now we're focused on this win." On Fitz Toussaint's injury… "That's our brother. You know, it's always sad and it's always bad when you see one of your brothers on the ground and you can't help him right then and there. So it was bad, but he's a strong guy and I know he will bounce back  and our prayers go out to him." On whether there was a point after his elbow injury where he didn't know if he was going to be able to come back and play, and how easy it was to embrace this new role… "When I had the time off and they said I couldn't play those two weeks, I was just like 'man,' it was a bad feeling, because I never miss big games. I missed one game and that was like my first year playing football. I've missed three games my whole life, so it was different for me being on the sidelines and cheering them on. It was tough, but when I got the chance to get back on the field, there was no question. It was like let's just go out there and have fun and enjoy being with your team." On whether he was he tempted to throw the ball at all… "I wasn't tempted, I mean Coach made some good calls and I was ready to do what I had to do to try to help the team out." On whether he has ever played a game where he was the quarterback but never threw the ball… "No, I haven't." On what he and Devin Gardner said when they embraced after the game… "I just told him to keep going. Keep leading, keep playing your game. We're behind you. That's all." On how he would evaluate his career based on what he thought he would accomplish when he first got here… "I couldn't imagine what I have done. I didn't think I'd have as much success as I've had. I think God blessed me to give me the opportunity to play and start for three years and keep going at it. To have the opportunity to graduate next semester. I feel like it's a blessing to be here and it means a lot. It means a lot." On how surreal it was to be in the huddle but not calling the plays… "It was different, but practice kind of made me go 'Ok, you're not going to call the plays right now' so I was in the back of the huddles trying to listen to what was going on. It was kind of different." On his thoughts on his last game in front of the home fans… "It is just an honor to be playing in front of so many people. They cheer for you and they can't wait to see you play or see the team come out of the tunnel and the winged helmet being on the field. I want to say thank you to everybody that ever came out and supported us and personally, I love them, I love the fans, and appreciate them."
Original Story:
http://maizeandgoblue.com/2012/11/17/...
THE BACKYARD
BEST OF MAXIM
RELATED ARTICLES
ANN ARBOR, Mich. -- Denard Robinson was back in the starting lineup for Michigan on Saturday -- at tailback. Robinson missed Michigan's last two games because of an elbow injury, and Wolverines coach Brady Hoke was coy as to his availability for Senior Day this week against Iowa. Robinson received a standing ovation when he was introduced in pregame ceremonies, then drew another...
Michigan has put Denard Robinson back in the starting lineup. The senior lined up at running back in his final home game and gained 3 yard on a toss sweep the first time the 23rd-ranked Wolverines were on offense Saturday against Iowa. Devin Gardner made his third straight start at quarterback in place of Robinson, who has been out with nerve damage in his right elbow. Robinson...
The Hawkeyes are playing vanilla football and Michigan has found a way to deal with the injury of Denard Robinson and still get it done. This game seems pretty cut and dry on paper but here are three bold predictions for this game that might surprise you!Michigan loses this game if Robinson playsAll you have to do is look at the 2010 Hawkeyes win over Michigan and know that Iowa...
It was a beat down. Not only was it a beat down in the Big House last Saturday, it was a beat down that was long, long, over due. Iowa had beaten the Wolverines for three straight years. While that is an anomaly, it occurred. Once again, there are certain things that championship teams simply do not do. Allowing teams to beat you consistently is one of those things. The Wolverines...
ANN ARBOR, Mich. -- Devin Gardner is still the quarterback at Michigan at least most of the time. Gardner was the star of Michigan's 42-17 victory over Iowa, running for three touchdowns and throwing for three more, but Denard Robinson's new role might have been the bigger story. In a scheme drawn up by offensive coordinator Al Borges, Robinson returned from injury to...
Despite the season ending injury to junior running back Fitz Toussaint, the Michigan offense is fully utilizing play action to open up the passing game. With a dangerous Denard Robinson in the backfield, more could be on the way.
1se·nior - 1: a person older than another 2 a:a person with higher standing or rank    b: a student in the year preceding graduation from a school of secondary or higher level This definition can be applied to the following men for Team 133: Vincent Smith, Brandin Hawthorne, J.T. Floyd, Jack Kennedy, Steve Wilson, Roy Roundtree, Floyd Simmons, Kenny Demens, Paul Gyarmati,...
This was supposed to be the last warmup for Michigan -- an easy game against Iowa before a shot at the three-game package that's now the goal of every Wolverines season: Ohio State, the Big Ten Championship Game and the Rose Bowl. That all changed when Denard Robinson got hurt against Nebraska and Russell Bellomy imploded. Now, even though the Wolverines are tied for first in...
Michigan scored touchdowns on its first six drives and Devin Gardner had a career day as Michigan routed an Iowa team that had beaten it the past three seasons. Denard Robinson played his last game ever in the Big House, and boy was it a good one. Michigan 42 – Iowa 17 Final Stats 42 Final Score 17 8-3, 6-1 Record 4-7, 2-5 513 Total Yards 309 199 Net Rushing Yards...
GoBlueWolverine's Tom Beaver and Kyle Bogenschutz as well as former Michigan football player Stan Edwards discuss the Wolverine's 42-17 win over Iowa including thoughts on the use of Denard Robinson, the play of Devin Gardner and look ahead to the season ending match-up at Ohio State.
Michigan's football program has 23 seniors who will go out as winners, a far cry from their first season. ''I wish I had been under this coaching staff for four years,'' Wolverines defensive tackle Will Campbell said. Campbell came to campus during the Rich Rodriguez era and is finishing up under Brady Hoke. He and the other fourth-year players were one game...
Wolverines News

Delivered to your inbox

You'll also receive Yardbarker's daily Top 10, featuring the best sports stories from around the web. Customize your newsletter to get articles on your favorite sports and teams. And the best part? It's free!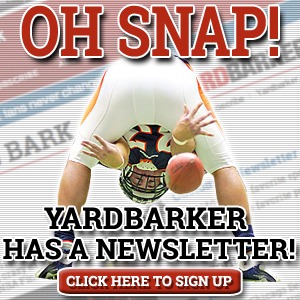 Latest Rumors
Best of Yardbarker

Today's Best Stuff

For Bloggers

Join the Yardbarker Network for more promotion, traffic, and money.

Company Info

Help

What is Yardbarker?

Yardbarker is the largest network of sports blogs and pro athlete blogs on the web. This site is the hub of the Yardbarker Network, where our editors and algorithms curate the best sports content from our network and beyond.