Found August 27, 2012 on Start 'N' Park Blog:
PLAYERS:
Denny Hamlin
,
Carl Edwards
,
Jeff Gordon
,
Brian Vickers
,
Marcos Ambrose
,
Greg Biffle
,
Ryan Newman
,
Brad Keselowski
,
Regan Smith
,
Danica Patrick
,
Kyle Busch
,
Matt Kenseth
,
Kasey Kahne
,
Clint Bowyer
,
Joey Logano
,
Paul Menard
,
Bobby Labonte
,
Kevin Harvick
,
Jamie McMurray
,
Travis Kvapil
,
David Gilliland
,
Michael McDowell
,
Landon Cassill
,
Dave Blaney
,
Kurt Busch
,
David Ragan
,
Jeff Burton
,
Aric Almirola
,
David Stremme
,
Josh Wise
,
Joe Nemechek
,
Stephen Leicht
,
Scott Riggs
,
Ken Schrader
,
Mike Bliss
,
Dale Earnhardt Jr.
,
Martin Truex, Jr.
BRISTOL, Tenn. — It wasn't the old Bristol, but it was definitely a better Bristol.
Denny Hamlin saved his best effort for the stretch run in Saturday's Irwin Tools Night Race at Bristol Motor Speedway, and his persistence paid off with the No. 11 team's third win of the season in 24 NASCAR Sprint Cup Series races.
"It's Bristol — I don't know what to say, man," Hamlin said as he crossed the finish line. "I'm so damn happy."
But it wasn't the same Bristol that played to half-empty grandstands in March. On the contrary, grinding two degrees of banking off the outside lane — a project orchestrated after the March race — helped produce an abundance of action, but perhaps not in the way track owner Bruton Smith intended.
After a heated battle, Hamlin passed Carl Edwards for the lead on Lap 462 but didn't clear the No. 99 Ford until both drivers traded shots. As Edwards faded, Hamlin pulled away to beat Jimmie Johnson to the checkered flag by 1.103 seconds.
Jeff Gordon ran third, followed by Brian Vickers and Marcos Ambrose.
Greg Biffle (19th Saturday), Johnson and Dale Earnhardt Jr. (12th) clinched berths in the Chase for the Sprint Cup.
On the newly ground surface at the .533-mile short track, the race featured 13 cautions and plenty of emotion, as drivers began to rubber-in the outside groove and discovered it was the fastest way around.
To Hamlin, the racing was similar to the old Bristol — just that cars ran single-file in the top groove instead of on the bottom of the track.
"It's just a different kind of racing," said Hamlin, who won the 20th Cup race of his career and the record 200th for the No. 11. "There's nothing (Smith is) going to do that's going to make us run the bottom, if that's not the fastest way around the track. But it was the same thing — we were all running in a line. You're just waiting for the next guy to screw up to get around (him).
"That's what we had to do with the old Bristol, and that's exactly how we had to race today. The slide job was an option to pass, which won us the race. I don't think we saw as much side-by-side racing, but you didn't see side-by-side racing with the old Bristol. You just saw a bunch of cars in line, waiting for someone to get knocked out of the way or to mess up."
There were plenty of flare-ups to punctuate the racing. Juan Pablo Montoya wrecked his old nemesis, Ryan Newman, and dropped him out of a provisional wild-card spot. Brad Keselowski's Dodge with the throwback paint scheme pinballed between three different cars before wrecking.
Contact from Regan Smith sent Danica Patrick hard into the frontstretch wall.
"The pace was fast," said Gordon, who inched closer to a wild-card spot in the Chase but still trails Kyle Busch by 16 points for the second of two positions. "You'd fly up around the top like that with all that rubber down. . . . It was fast, and it was intense.
"The only way you could pass was to just dive on in there and slide-job the guy, and sometimes you don't complete that. And when you don't complete that, it definitely will get you frustrated and (you) lose positions, and if you hit the guy, it's going to fire him up."
No wreck was more significant to the outcome of the race — or to the Cup standings, for that matter — than Tony Stewart's dust-up with Matt Kenseth on Lap 332. Stewart had the faster car, but Kenseth had the race lead, and their cars collided as they powered through Turn 4, with Stewart to the outside.
Repeated contact between the cars turned both sideways as they crossed the start/finish line. Kenseth's Ford careened into the inside wall at the end of the frontstretch, with Stewart's Chevrolet slamming into Kenseth's car.
Kenseth's car was wounded, but he drove away from the wreck. Stewart climbed from his car and slung his helmet squarely into the nose of Kenseth's car.
"We weren't that great of a race car, but we were definitely faster than that (Kenseth's car) after that restart (on Lap 329)," Stewart said while his car spent 25 laps in the garage for repairs. "I checked up twice to not run over him, and I learned my lesson there.
"I'm going to run over him every chance I've got from now till the end of the year — every chance I've got."
Stewart finished 27th and dropped a spot to 10th in the standings, 16 points ahead of Kasey Kahne in 11th. If Stewart should drop out of the top 10, he won't get bonus points for his three victories when the Chase starts.
Kenseth finished 25th and fell two spots to fourth in points, but he clinched at least a wild-card berth in the Chase.
The wreck with Smith on Lap 434 relegated Patrick to 29th in her fourth Cup start. Patrick, who was sandbagged by a sneaker in last week's NASCAR Nationwide Series race at Montreal, was running on the lead lap in the top 20 before the other shoe finally dropped.
By Reid Spencer | NASCAR Wire Service
RACE RESULTS
1.  (8) Denny Hamlin, Toyota, 500, $329,441.
2. (37) Jimmie Johnson, Chevrolet, 500, $250,051.
3. (11) Jeff Gordon, Chevrolet, 500, $205,026.
4. (22) Brian Vickers, Toyota, 500, $139,215.
5.  (9) Marcos Ambrose, Ford, 500, $153,398.
6. (10) Kyle Busch, Toyota, 500, $161,998.
7. (23) Clint Bowyer, Toyota, 500, $141,554.
8.  (4) Joey Logano, Toyota, 500, $130,440.
9. (12) Kasey Kahne, Chevrolet, 500, $117,515.
10.  (7) Paul Menard, Chevrolet, 500, $117,640.
11. (15) Martin Truex Jr., Toyota, 500, $134,119.
12. (16) Dale Earnhardt Jr., Chevrolet, 500, $112,780.
13. (28) Juan Pablo Montoya, Chevrolet, 500, $133,921.
14. (36) Bobby Labonte, Toyota, 500, $130,388.
15. (13) Kevin Harvick, Chevrolet, 500, $149,741.
16. (14) Regan Smith, Chevrolet, 500, $125,813.
17. (26) Jamie McMurray, Chevrolet, 500, $132,038.
18. (41) Travis Kvapil, Toyota, 500, $122,488.
19.  (3) Greg Biffle, Ford, 500, $108,555.
20. (18) David Gilliland, Ford, 500, $111,963.
21.  (1) Casey Mears, Ford, 499, $113,477.
22. (27) Carl Edwards, Ford, 496, $141,246.
23. (30) Michael McDowell, Ford, 496, $93,805.
24. (33) Landon Cassill, Toyota, 490, $122,850.
25. (17) Matt Kenseth, Ford, 486, $142,041.
26. (25) Dave Blaney, Chevrolet, Accident, 476, $94,780.
27. (21) Tony Stewart, Chevrolet, 471, $144,585.
28. (20) Kurt Busch, Chevrolet, 440, $101,525.
29. (43) Danica Patrick, Chevrolet, Accident, 434, $90,640.
30.  (2) Brad Keselowski, Dodge, 434, $130,025.
31. (39) Jason Leffler, Toyota, 417, $90,895.
32. (24) David Ragan, Ford, 409, $90,285.
33.  (6) Jeff Burton, Chevrolet, 360, $132,525.
34. (29) Sam Hornish Jr., Dodge, 343, $134,890.
35.  (5) Aric Almirola, Ford, Accident, 235, $127,116.
36. (19) Ryan Newman, Chevrolet, Accident, 189, $134,228.
37. (31) David Stremme, Toyota, Rear Gear, 159, $89,660.
38. (32) Josh Wise, Ford, Brakes, 150, $91,052.
39. (40) Joe Nemechek, Toyota, Electrical, 130, $86,110.
40. (38) Stephen Leicht, Chevrolet, Fuel Pressure, 56, $85,975.
41. (35) Scott Riggs, Chevrolet, Brakes, 20, $85,750.
42. (42) Ken Schrader, Ford, Accident, 9, $93,910.
43. (34) Mike Bliss, Toyota, Power Steering, 6, $85,960.
RACE STATISTICS
Average Speed of Race Winner: 84.402 mph.
Time of Race: 3 Hrs, 09 Mins, 27 Secs.
Margin of Victory: 1.103 Seconds.
Caution Flags: 13 for 87 laps.
Lead Changes: 22 among 13 drivers.
Lap Leaders: C. Mears 1-26; J. Logano 27-84; D. Hamlin 85; J. Logano 86-107; K. Kahne 108-149; J. Logano 150-192; D. Earnhardt Jr. 193-205; D. Hamlin 206-226; G. Biffle 227-253; M. Kenseth 254-272; J. Johnson 273-324; D. Hamlin 325; M. Kenseth 326-331; T. Stewart 332; J. Logano 333-348; M. Ambrose 349; G. Biffle 350-363; M. Truex Jr. 364-407; D. Hamlin 408-415; C. Edwards 416-443; B. Vickers 444; C. Edwards 445-461; D. Hamlin 462-500.
Leaders Summary (Driver, Times Lead, Laps Led): J. Logano 4 times for 139 laps; D. Hamlin 5 times for 70 laps; J. Johnson 1 time for 52 laps; C. Edwards 2 times for 45 laps; M. Truex Jr. 1 time for 44 laps; K. Kahne 1 time for 42 laps; G. Biffle 2 times for 41 laps; C. Mears 1 time for 26 laps; M. Kenseth 2 times for 25 laps; D. Earnhardt Jr. 1 time for 13 laps; M. Ambrose 1 time for 1 lap; T. Stewart 1 time for 1 lap; B. Vickers 1 time for 1 lap.
Top 12 in Points: G. Biffle – 849; J. Johnson – 838; D. Earnhardt Jr. – 834; M. Kenseth – 823; M. Truex Jr. – 797; C. Bowyer – 794; B. Keselowski – 790; D. Hamlin – 774; K. Harvick – 767; T. Stewart – 746; K. Kahne – 730; C. Edwards – 712.
Original Story:
http://startnparkblog.com/?p=10508&ut...
THE BACKYARD
BEST OF MAXIM
RELATED ARTICLES
Denny Hamlin used old-style short-track racing techniques to tame the new Bristol Motor Speedway. With his third win of the season, Hamlin likely locked his way into his seventh consecutive NASCAR Chase for the Sprint Cup. But Hamlin characterized his accomplishment at Thunder Valley as "the greatest win of his career." "It's Bristol," Hamlin said on the...
Denny Hamlin, driver of the No.11 Fed Ex Toyota for Joe Gibbs Racing won tonight's race at Bristol Motor Speedway. This was Hamlin's first win at the famed short track in Bristol, Tenn and his third victory thus far in 2012. This win ties Hamlin with Johnson, Keselowski and Stewart for bonus points upon commencement of the NASCAR Sprint Cup Series Chase that starts at Chicagoland...
THE MODERATOR:  Talk about a big win for the Job Gibbs organization. J.D. GIBBS:  It is.  They are all big wins and you think after doing this all these years you would not be as stressed as you are until that last lap, you breathe that sigh of relief and what's encouraging is I think to finish the way we did with Denny was special.  A bunch of the FedEx executives were here...
For fans who missed the old days of caution-filled Bristol races and heated tempers, Saturday night's Irwin Tools Night Race NASCAR Sprint Cup Series event at Bristol (Ten.) Motor Speedway didn't disappoint. The race saw 13 cautions, the most of any Cup race at the track since a track configuration in 2007. And tempers were high too, as fans witnessed Tony Stewart throwing his...
Denny Hamlin's Bristol win puts new confidence in team as Chase approaches…
Few topics in NASCAR have been as polarizing as track owner Bruton Smith's decision to "narrow up" the historic half-mile Bristol Motor Speedway...
  It wasn't the old Bristol, but it was definitely a better Bristol. Denny Hamlin saved his best effort for the stretch run in Saturday's IRWIN Tools Night Race at Bristol Motor Speedway, and his persistence paid off with the No. 11 team's third win of the season in 24 Sprint Cup Series races. "It's Bristol -- I don't know what to say, man," Hamlin...
Tick . . . Tock . . . Tick . . . Tock as the 2012 NASCAR season counts down its regular race season and drivers "on the bubble" for "The Chase" are beginning to run out of time. This week highlighted the bump-and-run environment of Bristol Motor Speedway, a ½ mile oval track notorious for its fender-bender banging & tight turns. Going into Saturday night's 24th of...
We've all seen Tony Stewart and that No. 14 car go through some adversity these last few weeks. What people can't lose sight of, however, is the fact they are actually doing much better than a year ago. If you pull out and look where the No. 14 car was after 24 races this year vs. 24 races last year, they are in a whole lot better shape. Obviously, Steve Addington is guiding...
Well congratulations to my buddy Denny Hamlin on an awesome performance Saturday night at the . . . hmmm . . . what do we call it? Is it the old Bristol? Is it the new Bristol? Is it the new Bristol they made like the old Bristol? I am just not sure, but one thing I am positive about, what we witnessed Saturday night was a typical Bristol race that we expect when we go there. It...
All Sports News

Delivered to your inbox

You'll also receive Yardbarker's daily Top 10, featuring the best sports stories from around the web. Customize your newsletter to get articles on your favorite sports and teams. And the best part? It's free!
THE HOT 10: Who's Trending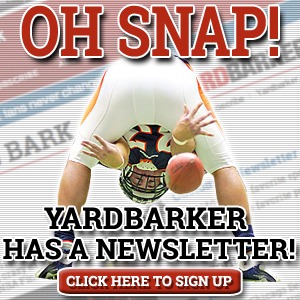 Latest Rumors
The Backyard

Today's Best Stuff

For Bloggers

Join the Yardbarker Network for more promotion, traffic, and money.

Company Info

Help

What is Yardbarker?

Yardbarker is the largest network of sports blogs and pro athlete blogs on the web. This site is the hub of the Yardbarker Network, where our editors and algorithms curate the best sports content from our network and beyond.