Found October 04, 2013 on Fox Sports:
A cocky, slickly dressed, Perry Mason-minded, despised, mistrusted, flamboyant 47-year-old Skidmore College graduate named Joseph Tacopina is the man to whom Alex Rodriquez, a cocky, slickly dressed, despised, mistrusted, flamboyant, 38-year old baseball player, turned to when it was time to sue MLB. Who could have ever imagined such a pairing? According to this NBCNews.com .story, Tacopina is known as "the devil's advocate" and "the most hated lawyer in New York." He has perfectly slicked back hair, fancy suits, a yacht and a Maserati. "He's a little too good looking," a private detective named Bill Stanton said. He takes on high profile cases with unpopular defendants. He represented an NYPD police officer accused of rape, and won an acquittal. He represented Joran van der Sloot, who was accused of killing Natalie Holloway. He represented former New York state senator Hiram Monserrate, who was on trial for slashing his girlfriend. "I know I'm very good at what I do," Tacopina told NBCNews.com. "The results speak for themselves." Now, he is representing Rodriguez, the New York Yankees third baseman who has been suspended by Major League Baseball 211 games for alleged violations of baseball's drug agreement and labor contract. Tacopina leapt out of the bushes, screaming about the Yankees doing some dastardly thing or another. Rodriguez got him to stop and for a while where it looked like A-Rod would go quietly into the night. Well, Friday morning Rodriguez filed a lawsuit in the New York State Supreme Court saying MLB's goal all along was to "improperly marshal evidence that they hope to use to destroy the reputation and career of Alex Rodriguez." Rodriguez is seeking compensatory and punitive damages. He also filed a lawsuit against Yankees team doctor Chris Ahmad and New York Presbyterian/Columbia University Medical Center. Rodriguez says they misdiagnosed a hip injury that kept him off the field most of this year. Rodriguez has hit 654 home runs, which places him fifth in baseball history. Missing the next 211 games would almost certainly cost him a chance to catch Babe Ruth (714). Rodriguez is fighting for his legacy, a legacy that has now been dinged with two PED scandals. It's hard to imagine Rodriguez coming out of this with much of a legacy left. But A-Rod has Tacopina. "God forbid I would ever get in trouble," Stanton said, "he would be my first call."
Original Story:
http://msn.foxsports.com/mlb/story/a-...
THE BACKYARD
BEST OF MAXIM
RELATED ARTICLES
Each day it seems more and more like a battle of Alex Rodriguez vs the World. Today, Serge F Kovaleski and Steve Eder the New York Times reported that A-Rod turned against MLB Players Union lawyers back in August. "In late August, Rodriguez grew so frustrated with how the Major League Baseball Players Association was defending him — or, as he saw it, not defending him...
When defense Attorney Joe Tacopina got involved in the Alex Rodriguez case, you may have wondered maybe, just maybe, Arod might go the way of Roger Clemens and get off with little or no trouble. His legal team spent yesterday grilling Biogenisis founder Tony Bosch and attacking his credibility as a witness. Today, Arod's lawyers brought out the big guns and filed...
All this week, Alex Rodriguez has been in arbitration hearings with Major League Baseball, stating his case to have his 211-game suspension reduced. Now he's willing to take it to the next level. Rodriguez filed a lawsuit Friday morning in New York State Supreme Court that accusing the MLB and Commissioner Bud Selig that they are trying "to improperly marshal evidence that...
Alex Rodriguez has expanded his assault on the baseball establishment with a lawsuit accusing the Yankees team physician and a New York City hospital of mishandling his medical care during the 2012 AL playoffs. Lawyers for Rodriguez say in a suit filed late Friday that he was given an MRI exam on Oct. 11, 2012, that revealed an injury to his left hip joint. The suit said that Yankees...
According to multiple media reports, the New York Yankees have made pending free-agent manager Joe Girardi an offer on a contract to keep the highly sought after manager in the Bronx, and now the team is waiting on Girardi's decision. The details of the offer are unknown for now, but we do know that it will likely be a significant increase over the current amount he's making...
Yesterday, the New York Daily News reported that Alex Rodriguez had indicated that he believe the supplements he received from the now-defunct Biogenesis anti-aging clinic were legal.  Rodriguez's defense team has quickly come out to say that is not true.  The proceedings of the arbitration are not made available to the public, but Rodriguez's representative says the New...
Alex Rodriguez reportedly filed a lawsuit against Major League Baseball on Thursday, alleging that commissioner Bud Selig and company tried to run him out of the game of baseball with a "witch hunt." He's apparently not stopping there. A-Rod has reportedly filed a second lawsuit, this one against the New York Yankees' team doctor. According […]
Alex Rodriguez reportedly filed a lawsuit against Major League Baseball on Thursday. The New York Times has reported that A-Rod's lawyers have accused MLB of buying the cooperation of Biogenesis boss Anthony Bosch as part of an ongoing "witch hunt" to find a way to force the slugger out of the sport. The suit, which […]
The Alex Rodriguez Saga dominated this week, but the Yankees were also busy trying to resign Joe Girardi and figure out what to do with Robinson Cano. Here are this week's top headlines: The Yankees are at a payroll crossroads, and they have some very tough decisions to make that could impact the next decade. Brian Cashman has been negotiating with Joe Girardi's...
Whether or not Alex Rodriguez was duped by Tony Bosch or not, whether the Yankees will have $27.5 million dollars extra to spend on free agents or not, this is going to be an appeal hearing in front of an arbitrator to end all appeal hearings in front of an arbitrator. Okay, normally an appeal hearing is not the stuff or prime time courtroom dramas or TMZ, but this one...
Fernando Mateo, president of the Hispanics Across America group, joined Boomer & Carton to talk Alex Rodriguez today. Mateo wants stronger MLB PED testing in the Dominican Republic, weaker punishment for Arod, and for the league to teach reading and writing to Hispanic ballplayers. Asked about that member of his assembled support crew who, when asked by the NY Daily News who...
Boomer & Carton's Tommy Lugauer asked the apparently unemployed crew that Fernando Mateo's Hispanics Across America assembled outside Alex Rodriguez' arbitration hearing some Yankees trivia. It didn't go well for the crew. **Follow us on Twitter, View via Our Mobile Site, or Return HomeFollow us on Twitter. Subscribe or Return to Bob's Blitz.
Yankees News

Delivered to your inbox

You'll also receive Yardbarker's daily Top 10, featuring the best sports stories from around the web. Customize your newsletter to get articles on your favorite sports and teams. And the best part? It's free!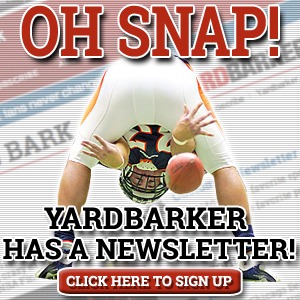 Latest Rumors
The Backyard

Today's Best Stuff

For Bloggers

Join the Yardbarker Network for more promotion, traffic, and money.

Company Info

Help

What is Yardbarker?

Yardbarker is the largest network of sports blogs and pro athlete blogs on the web. This site is the hub of the Yardbarker Network, where our editors and algorithms curate the best sports content from our network and beyond.