If you are a gamer like us, you enjoy them but you wouldn't consider yourself the ultimate connoisseur – at least not anymore. While many enthusiast sites are out there reviewing games and their advanced shading techniques and intricate gameplay mechanics, a lot of those reviews fly gently over my head nowadays.  Because when it comes down to it, at the end of the day, is the time investment worth it? In other words, you are near 30 and have increasingly more "real life" responsibilities. While a game may get a great review on IGN after an editor plugged 50 hours into it including every last mode and menu, that isn't indicative of the way you play games anymore (sadly). For a game to be worth it for me now, it has to grab hold from the get-go and make me want to spend every night (after my wife goes to sleep) playing it until the story ends, even just an hour or so at a time. The key though is to identify those games that are worth that temporary hiatus from my sleeping habits but without worrying about all the in-depth features and side missions that I simply no longer have time for. And while some games have a good payoff after 30 hours, I do not have time if the preceding 29 hours are cumbersome and tedious. So here's the concept of these reviews. We will play a game for one or two normal sessions at home while our significant other sleeps or watches TV. If the game doesn't hook us by then – welp, sorry but we don't have time for you. IGN may have given you a 9.2, but we just don't have time for it. And maybe the review comes out a bit later than others, but you aren't lining up for midnight releases anymore so it's all good! We will also try not to overthink this and just get through our thoughts. SO NOW TO THE GAME. We will try not to waste your time.   Do You Have Time For Grand Theft Auto V? Answer: HOLY ****, YES. As promised, I am two sessions in – just long enough to meet the characters, get my first impressions of the world Rockstar has created, and be introduced to the tone of this installment. Here are the key things you need to know to get started: Learning Curve - LOW I am not what you would call "a highly skilled gamer." I love playing, but I wouldn't enter a Major League Gaming event anytime soon. That said, sometimes I get put off my games that simply take too long to learn or take too many tries to beat a mission. So after a couple of sessions I am still lost and feel like I am not paying attention to what the game intends for me to pay attention to. This leads to not getting hooked by the story, and I stop playing to go to husband things. For GTA V, this isn't an issue. The controls are intuitive and the opening mission gets you acquainted quickly. Driving cars, one of the things that is critical to the game and has historically been harder than it has to be, feels great. I was able to get where I needed to go in my first sit downs easily, and that's a big deal. Finally, in the game you control most of everything through your in-game smartphone. If that doesn't put you right into your comfort zone I don't know what will. Story Hook – THIS IS THE LIFE Like I said above, even good games can struggle to hook gamers like me from the outset. Some games just don't get into it well (Dishonored) while some hook you on Page 1 like reading Da Vinci Code for the first time (no game has done this better than Last of Us). Grand Theft Auto starts off being intriguing with a great intro and you want to know more about these guys' lives. Not to mention the character Michael has an absolutely ridiculous house that makes you want his life from the first moment you control him. That alone makes me want to continue playing his story. The other important thing to note right away is Rockstar fulfills their historic specialty of satire. While the whole premise of GTA V is a satire of current society, it's the little details that charm us and endear us to their worlds. Early case in point – very early on you will be introduced to LifeInvader, Los Santos' version of Facebook. Not only are likes replaced by stalking, but you will get to meet some of their employees and oh man are they great. The stereotypes of the 22 year old programmer who can't use a basic antivirus program is just one of the hilarious touches that make you wonder if Rockstar hired away all of the writers of The Onion. Bottom Line – BEAUTIFUL WORLDS ARE WORTH EXPLORING 2013 has been an amazing year for gamers filled with worlds that have dropped by jaw. Bioshock Infinite, Tomb Raider, and Last of Us being chief among them. But as great as those games were, Los Santos, the setting of GTA V, is alive and you can get lost in it (even as a gamer that usually doesn't want to waste time doing so). Everything in this world works. Golf is fun, tennis is fun, water vehicles are fun, flying blimps is fun….no matter what you typically look for in games, what GTA V brings to the table works. Maybe none moreso than GTA V's take on the strip club. While they seem to push the envelope every game, this time they just decided to go with full point-of-view lap dances with topless strippers. You can then sweet talk them into taking you home. Some may argue this is unnecessary, but for a world like los Santos to work, the controversy underbelly has to be all-in as well. No more going half way when representing a satirical representation of current society. I cannot wait to continue to explore this massive city, and I am still a lonnnnnnnnnnng way away from seeing it all. While this make take a lot of time, any gamer owes it to themselves to see what gaming is capable of. After all, $800 Million worth of sales can't be wrong. Play this ******* game. The post Do You Have Time For This Game? – Grand Theft Auto V appeared first on The Nosebleeds.
Original Story:
http://thenosebleeds.com/do-you-have-...
MORE FROM YARDBARKER
All Sports News

Delivered to your inbox

You'll also receive Yardbarker's daily Top 10, featuring the best sports stories from around the web. Customize your newsletter to get articles on your favorite sports and teams. And the best part? It's free!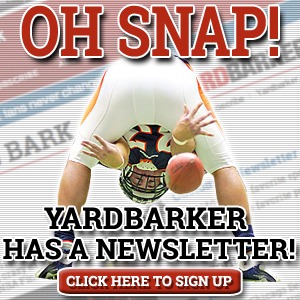 Latest Rumors
Best of Yardbarker

Today's Best Stuff

For Bloggers

Join the Yardbarker Network for more promotion, traffic, and money.

Company Info

Help

What is Yardbarker?

Yardbarker is the largest network of sports blogs and pro athlete blogs on the web. This site is the hub of the Yardbarker Network, where our editors and algorithms curate the best sports content from our network and beyond.