Found August 13, 2012 on Start 'N' Park Blog:
Brad Keselowski led the Dodge drivers by finishing 2nd in Sunday's Finger Lakes 355 At The Glen from Watkins Glen International. Keselowski had the lead on the last lap, but was passed by winner Marcos Ambrose in coming out of turn six. The two drivers put on quite the show for the fans as oil on the track made conditions very slick for drivers. The other Dodge driver, Sam Hornish, Jr., finished a career high fifth place.
BRAD KESELOWSKI, #2 MILLER LITE DODGE CHARGER, PENSKE RACING – 2ND PLACE
What happened on that last lap? "The 18 (Kyle Busch) was leaking fluid something fierce and had no grip at all. When I caught him, it (18) leaked really bad into (turn) one. He missed the corner because he slipped in his own oil. I got under him going into two and we all slipped in his oil. (I) hit him and psun him. I mean, I had to say there was nothing I could do but there was literally nothing I could do. It was just one big giant oil slick underneath his car and I feel bad about that. Then it came down just running a whole lap against Marcos (Ambrose). I got in the oil and we'd slip up. He'd get by me and then he'd get in the oil and I'd get by him. Just really good, hard racing; some beating and banging. I think that's the way racing should be. It's great to race against guys like Marcos that you can run on, lean on, and don't lose their cool and intentionally wreck you. That's what racing is supposed to be right there: a little bit of bumping and rubbing but none of that intentional wrecking BS. Marcos is a classs act and that's the way racing should be."
How did you come back? You said over the radio that your car was gone. "I just got back into taking care of it there riding right behind Marcos and it came right back and we were in good shape."
Take us through the last lap? Well the 18 (Kyle Busch) was oil. Look like he had something wrong there and had the whole track slick as hell. You couldn't drive it, it was undrivable. I go down in the corner and hit the oil and slip and Marcos would go in the corner and slip up. Just came down to who was going to slip up last and I did and he got by me and won the race but a good show, good beating and banging and that's the racing is supposed to be. Just real proud of that race, proud that there is a class act guy like Marcos that can race that way without losing his cool and intentionally wrecking somebody. That's really cool.
PAUL WOLFE, CREW CHIEF #2 MILLER LITE DODGE CHARGER
"What a race and what a finish. We had a fast Miller Lite Dodge all weekend and it showed today. Brad has proven that he can run a great race on road courses. Today was no different. We went with a two-stop strategy and got lucky with some cautions falling on way that helped us get the lead. Once we got the lead, it was all Brad making sure he didn't use up all the car and have something left at the end. We had great fuel mileage and fuel strategy that helped us be there at the end. We led a bunch of laps and we're there at the end to have a shot at the win. That's all that you can ask for as a crew chief. I think that we've shown over the last few weeks that we've put ourselves in position to win and that's what we are here to do, win races. It was tough not to get a win but it was  heck of a finish."
SAM HORNISH, JR. #22 SHELL/PENNZOIL DODGE CHARGER, PENSKE RACING – 5TH PLACE
On his race: "A really good day for the Shell/Pennzoil Dodge. I thought that we had a great car, great strategy and it worked out today. This is a tough place. It was real hard racing with a bunch of fast cars and our Shell/Pennzoil Dodge was fast. We had to come a long way from the back (17th) to start the race, but I knew that the car was fast enough to make my way up through the pack. I just had to be patient and not wear the car out before the end of the race."
Was it a matter of you just being patient enough to have enough race car at the end of the race? "Yep. I probably ran about 95 percent most of the day knowing that I needed a fast car late in the day to have a shot at a top 10 or better. It was about five laps to go when I really put the hammer down and run as hard as I can. I'm proud of this team. We continue to get better each week and that's what you need at this level."
TODD GORDON, CREW CHIEF #22 SHELL/PENNZOIL DODGE CHARGER
"I'm proud of Sam. We're starting to get our stuff together and understand what Sam needs inside the race car. Sam did a heck of a job all weekend. The two Penske programs helped each other a lot this weekend. Our fuel mileage was great and that helped us in the end."
Original Story:
http://startnparkblog.com/?p=9807&utm...
THE BACKYARD
BEST OF MAXIM
RELATED ARTICLES
THE MODERATOR:  We'll go ahead and get started with our post-race press conference.  We welcome Brad Keselowski, who finished second in today's race, and Jimmie Johnson. Brad, talk a little bit about to run out there today.  The last few laps were just crazy. BRAD KESELOWSKI:  Yeah.  Well, you know, just hard, hard racing on a great racetrack.  You know, I really enjoy...
WATKINS GLEN, N.Y.  – Brad Keselowski, driver of the Penske Racing No. 2 Miller Lite Dodge Charger in the NASCAR Sprint Cup Series (NSCS), finished second in the Finger Lakes 355 at the Glen at Watkins Glen International (WGI) on Sunday afternoon. In what proved to be almost a carbon copy of last year's event at WGI, Keselowski, Kyle Busch and Marcos Ambrose battled for the...
Below is the race and commercial breakdown for the Finger Lakes 355k at Watkins Glen International Raceway from Sunday versus what it was a year ago. Marcos Ambrose slid by Brad Keselowski to win his... [...]
Yesterday's wild finish at Watkins Glen was the best final lap of a Sprint Cup race this season. The white flag lap featured a controversial decision by NASCAR, a wrecked leader, and a paint swapping battle for the checkered flag seldom seen in the Sprint Cup all-about-sponsorship-and-points world.  The #47 of Bobby Labonte had put oil down, making for a slick track. NASCAR...
WATKINS GLEN, N.Y.  – Brad Keselowski, driver of the No. 22 Discount Tire/SKF Dodge Challenger in the NASCAR Nationwide Series (NNS), finished second in the Zippo 200 at the Glen at Watkins Glen International (WGI) on Saturday afternoon. Keselowski dominated much of the event – leading a race-high 44 laps – but he was unable to hold off Carl Edwards on a late-race restart...
In his 2012 debut in the NASCAR Nationwide Series, Carl Edwards took the checker at Watkins Glen today. After the 2011 season, Edwards decided to focus on the Sprint Cup Series championship and not run in the Nationwide Series in 2012 but he wanted to race at Watkins Glen today and he pulled into victory lane. Edwards hung around the front all day but it wasn't until late in the...
Marcos Ambrose got by Kyle Busch and Brad Keselowski on an oil-slicked race track on Sunday to claim victory in the Finger Lakes 355 NASCAR Sprint Cup Series race at Watkins Glen (N.Y.) International on Sunday. It was Ambrose's second-straight win at the track. "It just feels so good to be back here in victory lane," Ambrose said. Busch was in the lead as the white flag waved...
One of the best races we have ever witnessed sent Marcos Ambrose to victory lane for the second year in a row at Watkins Glen. Going into the final lap Ambrose was third and he crossed the finish line first. Many factors affected the end of the race but oil was the biggest one. After Bobby Labonte blew his engine with two to go, he laid oil all over the track and the leaders would...
  On a track too greasy to provide traction, Marcos Ambrose surged from third to first on the final lap of Sunday's Finger Lakes 355 at Watkins Glen International and won the race in a slugfest with runner-up Brad Keselowski. Keselowski had grabbed the lead in Turn 2 of the final circuit at the 2.45-mile road course, after he knocked Kyle Busch's No. 18 Toyota for a loop...
In the final laps at Sunday's NASCAR Sprint Cup Series race at Watkins Glen, Marcos Ambrose's chances for the checkered flag looked slim.  After passing Brad Keselowski to move into second and staying neck-and-neck with the leader Kyle Busch, Keselowski got by Ambrose. At this time, Bobby LaBonte's engine sprung an oil leak, spewing the slippery black gold all over...
  Carl Edwards is batting 1.000. Grabbing the lead from Brad Keselowski after a restart with 10 laps left in Saturday's Zippo 200 at The Glen, Edwards held on to win his first Nationwide Series start of the season. The win was also the first for Roush Fenway Racing in Nationwide events at the track. Edwards took the top spot from Keselowski on lap 73 of 82, completing a pass...
WATKINS GLEN, N.Y.  - Sam Hornish, Jr., driver of the Penske Racing No. 12 PPG Automotive Refinish Dodge Challenger in the NASCAR Nationwide Series, earned his third consecutive top-three finish as he brought home a third-place finish – after starting from the pole – in The Zippo 200 at The Glen. Hornish started from the pole position after he lapped the historic 2.45-mile road...
All Sports News

Delivered to your inbox

You'll also receive Yardbarker's daily Top 10, featuring the best sports stories from around the web. Customize your newsletter to get articles on your favorite sports and teams. And the best part? It's free!
THE HOT 10: Who's Trending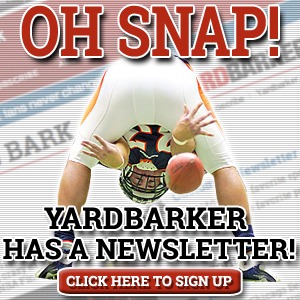 Latest Rumors
Best of Yardbarker

Today's Best Stuff

For Bloggers

Join the Yardbarker Network for more promotion, traffic, and money.

Company Info

Help

What is Yardbarker?

Yardbarker is the largest network of sports blogs and pro athlete blogs on the web. This site is the hub of the Yardbarker Network, where our editors and algorithms curate the best sports content from our network and beyond.