Found April 08, 2013 on Fox Sports Southwest:
The following is the 1st in a series of draft profiles for the 1st round pick for the Dallas Cowboys. These profiles are put together with the specific needs of the Cowboys in mind, and is an attempt to examine their resumes and game tape to get an idea of who might fit in best with Dallas come draft day. Surely, circumstances will dictate what actually happens on that day, but we will profile the 8-10 most likely candidates and try to kick the tires on each and every scenario an how it relates to the Cowboys in 2013 and beyond. Chance Warmack Alabama G 6'2, 317 40 time: 5.53, Bench Press: Did Not Lift September 14, 1991 (21) It isn't often that the NFL drafts an interior offensive lineman in the Top 20 picks of the 1st Round. In fact, as it goes, this almost violates a certain truth about the NFL on how you just don't do that in this league. It is considered wasteful to draft premium players at "non-premium" positions in most cases. But, if you have watched the Cowboys play over the last several years, you know that there is one thing that has just not been fixed at Valley Ranch in a long, long time. Perhaps, you could go all the way back to when Emmitt Smith ran behind a massive and dominating offensive line. They just haven't bullied their opponent at the point of attack in forever. Sure, they have had decent offensive lines - 2007 comes quickly to mind - but, never have they just absolutely crushed the will of the opponent. And that is why Chance Warmack has been the 1 dream in all of my draft scenarios since we started looking at these players in September. Warmack played in 5 games as a freshman at Alabama and then started every game since including 13 more games as a senior. He has played against every possible opponent in every possible situation since he has taken his spot at Left Guard for the Crimson Tide. And he has dominated the man (or men) across from him ever since. His strengths are numerous. In the running game, he is a flat-out mauler who absolutely crushes the targets across the line of scrimmage. He bulldozes, something that is rarely done at high levels, and even though the opponent knows is coming, that doesn't change the outcome. He also dispatches the defensive tackle and gets to the linebacker on inside plays with great success. Just ask Manti Te'o about that particular talent. On pass protection, he puts on a clinic that reminds us of Carl Nicks. Nicks, the free agent from 2012 who went from New Orleans to Tampa Bay was the apple of our eye last year because in pass protection the opponent often would hardly even try because they would be so demoralized at what was between him and the QB. There are countless examples of how the Alabama offensive line drops back into a pocket, except for Warmack who still has his man locked down right where the play started at the line of scrimmage. It is a sight to behold. He does have some weaknesses, just not many. For instance, on occasion, you can beat him to the inside gap at the snap as his initial burst might not be elite. But, I did not see this enough to be alarmed - just that it is possible to anticipate the snap count and get inside. The other item that might cause some concern is his play out on the flanks. Many teams like running screen plays that put their guards out into space. This is where Cooper from North Carolina does have a rather decided edge on Warmack. As stated earlier, Warmack can get down field, but his best work is done inside against linebackers in tight quarters. On the flanks, with huge swaths of open space, he is not doing his best work trying to get to 180 pounders who play corner. They can squirm around the giant man with their quickness and occasionally lure him into a holding penalty or avoid him altogether. That isn't to say he is awful at that skill, but there is a player who might be better at that "pulling to the outside" talent. At the same time, he is 21 years old and perhaps coaching can help him be more controlled in space - but he is always going to look out of place if you ask him to block cornerbacks in the open field. He proudly displays his bare belly and his rotund mid-section with a jersey that might fit someone half his size. This obviously asks the question about his physical conditioning and whether that will age well (Nate Newton). We will have to keep an eye on that, but from a strength department, nobody has ever not needed to bench press at the combine more than Warmack. He can simply tell people to pop in his game tape to see that he is the strongest man on the field at all times, even those numerous occasions where he is playing head to head with 1st round caliber defensive tackles at LSU, Georgia, and Florida. The other question one might ask about him is how to evaluate a player who is on an offensive line which has so much talent from tackle to tackle. But, there is plenty of tape where you can lock in on 65 and his bare belly to see what he is accomplishing and see that they almost never offer him any assistance in these scenarios. He is a beast. Here are some youtube cut-ups for your own personal eye-ball test. Lock in on the left guard who wears 65 and watch his work which speaks for itself: Vs Notre Dame Vs Georgia Vs LSU The Case For Dallas Taking Chance Warmack at 18: There is a real need for dominating strength and talent on this offensive line. They were so over-matched physically in 2011 and 2012 that they pretty much stopped trying to run the ball from traditional running formations. They couldn't run the ball from under center in situations that declared to the defense that they were running and you cannot stop it. Meanwhile, Alabama has done that for years. You know what is coming - and our brutes up front will make sure you cannot stop it anyway. So reminiscent of the 1990's Cowboys running game, but foreign to the Jason Garrett attacks. Warmack would instantly change how we look at this offensive line and maybe the entire offense. He can only play guard, but the Cowboys have Phil Costa who does not list strength as a strength, and being next to Warmack would help him not to be a target for defenses. The Case Against Dallas Taking Chance Warmack at 18: There is no case to be made against it in the event that Warmack makes it to 18. His stock (if you believe pre-draft chatter and mock drafts and the like) has been as high as the highest picks at times and now he has at least a slight chance to make it down this far. There is no reasonable case against taking him and as much as I would cringe, if they wanted to move up a few spots once he gets to 14 or 15, this might be the rare time in which it would be worth it. If there was one player the Cowboys could pull from this draft and dance in their war-room, to me it would be Chance Warmack. Please don't expect glowing reviews on all of these prospects like this, but I have seldom seen a glove that fits the Cowboys' hand to perfection like this would.
Original Story:
http://www.foxsportssouthwest.com/nfl...
THE BACKYARD
BEST OF MAXIM
RELATED ARTICLES
Hate the Cowboys? Dez Bryant loves you for it. The Cowboys receiver, during a recent interview with ESPN 600 radio in El Paso, said the hate for "America's Team" makes him and his teammates work harder. "The greatest thing about bring on the Cowboys is people love to hate the Cowboys," Bryant said. "That makes you work 10 times harder. They put the...
According to ESPN's Adam Schefter, the Dallas Cowboys are working on signing free agent offensive tackle Eric Winston. Cowboys now in talks to sign former Chiefs OT Eric Winston. — Adam Schefter (@AdamSchefter) April 8, 2013 Update: Now there's a report that Schefter's report is untrue and the Cowboys arent working on signing Winston.   Need NFL Tickets? var _CI = _CI...
The Dallas Cowboys are interested in signing free agent tackle Eric Winston to a deal. In order to sign Winston the Cowboys will need to find space under the salary cap. In order to sign Winston the Cowboys are set to ask Doug Free to take a pay cut according to Ian Rapoport. Free is set to make $7 million this year but it is far more likely that the Cowboys release him before the...
The dust across the Texas prairies had just about settled after the announcement of quarterback Tony Romo's contract extension.For some it made logical sense, tie the man up, make him the cornerstone of everything you stand for.For others it seemed plain ludicrous, the amount of money paid out on a player that has only led his team to one playoff win in his time under center...
The Dallas Cowboys cheerleaders and their bikinis hit Cozumel, Mexico for their 2013 calendar photo shoot.
Catching passes for the first time since suffering a fractured left index finger that required surgery in January, electric Dallas Cowboys wide receiver Dez Bryant is "not missing a beat" on the gridiron. "Finger is great," said Bryant, 24, who the Cowboys took with the 24th selection in the 2010 NFL Draft out of Oklahoma State University. "I'm catching passes the same...
Greatest Ever! I was 15 years old when the Dallas Cowboys pulled off the greatest trade in team history (the greatest at the time, that is) and snagged the 2nd pick in the first round from the Seattle Seahawks. With that pick, the Cowboys selected Tony Dorsett from the University of Pittsburgh. Dorsett was, at the time, the all-time leading rusher in NCAA history. He had just lead...
According to ESPN's Adam Schefter, the Cincinnati Bengals brought in free agent running back Felix Jones for a try out on Monday. ICYMI, Cowboys free-agent RB Felix Jones tried out for Bengals on Monday. — Adam Schefter (@AdamSchefter) April 9, 2013 I believe Jones will end up signing with a team at some point.  He's going to need to prove that he can stay healthy.   Need...
As always, never a shortage of recruiting news surrounding "Nike weekend". The Elite 11 Regional Quarterback Camp kicked things off Saturday, when more than 80 quarterbacks from the Midlands region- some even making the trek from Mississippi, California and Indiana- met at the Dallas Cowboys practice facility in Irving, Texas, all vying for a spot in the summer's national...
Cowboys News

Delivered to your inbox

You'll also receive Yardbarker's daily Top 10, featuring the best sports stories from around the web. Customize your newsletter to get articles on your favorite sports and teams. And the best part? It's free!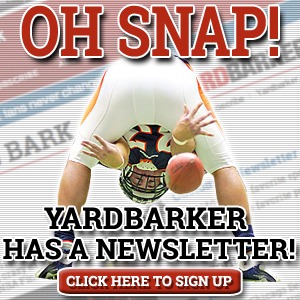 Latest Rumors
The Backyard

Today's Best Stuff

For Bloggers

Join the Yardbarker Network for more promotion, traffic, and money.

Company Info

Help

What is Yardbarker?

Yardbarker is the largest network of sports blogs and pro athlete blogs on the web. This site is the hub of the Yardbarker Network, where our editors and algorithms curate the best sports content from our network and beyond.