Eat, Drink, Watch: Your award-worthy weekend planning guide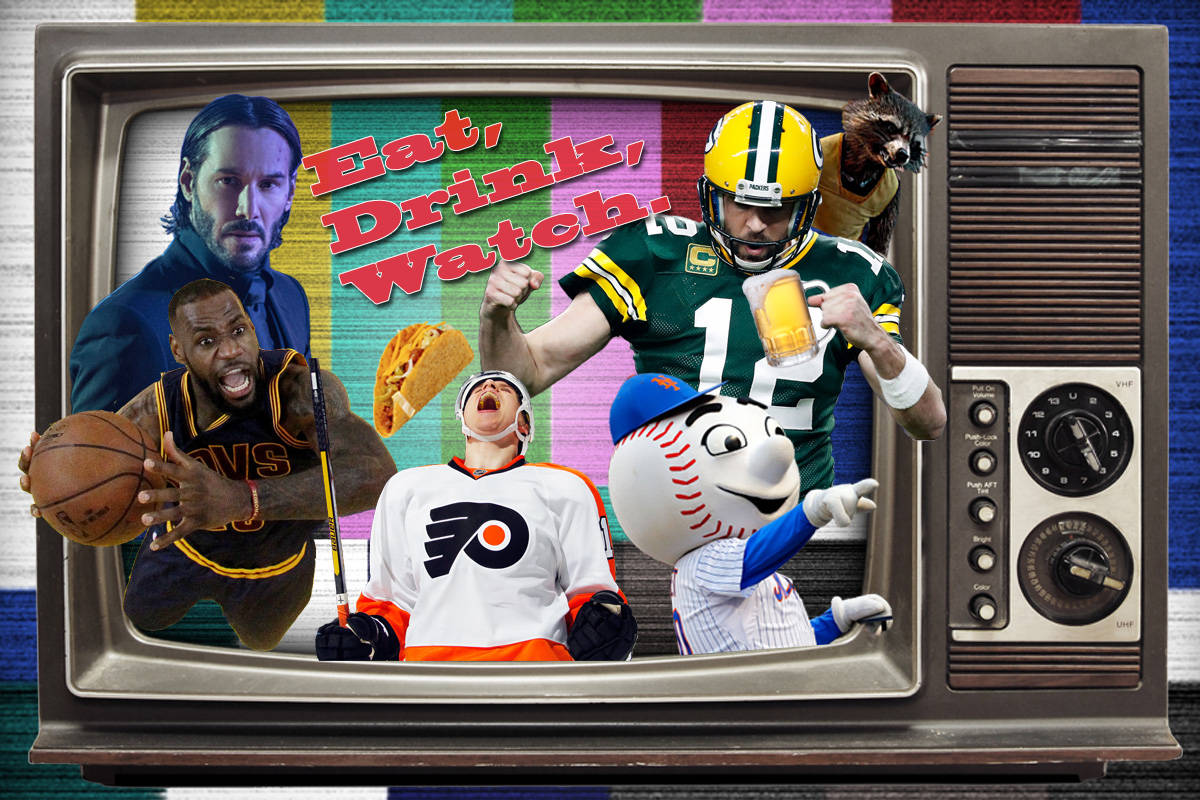 Yardbarker Illustration/Getty Images
It's been a long week. You're tired. You're hungry. You're thirsty. You just want to find something to watch and unwind only to find not only do you have too many games to choose from on any given night to watch, there is an entire catalog of shows and movies you can barely keep up on. When did our weekends turn into so much work?
So let's make it simple. Here is what you want to eat, this is what you want to drink and this is what you want to watch over the next 48 hours or so of "freedom" you have in your life. Maybe. We all know we're looking at work email at some point. How did we forget to get our car inspected? It's already the end of the month! The kids' swim practice starts at what time? People get up that early on Saturdays? No. Let's plan ahead and figure out what is going to offer us the most amount of fun with our limited free time this weekend of February 24, 2017. 
Eat
The Oscars is one of those events we always say we're not going to watch because who wants to watch a bunch of speeches, but we end up watching anyway so we can imagine our own Oscar acceptance speech while roasting all the bad speeches while goofing around with our friends. (Although who are we kidding, the good speeches get roasted too. That's just how the world works sometimes.)
But that doesn't mean we can't have fun though with our food for the Oscars.
And while we're on the topic of the Oscars this weekend, if you need to brush up on you trivia for the weekend so you can dominate your Oscar pools, here are:
No need to split your Oscar winnings with us. Just thank us in your Oscar acceptance speech. 
Drink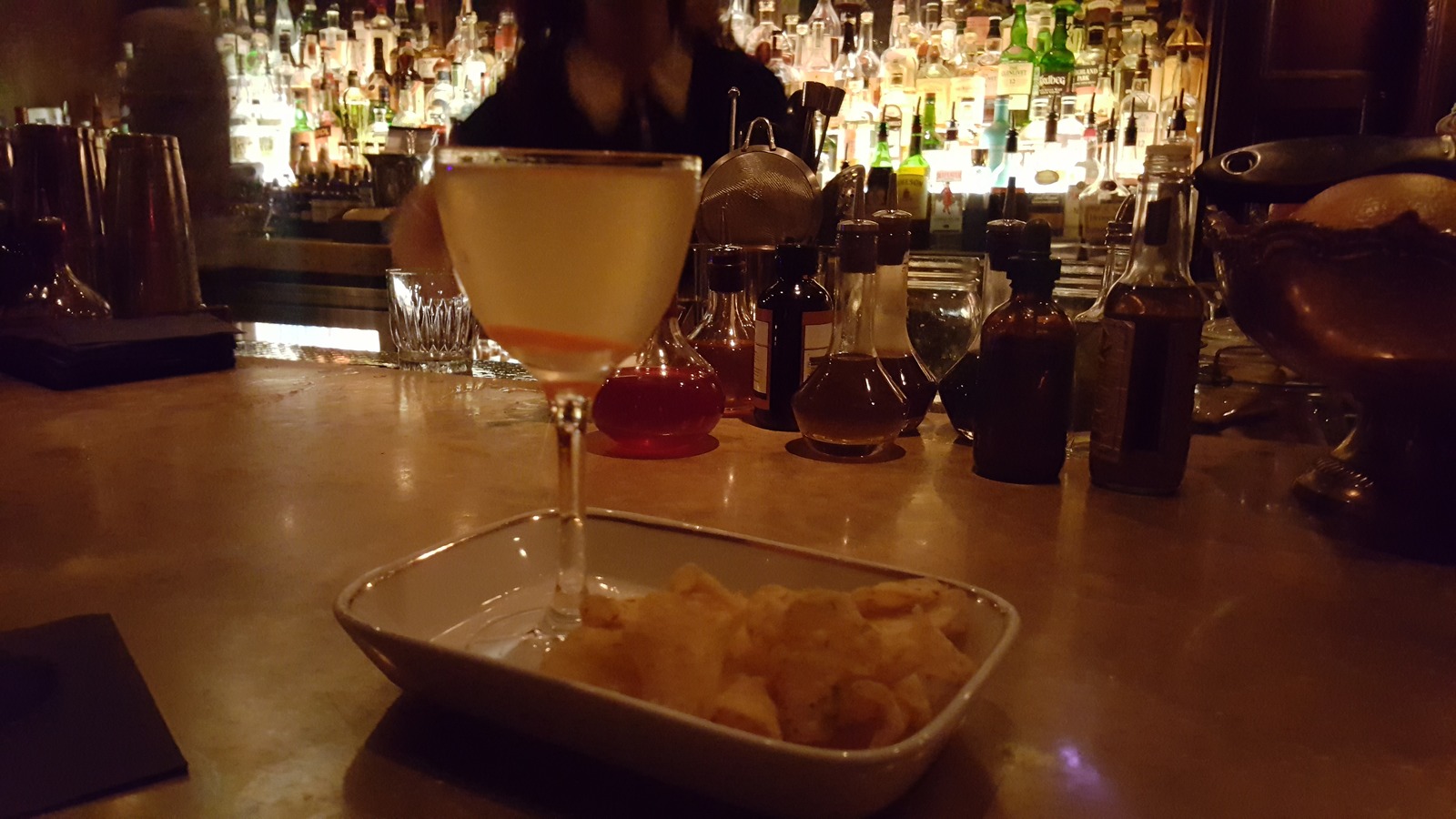 Sarah Sprague/Yardbarker
We're obsessed with the Salt & Vinegar martini at the Spare Room here in Los Angeles. (Coincidentally located right across the street from the Dolby Theater where the Oscars take place this weekend in the Roosevelt Hotel where – wait for it – the first Oscars were held in 1929.) It's the perfect winter-to-spring drink; a classic cocktail without being boring or stuffy, the tart brine balanced out by a well-rounded vodka. Their version of this savory martini calls for potato vodka, dry vermouth, carrot dill brine and a celery shrub, but what really sets it apart is serving it with dill potato chips, or as seen here, with actual salt & vinegar kettle chips. The drink is amazing on it's own, but having a chip and then a sip of the drink? It's a whole other experience.
Pickled carrots are easily found at the grocery store, but for a celery shrub you're going to need to check with specialty liquor shop, order from Amazon, or if you're feeling really adventurous, make your own.
Watch
Sometimes half the battle is sorting out what you want to watch (and what you have time for!) on the weekends. Here are our highlights for the weekend of February 24, 2017.
Sports
Loads of solid NBA and college hoops this weekend, the Stadium Series in a cross-state rivalry blood match and oh yeah, spring training games are now on TV.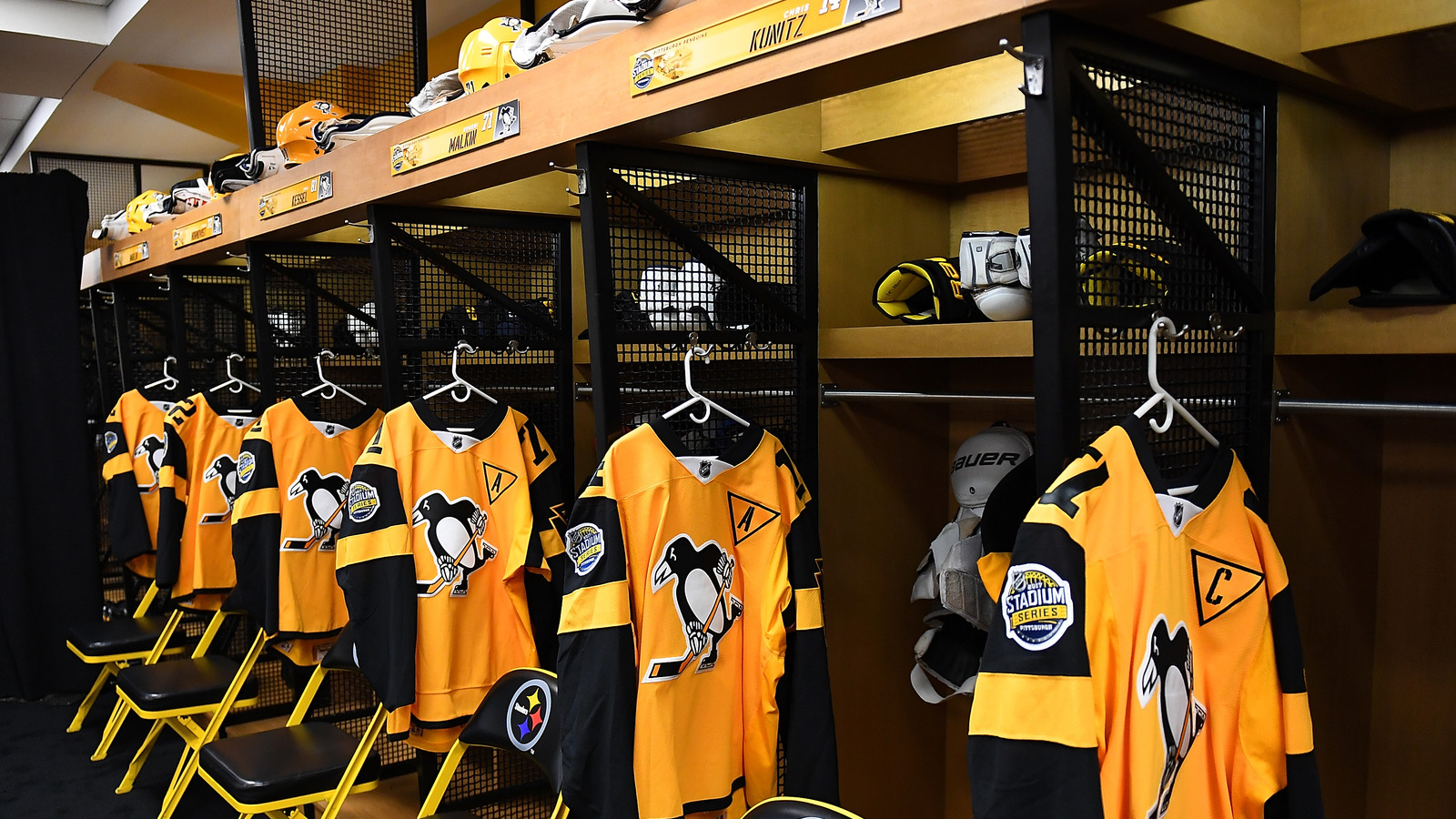 Pens and Steelers logos together? Pretty much Pittsburgh heaven. 
Joe Sargent/NHLI via Getty Images
Friday: Great night for NBA action as the Celtics travel to Toronto to take on the Raptors (8 p.m. ET/5 p.m. PT, ESPN) followed by Spurs-Clippers (10:30 p.m. ET/7:30 p.m. PT, ESPN) as all four teams fight for the solid upper-middle of the Association's ranks. In women's college hoops, #8 Stanford battles #10 Oregon State in a solid rivalry game (11 p.m. ET/8 p.m. PT, Pac-12). The NHL offers an early glimpse of what could be a Stanley Cup Final with Oilers-Caps (7 p.m. ET/4 p.m. PT, NHLN).
And if you're hungry for baseball, we don't judge. A Phillies-Yankees spring training game is on the MLB Network starting at 7 p.m. ET/4 p.m. PT
Saturday: This should be the weekend for Man City-Man U, but due to the EFL Cup final that match has been postponed. (The rest of the Premier League is sort of rubbish this weekend with other big matches also delayed, so it's okay if you want to sleep in and skip soccer this weekend.)
Golf heads to sunny Florida for the third round of Honda Classic (1-3 p.m ET/10 a.m. - noon, PT on Golf Channel continuing 3-6 p.m/noon-3 p.m. PT on NBC).
Big day for men's college basketball: #13 Florida takes on #11 Kentucky (2 p.m. ET/11 a.m. PT, CBS), #23 Creighton tries to upset #2 Villanova (3 p.m. ET/noon PT, Fox) and Pac-12 rivals #5 UCLA battles #4 Arizona (8:15 p.m. ET/5:15 p.m. PT, ESPN). And on the women's side, UConn looks to notch their 103 (!) win in a row when they play Memphis at 4:30 p.m. ET/1:30 p.m. PT on ESPN3.
Compared to Friday's NBA fun, Saturday feels a little flat, but Chicago will look to regain their post-trade deadline footing against Cleveland at 8:30 p.m. ET/5:30 p.m. PT on ABC.
The NHL has their last Stadium Series game of the season as the Flyers take on the Penguins at Heinz Field in Pittsburgh at 8 p.m. ET/5 p.m. PT on NBC. We expect loads of Terrible Towels and fried foods from both ends of the state to be well-represented. 
And if this isn't enough, spring training games continue with Mets-Nationals at 7 p.m. ET/4 p.m. PT on the MLBN.
Sunday: Just one key men's college basketball game today as Syracuse looks to go for another upset this week against #7 Louisville (2 p.m. ET/11 a.m. PT, CBS). The women's side is hopping though with #8 Florida State - #5 Notre Dame (1 p.m. ET/10 a.m. PT, ESPN2) and #22 Kentucky - #7 South Carolina (2 p.m. ET/11 a.m. PT, ESPNU).
Honda Classic goes into their final day of play (1-3 p.m ET/10 a.m. - noon, PT on Golf Channel continuing 3-6 p.m/noon-3 p.m. PT on NBC).
Somehow the NBA schedule got weaker by the day over the weekend, but if you must, Boston-Detroit should be your game to watch on Sunday (6 p.m. ET/3 p.m. PT, League Pass). The NHL though is keeping the heat on though with solid conference battles between the Blue Jackets-Rangers (5 p.m. ET/2 p.m. PT, NHLN) and St. Louis-Chicago (7:30 p.m. ET/4:30 p.m. PT, NBCSN).
And if you want re-live some World Series glory, a spring training matchup between the Cleveland Indians and the Chicago Cubs is just what you're looking for (8 p.m. ET/5 p.m. PT, MLBN). 
Movies
Jordan Peele of Key & Peele fame steps behind the camera to direct his first feature film, Get Out, a satire/horror tale that has had preview audiences screaming for what is sure to be an instant classic. Don't miss it.  
Also coming out this weekend, Dying Laughing, a comedy documentary featuring Chris Rock, Jerry Seinfeld, Kevin Hart, Sarah Silverman, Amy Schumer and Bob Saget among others pouring out their hearts on the craft. While Laughing is just in limited theatrical release, you can rent it online from Vudu. 
Streaming

People running through impossible obstacle courses? Yes, please. Netflix's Ultimate Beastmaster has everything we love; challenges, athletes, props and yes, Terry Crews.  The summer animated hit Sausage Party also pops up on Netflix this weekend, the hide underground with the horror film 10 Cloverfield Lane on Amazon, and if you've never seen Running Man – set in 2017 as imaged in the 1980s – now is the time as it's on Hulu.  
TV

Not a big weekend for premieres since everyone wants to give the Oscars a wide berth, so if you haven't caught up with all of your usual Sunday favorites –Walking Dead, Billions – now is your time if you're not watching the Oscars. Guardians of the Galaxy is running a couple of times Sunday afternoon on FX, so if you still haven't seen one of the better offerings from the Marvel universe, now is your chance. 
Have a great weekend, everyone. Let's have a good time out there. 
MORE FROM YARDBARKER:
QUIZ: Name the athletes who appeared in these movies
Can you name the famous athlete that was in each of the listed movies?
Note: Excludes athletes in primarily athletic roles - hence no Space Jam. Also list is limited one movie per athlete.
Ace Ventura: Pet Detective
Lock, Stock and Two Smoking Barrels
There's Something About Mary
MORE FROM YARDBARKER
All Sports News

Delivered to your inbox

You'll also receive Yardbarker's daily Top 10, featuring the best sports stories from around the web. Customize your newsletter to get articles on your favorite sports and teams. And the best part? It's free!