Found February 07, 2013 on The Daily Stache:
Click here to view the embedded video. As many of you may know, each year the MLB selects a few lucky fans to live in the MLB Fan Cave located in Manhattan. The lucky fans live there for the entire MLB season, and watch every single from start to finish. I recently caught up with 23 year old Mets fan Eitan Levine, who just so happens to be one of the 52 finalists for the MLB Fan Cave Contest. Eitan needs your help, as voting is currently underway to cut the finalist pool down to 30. The 30 finalists will be invited to Spring Training to audition to be the 2013 Fan Cave Dwellers. I was fortunate enough to ask Eitan Levine a few questions about himself and his quest for the cave. Me: How/Why/When did you become a Mets fan? Eitan: My dad was a big Mets fan so naturally I grew up as a Met fan. Growing up i remember how excited I was to go to Mets games for two reasons: 1) Because of how much fun me and my dad would have at the games and 2) because it meant corned beef sandwiches in the car on the way back home I should also point out that it is a miracle that I am still a Mets fan. Growing up in New Jersey meant that 90% of my friends were Yankees fans and I think we all are aware that being a Met fan in the tri-state area was not easy during the Yankee dynasty teams of the late 90′s and early 00′s. It would have been very easy for me to switch over the "the dark side" but I stood tough through those years and to this day still bleed orange and blue. Me: Your favorite Mets player/moment of all time? Eitan: My current favorite player is David Wright. He is a fantastic leader and an all around "mentsch."My all-time favorite player is hands down Mike Piazza which also ties into my favorite Met moment. Although I was only 12 when it happened, Mike's home-run after 9/11 still gives me goose bumps. I dare you to watch that home run on YouTube and tell me you don't feel something. Me: What are you looking forward to most for the 2013 season? Eitan: As I saw it, the Mets had to do 3 things this offseason: Sign Wright long-term, clear up salary space and sign some top tier prospects. Wright is a Met for the next 7 years, salary cap space was dumped and the Mets signed some very promising prospects. As much as I loved RA last year, it was better for them to trade him now in exchange for some younger blood. Travis d'Arnaud is a highly regarded catching prospect who will hopefully fit in well with the Mets. Me: Why do you want to win the MLB Fan Cave Contest? Eitan: I think the best thing about the Fan Cave is that I won't have to pay rent for the next 6 months… Kidding! I love the Fan Cave program and I really can't think of a better way to watch the MLB season than in front of those 45 flat screen TVs. Living in the heart of NYC and meeting the celebs/musicians that come through the Fan Cave doors would be nothing short of a dream come true. Me: How do you think your stand up/camera experience will translate to the Fan Cave if selected? Eitan: As I see it, the keys to a great Fan Cave dweller are someone that is equal parts energetic, entertaining and passionate about sports. I am all those things PLUS I have over 8 years of comedic experience on-stage/on-camera. I also am the host of my own live action sports debate show called "Sports! Live!" which currently runs out of the People's Improv Theater in New York (The way I describe the show is that it is some sort of mix of Pardon the Interruption and Tough Crowd with Colin Quinn). I am exactly what the Fan Cave is looking for and will hopefully be able to take the Fan Cave experience to new heights during my tenure on Broadway and West 4th. Me: What can fans do to help you in your quest? Eitan: You can vote for me here: http://mlbfancave.mlb.com/fancave/vote.jsp?fliqzid=a9a27456fc8146d3881a44af1972a375 Mets fans! You will be kicking yourself in the butt if you don't vote for me and some Phillies fan makes his way into the fan cave this year! Let me represent the Orange and Blue! Me: Anything else you want Mets' fans to know about you? Eitan: I perform weekly at the People's Improv Theater (24th and Park Avenue) as part of the Improv house team, Classic Anne. We perform on Monday nights at 10pm in the PIT Underground theater. Check me out and say hi to me after the show… and buy me a drink! It would be awesome to have a Mets fan be a part of the MLB Fan Cave this upcoming season, and Eitan Levine sounds like the perfect candidate. Be sure to vote for Eitan at the link above prior to February 13th so he can have a chance to audition. Also, you can follow Eitan on twitter at @eitanthegoalie this upcoming baseball season. The post Eitan Levine and His Quest for The MLB Fan Cave appeared first on The Daily Stache.
Original Story:
http://dailystache.net/eitan-levine-a...
THE BACKYARD
BEST OF MAXIM
RELATED ARTICLES
When the Marlins signed Jose Reyes in December of 2011, the Mets were forced to turn to a young, inexperienced shortstop in Ruben Tejada. Just 22 at the time, Tejada was given the enormous (and probably impossible) task of replacing Reyes. No one expected him to make up for the production lost, but the club certainly needed decent production out of the position. In 2011, Tejada got...
The Mets promising first half of the 2012 season may have given fans a glimmer of hope for the 2013 campaign. Approaching the All Star break six games over .500 and just 4.5 out of the division, the farm system-grown squad led by David Wright appeared formidable. However, things went south quickly and the season ended as another major dissapointment. With 74 wins, the Mets had their...
As an overabundance of Michael Bourn rumors float around in the minds of Mets fans everywhere, the team will see pitchers and catchers report to spring training in less than a week. Pending any new additions, the Mets have spots on the opening day roster available, which should create healthy competition between players for the open jobs. Which spots are up for grabs? Who is most...
Adam Rubin reports that the Mets' stadium in St. Lucie, formerly known as Digital Domain Park, is reverting back to Tradition Field. Tradition, Florida is again the sponsor, but no details on the naming rights deal yet. The Mets ballpark held the name Tradition Field from 2004-09. During the regular season, the St. Lucie Mets play their home games at Tradition Field.
Frank Francisco told the New York Post yesterday that he is the Mets' closer. Sure, he might have been signed last offseason to be the Mets' closer, but it's not like he went out last year and was stellar on the mound. In fact, his numbers (5.53 ERA and 23 saves) were pretty poor for a closer. So while he "thinks" he is this team's closer, nothing is set in stone. The...
The New York Mets owners are in such financial trouble they are looking to build a casino next to Citi Field, the New York Post reports. The Post says the Mets' development company, Sterling Equities, submitted plans to build a massive casino and hotel on the Willets Point development site in Queens, adjacent to Citi Field. Live table gaming is illegal in New York except on tribal...
Photo Credit: crispyteriyaki One thing we've learned about the Mets in recent years is that they like the idea of offering short-term, incentive-laden contracts to pitchers with some upside.  Chris Young immediately comes to mind. The caveat to the Mets' philosophy is simple: Any starting pitcher with a track record of success and durability is going to demand – and probably...
This article will have zero Mets content. But at the same time, it seems critical to the future of the site and worthy of being posted. Up until this point, the main worry in regards to the blog has been building an audience. Now that has been sort of accomplished, my concern is how to keep quality high. That's quality on our end and quality on your end, too. Writing can be a very...
In 1980, Baseball in New York featured a Yankee team that was a legitimate contender. Having won it all in 1978, they looked pretty solid. The overbearing and uncompromising Yankee owner George Steinbrenner was determined to establish his Yankees as perennial contenders by sheer force of will. The Mets on the other hand were awful and ended up losing 95 games. It's almost hard...
Pundits often say a college football coach deserves at least two years to turn a team over before anyone can honestly pass judgement.  That time provides the new coach with enough time to recruit his own players and implement his own scheme.  General managers in Major League Baseball get no such grace period.  Thus the dilemma Sandy Alderson currently finds himself in. Since taking...
It borders on the surreal sometimes with this team. Think about it: there's no money for anything. The Madoffs practically took everything the Wilpons own, forcing them to turn to the immortal LaTroy Hawkins for help. They were the last team to sign a free agent to a major league deal, and Shaun Marcum's $4 million deal remains the only major league deal they've signed...
Yep, so everyone who was involved in that 2011 deal between the New York Mets and the San Francisco Giants are now on the Giants, and the two players traded to New York are back on rather inexpensive deals, at that.  Oh, and the Giants won the World Series. So, LOL Mets.  Angel Pagan got pretty damn good when he came to the Giants, and both Andres Torres and Ramon Ramirez were...
Mets News

Delivered to your inbox

You'll also receive Yardbarker's daily Top 10, featuring the best sports stories from around the web. Customize your newsletter to get articles on your favorite sports and teams. And the best part? It's free!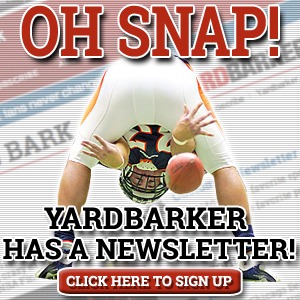 Latest Rumors
Best of Yardbarker

Today's Best Stuff

For Bloggers

Join the Yardbarker Network for more promotion, traffic, and money.

Company Info

Help

What is Yardbarker?

Yardbarker is the largest network of sports blogs and pro athlete blogs on the web. This site is the hub of the Yardbarker Network, where our editors and algorithms curate the best sports content from our network and beyond.