Found September 18, 2013 on Fox Sports North:
EDEN PRAIRIE, Minn. -- Coach Leslie Frazier wanted to get an idea of the resiliency of Minnesota Vikings quarterback Christian Ponder on Sunday and approached his third-year starter on the sideline after Ponder had thrown an interception returned for a touchdown. Frazier talked to Ponder. He looked in his eyes. Frazier believed Ponder was ready to overcome the momentum-killing interception. "I was really encouraged when I talked with him, he was really focused," Frazier said Wednesday. "He told me, 'Coach I put that behind me. I'll be ready to go next series.' The way he said it, the way he looked me in the eye when he said it, the conviction that he had, I was assured that he's alright. He's going to be OK. He went on and played well." Ponder was 4 of 12 for 52 yards passing before the interception. The rest of the game he went 12 of 18 passing for 175 yards and a touchdown and avoided any more turnovers in Minnesota's 31-30 loss. "Now we've got to build on that," Frazier said. "Even though you could write a column about a guy's performance, I could say things to him about his performance, but at the end of the day he's got to recognize some of those things too and say, 'you know what? I can do this a little bit better.' And to Christian's credit, he played much better in the second half." Here are some responses from Ponder during his weekly press conference with Minnesota media, touching on his recovery on Sunday and the potential for help from a new offensive threat: 1. What was your attitude like going back after the pick-6? PONDER: Honestly, my attitude didn't change. My confidence didn't waiver. We knew that the execution had to pick up. That last drive before the half we spread them out. We completed a bubble route to Greg Jennings, Adrian Peterson had a long run that got us towards the red zone and then Kyle Rudolph made a great catch. I think we started getting a rhythm after that. It was just a higher level of execution, but for me, I've learned to move on from those things and not let it carry over. 2. Frazier talked to you briefly after that and he said he liked what he saw in your eyes. When a coach comes up to you after a play like that, are you thinking, 'I just got to make sure he knows that I'm still right there."? PONDER: Honestly, I didn't think about Coach Frazier. My mindset is, 'hey, I've got to change it for this team, for this offense, for us to have a chance.' I think in prior instances like in high school or college I let interceptions affect me, even my rookie year here. But now I've found that I need to move on. I can't let it affect me otherwise it's going to negatively affect our offense and we're not going to have as good of a chance to win the ballgame. 3. When you look at what Patterson can do when he gets the ball in his hands, how important is it that you guys start involving him more in the offense? PONDER: He is great with the ball in his hands. The problem is he's behind a guy that's No. 4 in the league in average yards per catch, and Jerome's playing at an extremely high level. But we want to continue to get Cordarrelle involved and he's made plays for us. We're going to keep getting him out there and put the ball in his hands. We see what he did in the return game and a couple of the screens that he has. 4. With Percy (Harvin), the screen was such a big weapon for you guys in the past. Can Cordarrelle approximate any of that from what you have seen so far? PONDER: Yeah I think so. He's got a great knack of making guys miss and finding holes and making plays with his legs. We're going to continue to get him those balls and give him the ability to do so. Then he'll keep developing his routes downfield. But again, Jerome's playing at such a high level, it's hard to take him off the field. 5. It seems when you've been at a lowpoint throughout your career here, you've bounced back and played some of your best ball. What do attribute that to? PONDER: I don't know. I guess, I don't know if it's just a sense of urgency that things need to be corrected. I'm not sure. There's that expectation, when I make a bad play I don't want to make up for it, but I do understand that the execution needs to pick up and the ball security needs to pick up. But I don't know. It helps when the other guys play around you and play well and make plays like Kyle and Greg and Jerome did. I don't know what the difference is. I don't know. Follow Brian Hall on Twitter
Original Story:
http://www.foxsportsnorth.com/nfl/min...
THE BACKYARD
BEST OF MAXIM
RELATED ARTICLES
Good morning, folks! Welcome to the Water Cooler Sports' Black, Blue and Ornery, your source for NFC North News on this Wednesday, September 18th, 2013. I just realized that last Thursday's BBAO was my 250th morning links article. I probably should have timed it a little better so that my last article tomorrow hit that […]The post Black, Blue, and Ornery: Minnesota Vikings...
Minnesota Vikings quarterback Christian Ponder is questionable for Sunday's NFL game in London against the Pittsburgh Steelers because of a rib injury. Vikings coach Leslie Frazier says Wednesday's practice will ''be a big signal in what direction we'll have to go.'' Backup quarterback Matt Cassell is ready to step in if Ponder is ruled out. Ponder...
(Eds: APNewsNow. Will be updated. With AP Photos.) By DAVE CAMPBELL AP Pro Football Writer Christian Ponder has a lot more to prove if the Minnesota Vikings are going to commit to him as their quarterback beyond this year. Ponder's performance in Chicago following a costly interception was strong enough for him to keep getting the chance to show he can be a capable starter....
EDEN PRAIRIE, Minn. -- Harrison Smith was motioning safety Jamarca Sanford to start the play closer to the line and cornerback Josh Robinson was looking back at Smith. Smith then drifted to his left on the crucial play in the Minnesota Vikings' 31-30 loss at Chicago on Sunday. On the other side of the defense, Chris Cook was all alone, waving to Smith to move over. Cook never...
Without fail, the most pressing topic for fans in this week's mailbag revolves around the Minnesota Vikings' quarterback. The same questions about Christian Ponder continue and likely aren't going to end anytime soon. The answers, unfortunately, aren't likely to change either. At least we can provide an outlet for you, the fans, to vent your frustration. So, here...
One of the Vikings' most exciting playmakers, as he proved Sunday, was once again sidelined for more than 90 percent of the offensive plays. Leslie Frazier sounded determined to change that going forward.
Vikings defenders felt they played a good game before the game-winning drive by Chicago, and head coach Leslie Frazier agreed. They certainly weren't helped by the positions the defense was put in.
Let The Toilet Bowl Commence! *BUM BUM BUM BUM, DUH DUH, DUH DUH, BUM BUM BUM BUUM!, DUH DUH, DUH DUH, BUM BUM BUM BUM BUM BUM BUUUM, DUUUH, DUUUH, DUUUH, DUUUH, DUUUUUUHHHHHHHH, DUH DUH DUH DUH DUH!* *ESPN Football news fades into the screen* WELCOME for a very special edition of Monday Night Football on a Sunday afternoon. It's days like this where you realize just...
Is Chad Greenway trying to do too much, as Leslie Frazier suggested? Is his knee still an issue? The Vikings linebacker expanded on a number of touchy topics as much as he felt he could.
Vikings News

Delivered to your inbox

You'll also receive Yardbarker's daily Top 10, featuring the best sports stories from around the web. Customize your newsletter to get articles on your favorite sports and teams. And the best part? It's free!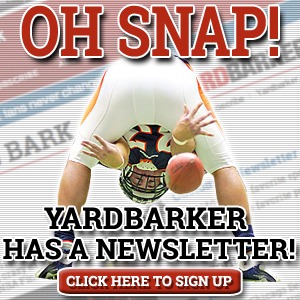 Latest Rumors
The Backyard

Today's Best Stuff

For Bloggers

Join the Yardbarker Network for more promotion, traffic, and money.

Company Info

Help

What is Yardbarker?

Yardbarker is the largest network of sports blogs and pro athlete blogs on the web. This site is the hub of the Yardbarker Network, where our editors and algorithms curate the best sports content from our network and beyond.