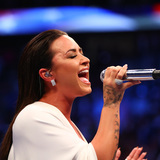 If everything works out, Green Bay Packers quarterback Aaron Rodgers won't be the only member of the team on the celebrity dating circuit.Fresh off an impressive rookie season, running back Aaron Jones is out here hitting up music sensation Demi Lovato. One could even say, he's shooting his shot."Hit me up, Demi! You single, I'm single. Sup? I'm a great match for you," Jones told...
Returning from injury, and seeing his first carry of the game in overtime, Aaron Jones kept the Packers playoff hopes alive by finishing off the game winning drive, with the game winning score.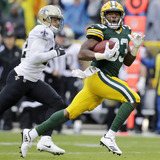 Packers running back Aaron Jones was pulled over while driving in October, and was later charged with speeding, driving without a valid driver's license and operating a vehicle with a controlled substance in his system after the traffic stop that took place in Ashwaubenon, Wisconsin.Video of the incident was recently obtained by TMZ Sports, and on Wednesday, it was released to the...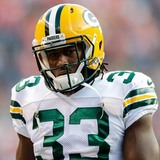 Green Bay Packers rookie running back Aaron Jones was arrested on Oct. 1 and charged with operating with a restricted controlled substance, operating without a valid license and speeding.Per NFL.com: "According to an incident report obtained from the Wisconsin State Patrol, Trooper D. Larson clocked Jones' vehicle traveling 79 in a 55 miles-per-hour zone on Highway 172 east of Pilgram...
Jones was pulled over for speeding in Wisconsin, where he was hit with several other charges.
The Packers lost Aaron Jones to an MCL injury, and may be without TY Montgomery now too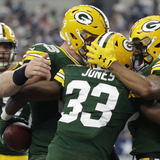 If Aaron Jones can run like this the rest of the 2017 season, then perhaps the Green Bay Packers won't miss Aaron Rodgers as much as we assumed they will.On Sunday at home in the rain against the New Orleans Saints, the rookie running back toted the rock four times for 70 yards on the game's opening drive. He capped it off with a gorgeous 46-yard touchdown scamper. This is a fantastic...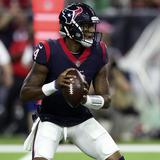 Stars of Week 5 QB: Deshaun Watson, HOU: 16-31, 261 yards, 5 TDs                 RB: Leonard Fournette, JAX: 28 carries, 181 yards, 2 TDsWR: AJ Green, CIN: 7 catches, 189 yards, 1 TD           TE: Ed Dickson, CAR: 5 catches, 175 yards, 0 TDs            We've got a back-to-back honor roll performance from star rookie Deshaun Watson. While the Texans lost to the Chiefs on Sunday night...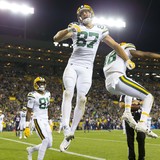 After last Thursday's epic duel between the Los Angeles Rams and San Francisco 49ers, we were let down in a big way in Week 4. No one really expected the Chicago Bears to keep pace with Aaron Rodgers and the Green Bay Packers on the road, but the team simply didn't show up.At the end of the night, Green Bay came away with a 35-14 win in a game that was clouded by a weather delay...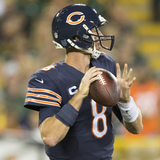 Behind quarterback Mike Glennon, the Chicago Bears are turning into the Bad News Bears on Thursday. An already terrible game got worse with an interception to HaHa Clinton-Dix. The worst thing about this play is that Glennon missed a wide open Markus Wheaton. Had he hit the open man, Chicago would have faced nothing worse than a third-and-short.A play later, Aaron Rodgers found Jordy...
MORE STORIES >>
Packers News

Delivered to your inbox

You'll also receive Yardbarker's daily Top 10, featuring the best sports stories from around the web. Customize your newsletter to get articles on your favorite sports and teams. And the best part? It's free!