Found March 31, 2012 on NorthWest Sports Beat:
Well this is good…. The Canucks can score. The Canucks can score on the powerplay. The Canucks can put together a pretty impressive winning streak.
To think that such a large portion of Canucks Nation was pressing the panic button not more than a week ago is comical. Sure there are still some kinks to be worked out but come on; any sane being could've foreseen them bumping the slump like they have.
So they've got 5 wins in a row and a game Saturday night against the Flames of Calgary. Said Flames had their hinies harassed by the Avalanche Friday and they are virtually out of the playoff picture for good this season. So in a game Saturday that should be a cakewalk for Vancouver and one where the Canucks could officially eliminate Calgary from playoff contention, will it be that easy? Let's take a looky-loo at a few things. What's Up with Luongo? @SportsnetMurph tweeted this little diddy during Friday's game in response to a follower's question regarding why Roberto Luongo didn't start the game as planned:
Luongo stiff neck in warm-up. He pulled himself out and wasn't happy. Surprise start for #35RT @DominosQuadra: Why is Schneider in net? — Dan Murphy (@sportsnetmurph) March 31, 2012
So assuming Bobby Lu was just having a bad day from sleeping on a foreign bed the night before, he should be good to go Saturday. Of course as I am writing this, @vancanucks tweets:
Update on Luongo: "Lui had stiff neck this morning. Didn't loosen up. If this would have been extreme, could have played thru it." #Canucks — Vancouver Canucks (@VanCanucks) March 31, 2012
So there you have it, he's fine. Getting Up for a Rival A rivalry does exist between these two teams. Games are always nasty but the sad reality is that the rivalry has suffered in the wake of new rivalries between the Canucks and other teams like Chicago, Boston, San Jose and even Nashville. Add to that the frequency with which the Canucks have played the Flames this season and there just hasn't been any chance for it to build. The two former arch-rivals have gone 14, 9, 20 and 24 games between playing against each other and now face a pair of games within a week to close out the season. Calgary really has nothing to play for but their own dignity and maybe trying to spoil the Canucks' chances at the Western Conference crown but let's be honest here. Saturday night's alright for fighting! (Photo - Larry MacDougal/AP/Canadian Press) Jarome Iginla can speak bravely all he wants about how the team won't stop fighting until the end but they have next to no chance at all to make the playoffs. Back to Back This has to be the most interesting stat of the night. If it's not, I will drink a cup of the sweat I perspired while writing this preview. To start this season, the Canucks went 0-4 in the back half of back to back games. Since then, they have had 6 more of those situations and won them all. The most recent one of those was a 2-1 win over none other than Dallas just last week. Obviously we all know how this team slacks it to max in October and November but what does this really say about them? Does it say they don't try in the first halves of those back to back games? Probably not since they are 4-1-1 in those same last 6. Methinks the key is having that best goaltending tandem in the NHL. If you're players aren't going to be 100% in the back half, at least you have skilled enough players to keep you in it and a bona fide star goaltender to steal you one. BEST BET TO WIN: Vancouver Canucks
Sorry Calgary, but Vancouver is charging towards St. Louis for their 2nd straight Western Conference title…and you're in the way.
Puck drop is at 7PM on CBC's Hockey Night in Canada and TEAM1040 Radio. CLICK HERE CHECK OUT THE VANCOUVER CANUCKS CLUBHOUSE ON NWSB! © Vancan19 for North West Sports Beat, 2012. | Permalink | No comment | Follow NWSB on Twitter or join US on Facebook for real-time updates OR... | Share This on Twitter | Share NWSportsBeat.com on Facebook Post tags: 2012, Calgary, Calgary Flames, Calgary Flames vs. Vancouver Canucks, Canucks, Canucks Blog, Canucks Matchups, Cory Schneider, Flames, Flames vs. Canucks, Flames vs. Canucks gameday, Flames vs. Canucks preview, game 79, Game Notes, game preview, Henrik Sedin, hockey blog, Hockey Night in Canada, Jarome Iginla, media release, NHL, NHL Preview, Playoffs, road trip, Roberto Luongo, Rogers Arena, Ryan Kesler, Vancouver Canucks, Vancouver vs. Calgary, Western Conference
Original Story:
http://www.nwsportsbeat.com/canucks/c...
THE BACKYARD
BEST OF MAXIM
RELATED ARTICLES
The Vancouver Canucks are hopeful left wing Daniel Sedin will be ready for the 1st round of the Stanley Cup Playoffs. They're not scoring goals like they have with him, but the Vancouver Canucks are winning games. Going 4-0 since the Sedin hit by Duncan Keith versus the Blackhawks last week. Sedin, 31, has collected a team-high 30 goals with 37 assists for the Canucks,...
Top 50 #Canucks friends to follow on Twitter Every day this week NWSB has been posting 10 of the top 50 follows in #Canucks nation in no particular order. It kept me busy too. I almost had not time to fire out my Canucks All Access for the week. But that is up to. Notice someone important (like yourself?) not on the list? Social Media: Canucks Add your honourable mentions in the...
The 2012 NHL playoffs are right around the corner. We all remember what happened in Vancouver BC last year after the Canucks lost game 7 of the Stanley Cup Finals to the Boston Bruins. June 15 2011 will NOT be a day people of Vancouver want to remember. Yes indeed. Vancouver rioted. The city made the worlds headlines for all the wrong reasons. The exact opposite type of exposure...
Second Star of the week for me! The Canucks Goaltending Remember my goaltending rant in this column a few weeks ago? Me either. In fact, just to make sure it never was mentioned again, I had my editor remove it from the sites history. This week, Luongo and Schneider put on a show. Each had a shutout in tough 1-0 wins, and Luongo stopped 38 shots in a 3-2 win against Colorado...
25-8-7 since Jan 1st The Vancouver Canucks struggled to bring their playoff intensity on Saturday, but managed to make the most of their performance against the Flames, forcing overtime in a 3-2 comeback over Calgary on Hockey Night in Canada. Roberto Luongo had a shaky return to the crease after sitting out Friday's game with a sore neck and Marc-Andre Gragnani buried his first...
Dark Roast The results are in and your Vancouver Canucks are officially ________! Fill it with what you will. With what happened this past week and Saturday night, the reactions are endless. Below is the customary list of best AND worst Canucks related writing from all over the interwebz the last few days. What are the HERMETIC NWSB staff saying? For the flat our best Canucks coverage...
Flames vs Canucks Game Recap Did you miss the Calgary Flames vs. Vancouver Canucks Saturday night on Hockey night in Canada? BOXSCORE | Q's POST GAME RECAP We've got the highlights for you. Flames vs. Canucks highlights courtesy NHL.com. CLICK HERE CHECK OUT THE CANUCKS CLUBHOUSE TODAY AT NWSB! © NWSports "Q" for North West Sports Beat, 2012. | Permalink | ...
Vancouver Canucks Playoff Chances - Sports Club Stats According to Sports Club Stats, it will be a team from the Pacific division. Can't really say any of those teams scare me, though none will be easy. If I had to rank them for preferability... Phx/LA/Dal/SJ?
Is it just me or are the Vancouver Canucks winning but still not getting any credit? Yes, it's been four in a row now and NWSB Insider Josh Hall says it's about time we trust the Captain Henrik Sedin. Who will start against the Dallas Stars Friday? Should it be Cory Schneider? He's the only one to beat them in three tries. Bah humbug to all you bandwagoners. Shame on you.
Canucks host the Not Out Flames Saturday night The Vancouver Canucks extended their win streak to five games last night and in the process they returned to the team that resembled the one that won the President's trophy last season. On Saturday night the Canucks host a Calgary team that saw their playoff chances all but disappear with their seventh loss in eight games on Friday...
Friday Night Full of Stars The Vancouver Canucks recent schedule has allowed them to play kingmaker in the race for the final playoff spots in the Western Conference. A run of games against Dallas, Colorado, and Los Angeles has helped the Canucks not only effectively eliminate the Avalanche from the race but also helped give the team a week long litmus test to see how they measure...
Loungo's in net, Ebbett is back from that collerbone injury suffered in the Boston game. Weise and Bieksa are out.
All Sports News

Delivered to your inbox

You'll also receive Yardbarker's daily Top 10, featuring the best sports stories from around the web. Customize your newsletter to get articles on your favorite sports and teams. And the best part? It's free!
THE HOT 10: Who's Trending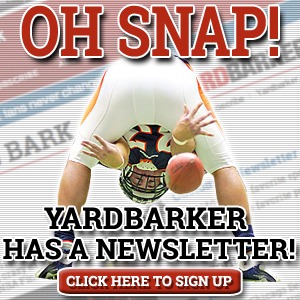 Latest Rumors
Best of Yardbarker

Today's Best Stuff

For Bloggers

Join the Yardbarker Network for more promotion, traffic, and money.

Company Info

Help

What is Yardbarker?

Yardbarker is the largest network of sports blogs and pro athlete blogs on the web. This site is the hub of the Yardbarker Network, where our editors and algorithms curate the best sports content from our network and beyond.