Found March 04, 2013 on Fox Sports Arizona:
SCOTTSDALE, Ariz. Usually, hard feelings do not occur until a game begins. Not Monday. Cincinnati manager Dusty Baker would not shake D-backs manager Kirk Gibsons hand at the pregame lineup exchange because the D-backs opted against using a DH at Salt River Fields. Newcomer Brandon McCarthy has not had an official at-bat since 2009, spending his entire career in the American League, and the Gibson wanted to get him an at-bat. Baker wanted to use the DH, but the home team sets those rules in exhibition play. The first lineup the D-backs sent to the D-backs hours before the game included a DH, intensifying feelings in a game the D-backs won, 7-2. I wanted to play a National League game," Gibson said. "I notified them several times. They just wanted to do it their way and they couldnt do it. They didnt like that. We play by the rules here. If we were over there, we play by their rules." Gibson said he absolutely wanted to see McCarthy at the plate. In my thought process, we all know what he went through last year, so we are trying to do things little by little. He put the bat on the ball. He saw some pitches. The national League is different. We like to do that, Gibson said. For the record, McCarty hit a nubber in front of the plate and was thrown out at first base. McCarthy has nine major league at-bats, none since 2009, but he understands the importance of his plate appearances. An National League starting pitcher could get 50-70 plate appearances in a good season. I dont think Im a complete blubbering idiot up there" McCarthy said. "I think I have some sort of an idea. I think I can foul pitches off and work counts. I think I see pitches OK. Bunting in major league situations is going to be important to me. Ive never been asked to do that." AL (at-bats), you sort of brush it aside. It is a thing where you laugh and everybody gets on the top rail to watch. Now it is something that you are actually trying to do as part of your game. So it is something as we keep going I am going to focus more and more on and get used to that. McCarthy said he would not be averse to doing extra bunting and hitting on back field if that is what it took. The more experience, more and more time, eventually the butterflies go away and you start to get an idea of what you are doing, he said. Gibson would not disclose the content of his conversation with Baker at the plate. It was good locker-room talk. Read between the lines, he said. Meanwhile, on the mound McCarthy pitched to 10 batters in three innings, striking out five and giving up a one-out home run to Zack Cozart in the top of the first inning. He was the first D-backs starter to go three innings, and Gibson said he considered having McCarthy work a fourth because he used only 34 pitches. McCarthy threw his sinking fastball inside and also used his cut fastball and moved the ball around well, Gibson said. I was able to accomplish all the things I wanted to," said McCarthy. "The results are always nice. For a spring outing it was pretty solid. You want to throw well, thats the goal. I dont use spring too much as a project where you are doing other things. I try to pitch the way I would in a season for the most part. There are things here and there that you are playing with. The changeup you try to get comfortable with that. You are just trying to make sure those things come along, that you can still complete and see what hitters are doing.
Original Story:
http://www.foxsportsarizona.com/03/04...
THE BACKYARD
BEST OF MAXIM
RELATED ARTICLES
BAD BLOOD
Stemming from a pregame argument over the use of the DH, Reds skipper Dusty Baker refused to shake D-Backs manager Kirk Gibson's hand after Monday's game.
In case you missed it, Redleg Nation Radio had another show yesterday. If you want to check it out and give it a listen, click here. Dusty Baker wants to see Billy Hamilton make more contact. We talked a little bit about this quote on Redleg Nation Radio, but Hamilton has 7 strikeouts in 15 at bats now. Clearly at this point in the spring, it means nothing. Still, one concern that...
The Canadians received a huge lift to their World Baseball Classic odds this morning. This is because Reds All-Star Joey Votto will play for Team Canada in the WBC. Votto revealed his intentions in a 10-minute session with media at spring training Monday morning. "I look forward to playing for the team," Votto said. "I look forward to being a part of the tournament....
GOODYEAR, Ariz. His name is Corky Miller and thats no nickname. Corky is his given name.And what the 37-year-old catcher gives the Cincinnati Reds is immeasurable. It is one of the reasons that despite spending most of his 16 professional years in the minor leagues that Miller is one of the most popular guys in the Reds clubhouse.Miller barely has four years of experience in the...
TEMPE, Ariz. The buzz question in the camp of the Cincinnati Reds this spring is: Aroldis Chapman or Mike Leake? Mike Leake or Aroldis Chapman?The Reds are experimenting this spring to see what works best for the good and betterment of the team. There is no question Chapman was one of the best closers in the game last season, but some segments of the organization envision him as...
SALT RIVER AT TAKLING STICK, Ariz. Cincinnati Reds third base coach Mark Berry took all the drama and intrigue out of Joey Vottos announcement Monday morning.As Votto walked toward a media gathering to say yes or no to playing for Team Canada in the World Baseball Classic, Berry broke into a lusty and off-key rendition of, O Canada.So, yes. Yes, Votto will play for his native country...
One of the challenges when it comes to ranking players by position in fantasy baseball is trying to determine which player is going to have that breakout season and return a profit to your auction buy or draft pick. When reviewing the list of third basemen for the 2013 season, my pick to break out is Todd Frazier of the Cincinnati Reds. Frazier took over at third base for the Reds...
Zack Cozart got the Reds a very short-lived lead in the first.The Cincinnati Reds continued their losing ways yesterday, dropping their 10th Spring Training game to the Arizona Diamondbacks 7-2. Johnny Cueto started and pitched well. Over three innings, he allowed one run on one hit and struck out four. Overall, the pitching wasn't as bad as the 7-spot makes it look. The defense...
Nothing. That's just the true and simple answer. Most people don't pay any attention to spring training numbers unless a player just has gaudy stats and someone wants to make a mention of them, like Reds prospect Henry Rodriguez who is currently hitting .571 (8-14) with a .600 OBP as of Monday morning. For one thing, the sample size you get during spring training just isn...
Here is the media pack that covers the CINCINNATI REDS. Newspaper- The predominant newspaper in town is the Cincinnati Enquirer. The paper's online sports page includes a dedicated section on the Reds.  John Fay (Twitter) is the lead beat writer along with Tom Groeschen (Twitter). The pair also write for the paper's Reds Blog. You'll also
Brandon McCarthy pitched three innings in his second start, allowing a home run in the first inning to Zack Cozart, and the Arizona Diamondbacks took advantage of some sloppy Cincinnati play to beat the Reds 7-2 Monday. Johnny Cueto went three innings in his second start for Cincinnati. He slipped in the first inning, causing concern for the Reds because he strained an oblique in...
I'm in Phoenix for spring training again this year…. maybe I'll actually write a few posts…. starting today…. photo from Tampa Bay Times I'm declaring Brandon McCarthy ready for the season.  I've seen both of the Arizona Diamonbacks right-hander's outings, and both were excellent.  Coming back from a fractured skull suffered last summer, McCarthy has shown no ill...
All Sports News

Delivered to your inbox

You'll also receive Yardbarker's daily Top 10, featuring the best sports stories from around the web. Customize your newsletter to get articles on your favorite sports and teams. And the best part? It's free!
THE HOT 10: Who's Trending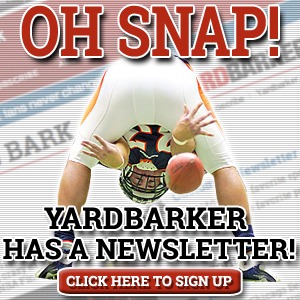 Latest Rumors
The Backyard

Today's Best Stuff

For Bloggers

Join the Yardbarker Network for more promotion, traffic, and money.

Company Info

Help

What is Yardbarker?

Yardbarker is the largest network of sports blogs and pro athlete blogs on the web. This site is the hub of the Yardbarker Network, where our editors and algorithms curate the best sports content from our network and beyond.