Found August 18, 2012 on Start 'N' Park Blog:
Greg Biffle stands just one point behind Sprint Cup points leader Jimmie Johnson with four races left before the Chase begins. Biffle, spoke to media members prior to qualifying Friday for Sunday's Pure Michigan 400 at Michigan International Speedway.
TALK ABOUT THE NEW TIRES AND HOW THEY ARE DIFFERENT FROM JUNE. "Well, we have struggled a little bit so far since we have been here today. We did really good at the tire test, the open test, but today we are having some trouble anchoring the back of the car down. I can drive down on the corner and the back of the car is getting out from under me and I am chasing it up the hill a little bit. We worked a lot in practice on trying to keep the back of the car under it. That is the less grip of the left side tire. Some guys are having trouble with it and some guys aren't. I think Matt (Kenseth) and I are having a little bit of trouble getting it going but Carl (Edwards) seems to be decent with it. We will keep working on it. We are back here looking at our notes and we are a little different than we were here before so we are kind of back tracking a little bit to see if we can get the back of the car a little more grip"
HOW BIG A DEAL WILL IT BE FOR THE RACE IF YOU AREN'T ABLE TO GET UP FRONT  IN QUALIFYING? "It will be a fairly big deal. We want to start in the top little bit. Right now we are like 15th in qualifying trim. We are a lot faster than that in race trim. I think we are going to back up to where we were before. I feel like we will qualify in the top-10 that way."
GUYS ARE SAYING THERE IS ONE LINE RIGHT NOW WHERE TYPICALLY THIS TRACK HAS MULTIPLE GROOVES. "Yeah, the track is real narrow for some reason. The reason why is because it doesn't have a lot of grip so when you go down out of the groove a little bit, or a little lower, it slides you back up to where you were. If you slide out of the groove you have to protect it to get going again. It has narrowed the groove up but I think that will widen out over time."
IS THERE ANYTHING YOU LEARNED IN JUNE THAT WILL CARRY OVER TO THIS WEEK? "I think so, yeah. We were just up there trying to digest our notes and get back more to where we were in June. We are compensating a little bit for that left side tire. We have developed our package over the test and Indy and Pocono. We have gotten a little better. The right side skirt is up even higher. We are looking back at undoing a few things that may have worked at Indy and Pocono that may not be working here for us. We were so fast here in June."
OTHER DRIVERS ARE TALKING ABOUT CONTENDERS BUT THEY AREN'T MENTIONING YOUR NAME. "Good. That is good. We will do the best we can and see what happens when we get there. It doesn't bother me at all. It keeps people from asking me questions. Go talk to them about it. It keeps the pressure off me. We don't want the pressure."
WHAT ARE YOUR THOUGHTS ON BRISTOL NEXT WEEK? "I just hope that they didn't screw it up. It is a shot in the dark if you will. You are just sitting back trying to make a plan and you don't know if it will work or not. It is that simple. Who knows if that is going to work? You don't. We just have to wait and see when we get there. I think it is going to be exciting either way. I heard they ground the corner more down the straightaway so that when you come up off the corner you will go across that patch coming on to the straightaway, which may be difficult to go from the bottom groove. They carried it around maybe further than it needed to be but we will have to wait and see when we get there how the race track drives now. I hope it is good."
HOW HAVE THINGS CHANGED HERE SINCE THE REPAVE? "The track is completely different but one thing that hasn't changed is that our organization seems to be pretty good with high speed race tracks. Roush Fenway has been good on 1.5 and two-mile fast race tracks. This is still that type of race track even though it is quite a bit different now. Our cars are still pretty good here."
DOES IT BOTHER JACK NOT TO HAVE WON HERE IN RECENT YEARS MORE THAN OTHER TRACKS? "Yeah, I like this race track. I feel like when we come here that I have it marked on the calendar or in my head anyway that this is a place that we can definitely dominate and win. There is a little frustration this morning in practice trying to get the car driving the way I want it to. I have full confidence that we just need a little more time. We had two problems with oil on the race track so we literally had about nine minutes of practice. Tomorrow we have a couple hours so we will get it dialed in. We did have speed. We were top five in race trim on speed. I am confident that we have the speed, we just have to get it driving good and we will be fine for the race."
DO YOU EVER HAVE TEAM MEETING WHERE JACK EMPHASIZES MICHIGAN? "No, he says that about everywhere."
YOU'VE LED MORE LAPS HERE RECENTLY THAN ANYBODY ELSE BUT HAVEN'T CLOSED THE DEAL. WHAT IS THE REASON FOR THAT? "Well, we pitted and a caution came out. We ran out of gas twice. We botched a pit stop. Other than those four nothing. You lead the most laps and something happens and you don't win. It is that simple. That was the old 16 team. Now we don't make those kind of mistakes anymore."
SO ARE YOU DUE? "Yeah, we are. We are definitely due. We will see this Sunday."
IS IT AN ADVANTAGE TO HAVE EXTRA SEAT TIME BY RUNNING NATIONWIDE RACES? "I think it kind of keeps your skill sharp a little bit. I would love to run some Nationwide races but we just haven't been able to sell any sponsorship at Roush Fenway for Nationwide cars. I know that Carl was able to do a little bit there with one of his sponsors but we would certainly love to run some Nationwide races. I would be on the race track any change I got. I enjoy racing the Nationwide series, it is a lot of fun."
WHAT IS IT ABOUT GETTING IN THE SEAT, CAUSE WE SEE GUYS DOING IT WITH SPRINT CARS AND DIRT TRACKS AND EVERYTHING. "Anything that burns gas and has tires on it we love it. It doesn't matter what it is. I love to ride motorcycles, drive race cars, take my sand car to the sand dunes which I did on Wednesday. Any chance we get to do stuff like that we are on it."
ARE YOU RUNNING A SIMILAR SETUP TO CARL THIS WEEK? "We are close I think. Obviously something is a little different in our car. Our car is not real happy right now. It goes down in the corner and it loose and then it isn't and back and forth. I am like swatting flies in there. I have to get it more consistent in the corner. It has the speed. I can tell it has the speed; I just can't force it to get the speed out of it because it is not making a smooth corner. We are just looking at whether we have some gaps wrong or whatever we might have going on. We are working on it and fine tuning it. We will find it. There is a little gremlin in there somewhere."
Original Story:
http://startnparkblog.com/?p=10034&ut...
THE BACKYARD
BEST OF MAXIM
RELATED ARTICLES
Greg Biffle knew his car was "badass." He just didn't want to talk about it -- until the No. 16 3M Ford reached Victory Lane on Sunday at Michigan International Speedway. With 10 laps remaining in the Pure Michigan 400, it was uncertain whether Biffle, who was running third at the time, would get that chance. But the veteran was patient. And six laps later, Jimmie...
Greg Biffle, driver of the No. 16 3M Ford Fusion for Roush Fenway Racing found himself in victory lane this weekend after outrunning Brad Keselowski on a two lap shoot out. Jimmie Johnson seemed like he was about to get an easy win at a track he had [...]
Greg Biffle won the NASCAR Sprint Cup race at Michigan International Speedway on Sunday when leader Jimmie Johnson left the track because of engine trouble with six laps left. Johnson started the race from the back because of an engine change, but made it all the way to the lead and looked as though he had the superior car after passing Brad Keselowski on lap 191 of 200. But Johnson...
After taking the checkered flag in Sunday's Pure Michigan 400, Greg Biffle, crew chief Matt Puccia, and owner Jack Roush met with the media afterwards to talk about the race. Below is a transcript of what they talked about while recapping their race. GREG BIFFLE, No. 16 3M Ford Fusion – THAT WAS A WILD RACE AND GREAT WIN. YOUR THOUGHT?  "Yeah, that was a wild race. I tell...
Going into Race #23 at Michigan International Speedway on Sunday, August 19, with just four races left in the NASCAR Sprint Cup Series, there was a lot of tension; and, even more question marks. Could 2011 Chase runner-up Carl Edwards use his #2 qualifying position to finally win a race this year? Would Kyle Busch get his second checkered of the season and move to a top-10 a contender...
A late turn of events sent Greg Biffle to victory lane Sunday afternoon in Michigan. With just five laps to go, Biffle was running second until the leader of the race, Jimmie Johnson, blew his engine and that ended Johnson's day. Johnson has never won at Michigan and he thought Sunday was the day. Johnson's frustration was apparent on the radio when he said "you've got to...
  They're baaack! Greg Biffle, Roush Fenway Racing and Ford Motor Company all celebrated the end of a drought Sunday with Biffle's victory in the Pure Michigan 400 NASCAR Sprint Cup Series race at Michigan International Speedway. With his third victory at the two-mile track, his second of the season and the 18th of his career, Biffle broke a seven-race dry spell for both...
CONCORD, N.C.  – As the NASCAR season's tension rises with the August heat, Roush Fenway Racing continues to eye the top spots in each of the sport's top-two series. With 22 races in the books RFR's Greg Biffle trails first place in the Sprint Cup Series by just a single point as the series heads into Roush Fenway's top track Michigan International Speedway. However, Biffle...
Greg Biffle took the lead from an off-the-pace Jimmie Johnson with only six laps remaining and held on through the final restart to earn Roush Fenway's record 12th Sprint Cup victory at Jack Roush's 'home track' of Michigan International Speedway. The win is Roush Fenway's 22nd win at MIS and marks the fifth time Biffle has won in NASCAR action (third time in Cup) at the...
On a green-white-checker attempt to finish under green on Sunday, the Pure Michigan 400 NASCAR Sprint Cup Series race at Michigan International Speedway came down to two teams owned by men who call Michigan home (Jack Roush and Roger Penske), one with a Michigan driver (Brad Keselowski). In the end, Greg Biffle, driving for Roush Fenway Racing, held off Michigander and Penske Racing...
Greg Biffle led the way with a lap of 36.203 seconds in the final practice for the Pure Michigan 400 from Michigan. Rounding out the top five was Jimmie Johnson, Joey Logano, Matt Kenseth, and Mark Martin. Pos Car Driver Team Time Behind 1 16 Greg Biffle 3M Ford 36.203 Leader 2 48 Jimmie Johnson Lowe's Chevrolet 36.323 -0.120 3 20 Joey Logano The Home Depot Toyota...
Greg Biffle led the way with a lap of 35.9335 seconds in the second practice for the Pure Michigan 400 from Michigan. Rounding out the top five was Kasey Kahne, Carl Edwards, Mark Martin, and Dale Earnhardt, Jr. Pos Car Driver Team Time Behind 1 16 Greg Biffle 3M Ford 35.935 Leader 2 5 Kasey Kahne Farmers Insurance Chevrolet 36.256 -0.321 3 99 Carl Edwards Geek Squad...
All Sports News

Delivered to your inbox

You'll also receive Yardbarker's daily Top 10, featuring the best sports stories from around the web. Customize your newsletter to get articles on your favorite sports and teams. And the best part? It's free!
THE HOT 10: Who's Trending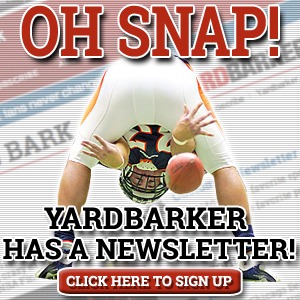 Latest Rumors
Best of Yardbarker

Today's Best Stuff

For Bloggers

Join the Yardbarker Network for more promotion, traffic, and money.

Company Info

Help

What is Yardbarker?

Yardbarker is the largest network of sports blogs and pro athlete blogs on the web. This site is the hub of the Yardbarker Network, where our editors and algorithms curate the best sports content from our network and beyond.