Found July 14, 2012 on Start 'N' Park Blog:
Greg Biffle, driver of the No. 16 3M Ford Fusion, is the only active Ford driver with a NASCAR Sprint Cup Series win at New Hampshire Motor Speedway.  He talked about his team's hopes this weekend after practice in the NHMS infield media center.
WHAT ABOUT THE SECOND HALF OF THE SEASON?  "I enjoy this race track.  I have a lot of fun racing here.  I was buckling in for the first practice and I was thinking about how much fun this track is and getting back to short track racing – a little bumping and shoving and pushing and trying to get on the inside of the guy, and trying to figure out a way to get your car to go better and find a way around him – so I really enjoy race tracks like this and have been looking forward to this weekend.  The car ran pretty good in practice, so, hopefully we'll get a good qualifying lap and then tomorrow work on race practice and longer runs to get the car running good."
WHAT IS THE DIFFERENCE BETWEEN THIS YEAR AND LAST YEAR IN TERMS OF PERFORMANCE FOR YOUR TEAM?  "A lot is different between last season and this season.  Probably the first and foremost is the crew chief.  My PR person brought it to my attention that this is our one-year anniversary as she calls it of getting a new crew chief, Matt Puccia.  And then at the end of the season Matt changed the team up a whole bunch, figured out what our weaknesses were, where we needed to be better, and over the winter kind of overhauled the team.  Starting this season in 2012, about four guys of the 15-18 that made up the 16 were back and the rest were new guys kind of cherry-picked throughout the company and, of course, we closed a team at the end of the season, so some of the guys came from there.  We've got a great group of guys, they built better cars.  Our cars are coming out of the race shop better set up, better quality, the engines are really, really good and the confidence of the team was  huge when we started this season and it's shown that our performance has been right there as well."
HOW IMPORTANT IS IT TO GO INTO EVERY RACE WITH THAT CONFIDENCE IN THE CREW, ESPECIALLY MATT?  "We probably don't do as much stuff away from the track as we probably could, but when we're in town and my family is not with me we'll usually go to dinner one night – me and some of the guys and the engineers – and talk about the cars and do some stuff like that.  But I go to the shop every other week or every couple of weeks and spend the day and go over stuff, and we're talking on the phone a lot about the cars and the testing and everything we've got going.  We communicate well.  He's thinking what I'm thinking and vice versa and it's worked well so far.  Leading the points, first time as a Cup crew chief ever, and a lot of first-time guys on the 16 team to lead the points for 10 weeks and win a race was pretty impressive for our first time around."
ARE YOU SAFE ENOUGH IN POINTS THAT YOU CAN TAKE MORE CHANCES TO TRY AND GET WINS AND THOSE BONUS POINTS FOR THE CHASE?  "Unfortunately, I don't feel comfortable enough right at this point.  Unfortunately, the last two weeks we've got 21st-place finishes at Kentucky and Daytona.  If either one of those wouldn't have been that finish, then I would have felt a lot more comfortable having those 17 points back or something.  That makes a big difference.  That's basically one race worth of cushion, but, at the same time, we're talking about exactly what you said.  The only thing that's gonna better us right now going into the Chase is to win races.  If we finish 10th here this weekend or we finish second, it really makes no difference to us.  Going into the Chase you have to win races in order to catch Brad and the guys with two wins, so we understand the importance of that.  We're willing to take some chances and some gamble, but, at the same time, we have to continue some good finishes so that we are safe."
WHAT HAPPENED IN THE GARAGE WITH YOUR CAR?  "The 48 was moving their generator cart or something.  It's a little frustrating.  It just banged the corner of the bumper up, but it is frustrating because you look around beside you and it looks pretty funny to everybody else, but it's a little irritating.  Those cars are hard to see out of and it's not like a passenger car where you've got mirrors on both sides, so you rely on the guys telling you that it's clear to back up a lot of times.  They told me it was OK to back up and, actually, I'm glad I was backing up slow.  A lot of times we're in a hurry and you want to try to get out there and go, but I was backing up slow and I don't understand – I don't want to blame the guy with the generator cart, but you hear the car start up, you see it starting to move out of the garage slow and turning, at what point do you keep walking with the generator cart?  You think, 'Hey, this guy is backing up here,' and typically you give the car the right of way, you know what I mean?  The guy has a tire stack and he's rolling down pit road he waits for the car to go by before he just pushes it out there.  It's kind of reverse of the guy in the crosswalk where you've got to stop.  Anyway, my guy that backs me out is looking down for cars and he's like, 'Come on, it's all clear.'  He's looking this way and the guy is dragging the generator cart off to his left and we bumped into the generator cart and it crinkled the corner of the bumper.  We had to do a little repair to it.  It's no big deal, but kind of a little aggravating more than anything."
Original Story:
http://startnparkblog.com/?p=8633&utm...
THE BACKYARD
BEST OF MAXIM
RELATED ARTICLES
CONCORD, N.C. – This weekend at New Hampshire Motor Speedway will mark the one-year anniversary of Roush Fenway crew chief Matt Puccia being teamed up with driver Greg Biffle.  After a rocky start to 2011 for Biffle, Puccia was brought in to take over as the crew chief on the No. 16 3M team.  Immediately the two clicked.  From this race a year ago, up until now, the two have...
It was not a great day for the Ford Racing teams Sunday at the New Hampshire Motor Speedway. Running the Lenox Industrial Tools 301, Greg Biffle was the highest finishing Ford driver in the 9th place. He was followed by teammate Matt Kenseth in 13th, and the other Roush Fenway Racing driver, Carl Edwards in 18th place. Below is those driver's thoughts on their afternoons. GREG...
All Sports News

Delivered to your inbox

You'll also receive Yardbarker's daily Top 10, featuring the best sports stories from around the web. Customize your newsletter to get articles on your favorite sports and teams. And the best part? It's free!
THE HOT 10: Who's Trending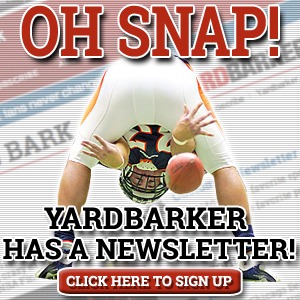 Latest Rumors
Best of Yardbarker

Today's Best Stuff

For Bloggers

Join the Yardbarker Network for more promotion, traffic, and money.

Company Info

Help

What is Yardbarker?

Yardbarker is the largest network of sports blogs and pro athlete blogs on the web. This site is the hub of the Yardbarker Network, where our editors and algorithms curate the best sports content from our network and beyond.