Found August 24, 2013 on SDSN: San Diego Sporting News:
SDSN: San Diego Sporting News - San Diego,CA(SDSN)- Jedd Gyorko went 3-4 with two home runs and four RBI's leading the Padres to a 8-6 comeback win over the Cubs Friday...The post Gyorko leads the Padres to a 8-6 comeback win over the Cubs appeared first on SDSN: San Diego Sporting News.
Original Story:
http://sandiegosportingnews.com/gyork...
THE BACKYARD
BEST OF MAXIM
RELATED ARTICLES
Before the season, I meant to write about three Padres pitchers that intrigued me in a way that virtually every other guy on the staff did not: Tyson Ross, Andrew Cashner, and Anthony Bass. Each had shown bursts of promise, had been touted in the past, and was entering his physical prime. They might be nothing, but unlike with Jason Marquis, Clayton Richard, and Eric Stults, at least...
After arguably the worst start of his career, the San Diego Padres have cried "uncle" and designated starting pitcher Edinson Volquez for assignment. Volquez, 30, was acquired in a multi-player deal after the regular season in 2011 and has appeared in 59 games for the Padres between 2012 and 2013. All 59 games were ones he had started. Volquez struggled considerably this season...
It's rare that a baseball team dumps its Opening Day starter in the middle of a season, but that's just what the San Diego Padres did on Saturday. The Padres designated Edinson Volquez for assignment which means he's more than likely done with the franchise. The team now has 10 days to release him. Volquez was San Diego's Opening Day starter in each of the past two seasons...
When the San Diego Padres traded Adrian Gonzalez to the Boston Red Sox in December of 2010, Padres fans were in  an uproar. Once again the organization had traded away top talent because they weren't willing to pay top dollar to a player. The players received in return? 1B Anthony Rizzo, OF Eric Patterson, RHP Casey Kelly and OF Reymond Fuentes. Rizzo and Kelly were the names...
Will Venable and Jedd Gyorko are having the August that Chase Headley had last season. Venable homered deep into the right field seats with one out in the seventh inning Friday night at Petco Park to break a 6-6 tie and lead the Padres to an 8-6 victory over the Chicago Cubs. An inning later Jedd Gyorko hit his second homer of the game as the Padres overcame a six-run deficit ...
The AZL Padres enjoyed an outstanding start from Pete Kelich and a strong performance from Franmil Reyes in their 9-4 victory. The Emeralds and the Missions struggled offensively while the T-Pads and the TinCaps each won by 3 runs. Hitting Prospect of the Day: Franmil Reyes Pitching Player of the Day: Joe Ross/Pete Kelich   Tucson Padres 9, Tacoma Rainiers 6 Dan Robertson-CF: 1...
The Padres finally cut ties with Edinson Volquez and did so less than 24 hours after I posted this drawing I did of him in the dugout after he gave up 6 runs in 2/3 of an inning, allowing the first 8 Cubs batters to reach base safely. This is sad because we always enjoyed the #EVHAU (Edinson Volquez Hat Angle Update) each time he stunk it up every five days for us.
Yesterday, we posted a question on our Facebook page asking you all, "At this point in the season, how do you feel when Volquez takes the mound for the #Padres?" Once again, your response was awesome as we received 61 comments. Currently, the Padres sit 18.0 games out of first place in the NL West and 14.5 games behind the NL Wild Card leaders. They have 34 games left to play...
Last night did not start off well for the Padres. As Ron Burgundy would've put it, "that escalated quickly. I mean that really got out of hand, fast." The Cubs got on the board early scoring six runs in the first and forcing Padres starter, Edinson Volquez out of the the ballgame after recording only two outs. Fortunately, that would be all the Cubbies would score as the Padres...
Will Venable had three hits and three RBIs, including a tiebreaking solo homer in the seventh inning, and the San Diego Padres rallied to beat the Chicago Cubs 8-6 on Friday night. Jedd Gyorko homered twice and drove in a career-high four runs as the Padres stormed back after a terrible start. Chase Headley and Logan Forsythe had two hits apiece. Nate Schierholtz hit a three-run...
Ah me favorite series o' t' year. T' time I get t' speak like a man o' t' sea, t' dreaded Pirate. After winnin' two straight games against t' Mets, T' Friars dropped t' first two, and t' series hostin' t' Pirates at Petco Park. Though this be normally not a good thin', thar be plenty o' positives t' take from this series. Here be me five."   5...
Considering recent history, a visit from the Chicago Cubs might provide the San Diego Padres with a good opportunity to end their current home struggles. Edinson Volquez hopes to remain undefeated against Chicago and help the Padres to a fifth straight home victory over the lowly Cubs on Friday night. San Diego (57-70) is 34-31 at Petco Park, but has dropped six of nine there....
Padres News

Delivered to your inbox

You'll also receive Yardbarker's daily Top 10, featuring the best sports stories from around the web. Customize your newsletter to get articles on your favorite sports and teams. And the best part? It's free!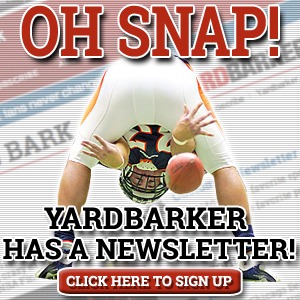 Latest Rumors
Best of Yardbarker

Today's Best Stuff

For Bloggers

Join the Yardbarker Network for more promotion, traffic, and money.

Company Info

Help

What is Yardbarker?

Yardbarker is the largest network of sports blogs and pro athlete blogs on the web. This site is the hub of the Yardbarker Network, where our editors and algorithms curate the best sports content from our network and beyond.