Found October 26, 2013 on Fox Sports Carolinas:
P.J. Hairston has always had a bit of a flair for the dramatic. Everything he does on the court is often punctuated by a scream or a gesture. Something. But after an off-season filled with drama, most of it of his own making, he seemed to know how to act when introduced at the Late Night with Roy festivities. His teammates preceding him (they were introduced in order of class) all seemed to add at least a little bit of a personal touch to their intros. Sophomore point guard Marcus Paige did the robot, and sophomore J.P Tokoto added a little hip-shake as he slapped hands with students. Hairston, though? Getting a warm welcome from the crowd when no one was certain how he'd be received, he kept it simple. "I liked the way he just came out and waved to everybody and touched his heart. It wasn't any gyrations, any dancing, pounding his chest kind of thing, so I liked that part," UNC head coach Roy Williams said. "I think it was something that he probably appreciated. I did too. He's had a tough, tough time, a majority of it caused by himself, but he still has had a tough, tough time." All the drama is not affecting him on the court either, if tonight was any indication. He made his first three-pointer less than ten seconds into the game, and he made his first three three-point attempts. He finished with 20 points in the 20-minute scrimmage. It didn't surprise his teammates, though. "That's just normal P.J.," sophomore center Joel James said with a shrug. "We all know what he can do. He knows what he can do. So we're not surprised when he hits 4-5 in a row. That's just everyday P.J." Hairston is still not fully reinstated to the team, and Williams has said repeatedly that he doesn't know what Hairston's ultimate punishment will be -- either from him or from the NCAA. But he's closer to making a decision. "I'm closer, but we've just got to wait and see how some things play out and he's got to do some more things," Williams said. "Needless to say, he's happy to be playing basketball and doing the things he's doing." Hairston will not be made available to the media until he plays in an actual game this season. But it's clear both he and his teammates are relieved to be closer and closer to moving on from the off-season turmoil. "It was good to see him smile, good to hear people cheering his name," James said. "It was just great to see people getting back to basketball now that all that other stuff happened over the summer. So I was happy for him." Among the other news and notes ... -Freshman big man Kennedy Meeks nearly stole the show from Hairston with 16 points and double-digit rebounds. He came to Carolina a bit on the chunky side at 317 pounds, according to Williams, in late June or early July. And before practice on Thursday, he weighed in at 284. CHAPEL HILL, N.C. -- "He's done a really good job (losing weight). He's just got to maintain it," Williams said. "He doesn't have very good stamina. .... He did a nice job on the backboards. He's got great hands." -Sophomore center Joel James spent a lot of time trying to keep Meeks off the boards, which was no small task. And he's been trying to do it every day since the Tar Heels started practice, with varying degrees of success. "I feel like he's going to cause a lot of problems for other players trying to box him out," James said. "He just has a great nose for the ball. If you give him a little crack, as big as he is, he's going to slide in and get a rebound and he's going to put it right back up." James had a bit of a rough start, but settled in nicely to score ten points. He even made a long two-point jump shot, something that seemed unthinkable last year. "He's just matured so much since he's been here the first day," Paige said. "He's completely more comfortable, more natural and you can tell it kind of translates to the court too. He's confident out there. He just looks like a totally new guy." James still isn't quite as comfortable as he'd like to be, though. Get this ... a guy who plays at the University of North Carolina says that he hates playing in front of crowds. "Honestly, I never like playing in front of crowds," James said. "(Late Night) was a little scary, but full of adrenaline. It was exciting. After I made my first 15,000 mistakes, I calmed down. And Coach Williams didn't pull me out for those mistakes so I was like, 'Okay, now I can just play regular basketball.'" -UNC senior shooting guard Leslie McDonald may still have NCAA issues to deal with, too. UNC sent a "cease and desist" letter to a mouth guard company (Iceberg Guards) that was using McDonald's image to promote its product. McDonald Tweeted at least once about wearing one of the company's mouth guards. "All the rumors and everything has been going around since June, we've been addressing those," Williams said when asked about McDonald. "It's the kind of thing where there's still things in process with P.J. and Leslie both that that is part of it, yes." -In other NCAA news, Tokoto missed UNC's "secret scrimmage" against Vanderbilt last week and will miss the Tar Heels' only exhibition game (next week against UNC-Pembroke). He played in two games in a Milwaukee summer league this summer that is sanctioned by the NCAA -- trouble is, Tokoto forgot to file his paperwork in time. Williams said that they filed the paperwork the next day and it was approved, but he didn't play in any more games in the league. According to Williams, UNC offered to the NCAA that it would sit Tokoto for the secret scrimmage and the exhibition, and the NCAA agreed.
Original Story:
http://www.foxsportscarolinas.com/col...
THE BACKYARD
BEST OF MAXIM
RELATED ARTICLES
North Carolina's P.J. Hairston looked in midseason form Friday night despite a trouble-filled offseason, while freshman Kennedy Meeks appeared ready to give the Tar Heels a boost up front. Hairston scored 20 points in the team's public scrimmage during the annual ''Late Night With Roy'' preseason event, while Meeks had 16 points and 12 rebounds, according...
North Carolina's P.J. Hairston looked in midseason form Friday night despite a trouble-filled offseason, while freshman Kennedy Meeks appeared ready to give the Tar Heels a boost up front. Hairston scored 20 points in the team's public scrimmage during the annual ''Late Night With Roy'' preseason event, while Meeks had 16 points and 12 rebounds, according...
Players at the White/Blue Scrimmage Late Night with Roy was last night, which marks the official beginning of the North Carolina basketball season, and as usual it was an event well worth waiting for. With the football season not having been as good as most wanted, this night came just at the right time for the Tar Heels fan base. And the surprise guest was just the cherry on top...
F Jackson Simmons, Sophomore, 6-7, 225 lbs One of the bright spots out of the 2012-13 season was the play of freshman walk-on Jackson Simmons. Simmons was given a preferred walk-on spot coming out of high school where he graduated as the state of North Carolina's all-time career leader in rebounds. As a preferred walk-on, no one really expected much from Simmons as a freshman...
F Desmond Hubert, Junior, 6-10, 225 lbs. Desmond Hubert began the 2012-13 season as the surprise starter at center, and immediately the decision was second-guessed. Hubert started 18 of the first 23 games but was offensively-challenged and Carolina's offense seemed to sputter with Hubert in the post. The problem last season was the offense wasn't much better with the other...
CHAPEL HILL, N.C. – North Carolina's defense has shown improvement, albeit in losses, in the weeks since the East Carolina debacle. On Saturday, the Tar Heels allowed Boston College just five snaps inside UNC territory before garbage time.
Tar Heels News

Delivered to your inbox

You'll also receive Yardbarker's daily Top 10, featuring the best sports stories from around the web. Customize your newsletter to get articles on your favorite sports and teams. And the best part? It's free!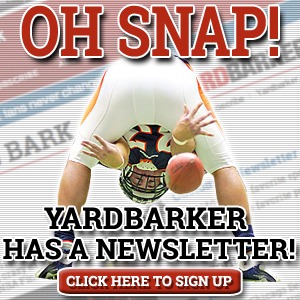 Latest Rumors
The Backyard

Today's Best Stuff

For Bloggers

Join the Yardbarker Network for more promotion, traffic, and money.

Company Info

Help

What is Yardbarker?

Yardbarker is the largest network of sports blogs and pro athlete blogs on the web. This site is the hub of the Yardbarker Network, where our editors and algorithms curate the best sports content from our network and beyond.