Found June 12, 2013 on Fox Sports:
The only 1-iron anyone talks about at Merion Golf Club is kept under wraps. And it won't be found in a bag at the U.S Open. Unlock the waterproof case, remove the soft covering, and it comes into view. Slip on the mandatory white gloves and savor the moment. It's the one Ben Hogan used in 1950 to hit one of the more enduring shots in Open history. Sixteen months after the car accident that nearly killed him, Hogan came to the 72nd hole of the 1950 U.S. Open needing a par to force a playoff. In one of golf's most memorable photos, Hogan is pictured, from behind, hitting a 1-iron from the 18th fairway to a green ringed by spectators. He hit such a good drive in the morning third round that he needed only a 6-iron. But with his legs battered and swollen on his 36th hole of the day, his tee shot couldn't catch the slope of the hill, leaving him about 213 yards to the hole. He was between a 4-wood and a 1-iron, and he went with the 1-iron for a shot that finished some 30 to 40 feet from the hole. Hogan would two-putt for par, then go on to win a three-way playoff the next day. ''It's a great photo, but it would have been an all right photo if he didn't win,'' three-time Open champion Tiger Woods said earlier in the week. ''He still had to go out and win it the next day.'' There's a commemorative plaque at the spot in the fairway that says: ''June 10, 1950/U.S Open/Fourth Round/Ben Hogan/1-iron.'' All week long, players have gone there to try shots of their own, though with today's technology it's more of a 5-iron shot. What happened to the club after the shot is almost as much a part of golf lore as the shot itself. Hogan never used the club again after that 213-yard shot. It was stolen from his bag. His shoes were taken, too. The club vanished for 33 years before it turned up at a collector's shop in Virginia. Eventually, it made its way from there to Hogan in 1983. He verified it was his and promptly donated the club to the USGA Museum. On the front of the iron's clubhead, there's a mark about the size of a quarter on the sweet spot, close to the heel of the club. The backside of the clubhead notes, ''Ben Hogan. Personal model. Reg 1022.'' The 1-iron is up there with Buzz Aldrin's moon club as the most attractive artifacts at the museum, curator Michael Trostel said. Hogan's club shared a case this week at Merion with one of Bobby Jones' famed Calamity Jane putters, and clubs that belonged to Raymond Floyd and Billy Casper. But even at a throwback Open - where small wicker baskets replace flags on greens - the 1-iron is out of style. Once a standard club in the bag, the 1-iron was phased out as players opted for fairway metals to more easily get the ball in the air. Then came the hybrids, a cross between fairway metals and long irons, which replaced even the 2-iron and 3-iron in some bags. The 1-iron often required the perfect blend of speed and power, which most players don't have or don't want to risk trying. ''It's just math. The club has almost no loft and you've got to create lots of velocity to get it up into the air,'' Sean Foley, Woods' swing coach, said. ''Your chances of controlling the sidespin, at least enough to keep it on line, are slim. You almost have to hit it perfect.'' During a routine practice round, 2010 Open champion Graeme McDowell's drive plopped next to the plaque. He eyed the tribute, then plucked a 3-hybrid from the bag. ''I remember thinking to myself, `I'm sure Mr. Hogan is probably rolling in his grave right now,''' he said. Lee Trevino once suggested holding a 1-iron when lightning was in the area. ''Even God can't hit a 1-iron,'' he joked. While wicker baskets remain, the 1-iron has become extinct since the last Open at Merion in 1981 as graphite drivers and other long-distance clubs have become the norm. ''These guys are getting better and better and they're longer and longer, and the ball has made the big change,'' Trevino said. ''It's not the equipment, it's the ball. I tell amateurs, `You keep talking about this equipment. it hasn't helped you a damn bit. Your handicap is still 18.7. Even though you got the big-headed clubs, the graphite shafts, the ball that goes four miles and all this stuff, your handicap is still high.' '' On Wednesday, there were dozens of divots near the plaque and fans begged volunteer marshals to take a picture of the marker for them. But the famous 1-iron itself was safely tucked away in the back of the media tent under Trostel's watch. Sergio Garcia made a playful grab for Hogan's club when officials took it out on the course earlier this week. He hadn't played with a 1-iron since he was an amateur. McDowell keeps his in the garage. Rory McIlroy said he had ''no history'' with the club. Woods hasn't gripped a 1-iron since he was an amateur. So, much like the balata ball and black-and-white photos, the 1-iron is a relic. And without one, Woods can rest easy if he needs to force a playoff from the same spot on 18. After all, Hogan won the Open the next day without his trusty club. ''He actually hit a 4-iron,'' Trostel said. ''They asked him, `Why didn't you hit a 4-iron in the final round?'' His reply: ''It wasn't a 4-iron shot.''
Original Story:
http://msn.foxsports.com/golf/story/H...
THE BACKYARD
BEST OF MAXIM
RELATED ARTICLES
If its major championship week, it must be time for another whirlwind round of Tiger Woods retrospectives. Will Tiger break his five-year major drought and win his fourth U.S. Open this week at Merion? Will he hit enough fairways to contend on the weekend? Will there be another rules incident like the one at the Masters? If he does win, will this mark the greatest comeback in...
The USGA has dropped their latest ad, and it features none other than Tiger Woods. Check out the quick PSA which is in favor of folks not lagging on the golf course. Decently creative creative for a group of folks who aren't known to be so. We wonder if Sergio Garcia has seen this. [Darren Rovell] Article found on: Next Impulse Sports
  With severe weather already delaying play at the U.S. Open on Thursday at the Merion Golf Club, I guess we have to improvise in order to get our golf fix in any way possible. So how about a delightful piece of photographic whimsy showing Tiger Woods gearing up to flick friendly rival Rory McIlroy [...]The post Did Tiger flick Rory's ear during the U.S. Open champions dinner...
The day after Sergio Garcia sought out Tiger Woods on the Merion driving range to speak about the racially-stereotyped "fried chicken'' comment he made last month, the Spaniard left a hand-written note of apology in Woods' locker. "Yeah, I did leave him a note, a handwritten note,'' said Garcia about the Dear Tiger letter on Tuesday. "Hopefully he can take a look...
If you've never been in a Tiger Woods news conference, it's quite a scene. Woods is generally the only golfer who draws enough journalists to fill up the interview room under the press tent, and even then there are usually more throngs still standing in the back. Moreover, every reporter wants to get their question in, and only a small fraction get answered. So, it probably helps...
Tiger Woods and Sergio Garcia seem to be playing nicely together again as the two shook hands Monday on the U.S. Open practice range at Merion. The two have been in a bit of a feud for the past few months, and at least for the time being all seems to be calm. [CBS] Article found on: Next Impulse Sports
The golf world has been rooting for Tiger Woods to return to his old habit of winning big tournaments, and sportsbooks are no different. A Tiger that wins big tournaments is good for business and with four wins in eight starts this year, business is booming for golf bettors. So when you combine his improved play with his transdendant personality, it's no surprise Woods is the...
This week's U.S. Open marks a once-inconceivable five years since Tiger Woods last won a major championship, that victory coming in a memorable Monday U.S. Open playoff against Rocco Mediate at Torrey Pines in June 2008. It's the longest such slump in the 14-time major winner's career, but this year, there's a renewed sense of hope for Woods, who enters the tournament...
Tiger Woods' rain-shortened first round at the US Open one to forget.
Tournament: United States Open Location: Merion GC, Ardmore, PA Dates: 6/13/13 – 6/16/13 This week marks the start of the second major of the 2013 season, better known as the US Open. I thought I would go through and highlight some of the top guys to keep an eye on this week. And everyone wants to know, who am I picking? Well, to start the year, I picked Tiger....
Will not be served at Merion this weekend. We are not ******* around today, people.  It is one of those days where we get everything off of our barrel chests.  It has been awhile since my normally mild-mannered and civilized self has done this but after watching a few hours of Chris Berman make sweaty, drunk, and gross love with Roger Maltbie yesterday, I am all out of sorts. ...
Photo Credit: CHARLIE RIEDEL/AP It's the start of the U.S. Open. The best day of the year for most golfers because it means you're even-par and tied with the rest of the field for at least a bit. But some golfers might as well go home now to save the embarrassment. Even though technically everyone in the field has the chance to raise the trophy on Sunday, only a select few really...
All Sports News

Delivered to your inbox

You'll also receive Yardbarker's daily Top 10, featuring the best sports stories from around the web. Customize your newsletter to get articles on your favorite sports and teams. And the best part? It's free!
THE HOT 10: Who's Trending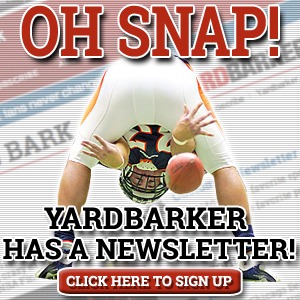 Latest Rumors
The Backyard

Today's Best Stuff

For Bloggers

Join the Yardbarker Network for more promotion, traffic, and money.

Company Info

Help

What is Yardbarker?

Yardbarker is the largest network of sports blogs and pro athlete blogs on the web. This site is the hub of the Yardbarker Network, where our editors and algorithms curate the best sports content from our network and beyond.