Found December 14, 2012 on Larry Brown Sports:
Kevin Youkilis has agreed to sign with the Yankees, which predictably has New York's large Jewish population pretty excited. Youk, who spent his entire career with the Boston Red Sox until being traded to the Chicago White Sox last season, grew up in Cincinnati and is from a Jewish family. He had a Bar Mitzvah, and his father says the ballplayer can even read Hebrew. So how did his family end up with a Greek last name? Youkilis' father, Mike, shared the story with The New York Times' Richard Sandomir. "There are so many stories in the family," Mike Youkilis, Kevin's father, said in a telephone interview Wednesday. "But we've agreed on one." In that story, there was, sometime in the 1800s, a teenager with the last name Weiner, who is believed to have been Kevin Youkilis's great-great-great-great-grandfather — give or take a great — and who lived in what is now Romania. Fearing the Cossacks, who were no friends of the Jews, and of being drafted at age 16 into the army, he fled to Gree
Original Story:
http://larrybrownsports.com/baseball/...
THE BACKYARD
BEST OF MAXIM
RELATED ARTICLES
Kevin Youkilis became the latest in a long, long line of aging ballplayers the Yankees have signed over the years hoping to wring one last cup of tea from the old teabag. Before Youkilis, there was Chavez and Ibanez and before that Sheffield and Mondesi and before that Boggs and it goes on and on. And quite often, the ploy has worked. Chavez and Ichiro worked wonders in their time...
Kevin Youkilis will be manning third base for the Yankees come Opening Day, giving Red Sox fans that much more to chafe over when thinking about their counterparts in the Bronx. Youkilis was a fan favorite in Boston for many years, and although he's on the downside of his career, seeing him in pinstripes is going to be a jolt. If not for the continued watering down of what's...
TEAMMATES NOW
Kevin Youkilis and Joba Chamberlain used to be rivals, but now that they're teammates, Youk says he has no problem with Joba.
In at least one way, Kevin Youkilis is a perfect fit for the Yankees. They're trying to stay under the luxury tax threshold in 2014 in order to reset their tax rate and there aren't many other third basemen willing to take one-year deals on the market. Beats trying to coax Chipper Jones out of retirement, probably, and Youkilis has retained enough of his skill to be an asset...
Kevin Youkilis, the Greek God of Walks as he is known, left the Boston Red Sox last year.  He left the team he had played his entire career for with dignity and was given a hero's send-off by the fans.  Now, that hero will be playing for the enemy.  At least if you're a Red Sox fan it will feel that way.  Youkilis signed a one-year, $12 million deal with the New York...
Kevin Youkilis has signed a 1 year $12 million dollar deal with the New York Yankees. Wonder how Red Sox fans feel? Click HERE for more.
In 1989, Biz Markie's Just a Friend was one of the original rap/pop crossover hits to receive major radio airplay.  It's the first song I ever remember listening to where a rapper actually sang as well. For the past several years it was played at Fenway Park every time Kevin Youkilis came up to bat.  The crowd would chant "Yooouuuuk, you got what I need…"  In fact...
Back in 2007, former Red Sox infielder Kevin Youkilis and new teammate Joba Chamberlain got into a bit of a scuffle. During an at-bat during Chamberlain's rookie season, the reliever threw two pitches up near Youkilis' head, nearly prompting a brawl in another incident later in the season and earning the young pitcher a two-game suspension at the time. Since that point the feud...
Johnny Damon knows a thing or two about what it's like to trade in red socks for pinstripes. So with Kevin Youkilis reportedly set to join the Yankees one year after starting his 2012 season with the Red Sox, Damon is an expert on the subject. Damon, who left Boston for New York just a little more than a year after helping the Red Sox win the World Series in 2004, was asked how...
First it was Wade Boggs, then Johnny Damon and now Kevin Youkilis has become the latest member of the Red Sox to jump ship and join the New York Yankees. Boston fans went off the wall on Twitter, wishing injury, death and more on Youk. Take @The_Saucy_rossy for example: kevin youkilis you were my favorite player on the sox. Now I hope you get hit by a bus f*ggot. It got worse. Take...
English: Kevin Youkilis(left) , Alex Cora(center), and Dustin Pedroia (Photo credit: Wikipedia) For almost a decade if anyone heard Kevin Youkilis and New York Yankeesin the same sentence you can bet that it was not friendly banter. So a week ago, when Yankees beat writer Bryan Hoch confirmed the rumor of the Yankees making a $12-million, one-year offer to the ex-Red Sox, I honestly...
All Sports News

Delivered to your inbox

You'll also receive Yardbarker's daily Top 10, featuring the best sports stories from around the web. Customize your newsletter to get articles on your favorite sports and teams. And the best part? It's free!
THE HOT 10: Who's Trending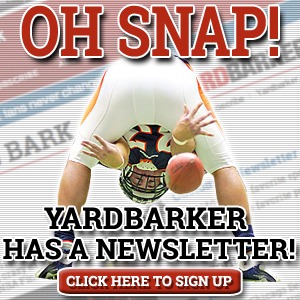 Latest Rumors
Best of Yardbarker

Today's Best Stuff

For Bloggers

Join the Yardbarker Network for more promotion, traffic, and money.

Company Info

Help

What is Yardbarker?

Yardbarker is the largest network of sports blogs and pro athlete blogs on the web. This site is the hub of the Yardbarker Network, where our editors and algorithms curate the best sports content from our network and beyond.