Found December 03, 2012 on The Prospect Park:
Sorry but Sunday prospect hockey featuring New York Ranger and New York Islander prospects was one of those days where you might as well have stayed in bed. It was one of those days where you could have predicted the outcome after the first few minutes. Michael St. Croix (NYR 2011 4th), Griffin Reinhart (NYI 2012 1st) and their Edmonton Oil Kings had a strange as it gets game as they defeated the Lethbridge Hurricanes 4-3. Edmonton scored the game's first 3 goals and kind of sat back allowing Lethbridge to come back and tie the game before a late goal gave the Oil Kings the win. St. Croix was scoreless while Reinhart had the assist (his 7th) on the Oil King's 2nd goal. Reinhart took a penalty that led to a Lethbridge power play goal and Lethbridge got a strange goal off a penalty shot that made the day harder than it should have been. In the end Edmonton won, they extended their unbeaten streak to 9 games (7-0-1-1). Adam Pelech (NYI 2012 3rd) and his Erie Otters continue to be haunted by one goal games as they lost to the Sudbury Wolves 2-1. Erie is 2-10 in games decided by 1 goal and that is the difference maker in their season. Pelech was scoreless with a hooking minor for his 53rd PIM. Loic Leduc (NYR 2012 4th) and his Cape Breton Screaming Eagles knows that Pelech and the Otters are going through after losing 4-3 in the shootout to the Prince Edward Island Rocket. The Screaming Eagles were their own worst enemy in this own as they gave up 2 shorthanded goals (including one with just 1:02 left in the 3rd) blowing a 3-1 lead. Leduc no points, a +1 on 1 shot with 2 hits. The Screaming Eagles are now winless in 7 straight (0-6-0-1). Samuel Noreau (NYR 2011 5th) and his Baie-Comeau Drakkar are also struggling dropping a 3-1 decision to the Quebec Remparts on Sunday. They now have lost 4 straight games falling from 3rd place in the QMJHL to 5th with this loss. Noreau has seen his scoring stop after a strong start 6-12-18 which are career bests; Noreau hasn't scored in 6 games. He is not why the Drakkar are losing as others have also stopped scoring too. Noreau was even on 4 shots but also had 4 hits as well. James Dolan I am having a hard time believing that James Dolan didn't want to take part in the players/owners sit-down. In fact I believe that Gary Bettman's worst nightmare would be James Dolan walking into the meeting looking at what the player's are willing to do and measure it against how much Cablevision is losing and say "we have a deal." In fact I would love to be a fly on the wall in any meeting that Dolan has with Bettman as I know there is no love lost between those 2 to begin with. Say what you want about Dolan the owner but unlike Gary Bettman, Dolan and Cablevision know how to market the Rangers better than Bettman does the NHL. No other NHL owner is losing money like the Dolans are; think about this for a second and you will agree. The Dolans have been fixing up the Garden over the last 2 summers out of their own pockets. That meant the Garden was not available for events during the construction time; now toss in 41 regular season and who knows how many playoff games not played. Talk about all the lost advertising revenue, the merchandise sales, and now the Dolans have competition for events in Brooklyn with the Barclay Center. Don't forget to add in that the Dolans also hold the TV rights to the Islanders, Devils and Sabres which adds even more lost revenue to them. Oh and wait until Gary Bettman finally accepts increased revenue sharing and how the Dolans will be kicking in more money to pay for the mistakes other owners keep making. If I was Gary Bettman I would stay as far away from the Madison Square Garden area as possible. Something might fly off an open window and land on him.
Original Story:
http://feedproxy.google.com/~r/ThePro...
THE BACKYARD
BEST OF MAXIM
RELATED ARTICLES
Ryan Strome (OHL Images) Boy what a difference a day makes for the New York Ranger and New York Islander prospects. Friday night was one where players could do no wrong and 8 prospects had 2 or more points. Saturday night was a different story as we had our usual Ryan Strome performance but overall the prospect teams went 3-6-1 for the night. This is turning into one very strange...
The Sound Tigers lost AGAIN over the weekend to the Norfolk Admirals. This is more than a slump now, it's a slide to oblivion. Brock Nelson scored the Tigers only goal in the game in the 4 - 1 loss which gives the Tigers a 10-9-0-1 record and 21 points. Where was that great start they had?? Even more of a concern to me than their skid is the loss of Travis Hamonic early...
(IIHF) The countdown to the World Under-20 Hockey Championships has begun as invites are being sent out for prospects to attend the various selection camps in the hope of making their national team. For New York Ranger and New York Islander prospects, already there have been a couple of surprises in who was invited and who wasn't. Canada Hockey Canada released their invite...
Islanders News

Delivered to your inbox

You'll also receive Yardbarker's daily Top 10, featuring the best sports stories from around the web. Customize your newsletter to get articles on your favorite sports and teams. And the best part? It's free!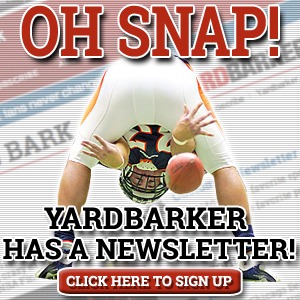 Latest Rumors
The Backyard

Today's Best Stuff

For Bloggers

Join the Yardbarker Network for more promotion, traffic, and money.

Company Info

Help

What is Yardbarker?

Yardbarker is the largest network of sports blogs and pro athlete blogs on the web. This site is the hub of the Yardbarker Network, where our editors and algorithms curate the best sports content from our network and beyond.