Calgary, once again, can't get a win on home ice. Calgary Flames 1 Boston Bruins 2 (OT) The Flames were looking to bounce back and play better than they did Saturday night, which they did, but they didn't have enough to take down the Bruins this afternoon. David Rittich kept the Flames afloat and they looked solid in overtime, but some good defence by the Bruins in OT...
Watch as Brad Marchand gets David Rittich to open up the five-hole and scores in overtime to lead the Boston Bruins past the Calgary Flames.
Calgary lost an ugly, fight filled affair at the Saddledome Saturday night 6-3 to Florida. Calgary Flames 3 Florida Panthers 6 Despite 2 power play goals and a hat trick from Dougie Hamilton, the Flames were blown out 6-3 by the Panthers at home on Saturday night. David Rittich had his first real stinker as a Calgary Flame, surrendering 4 goals on 15 shots. Click HERE...
Another rough night at the Saddledome 1st Period: Calgary Flames 1, Florida Panthers 1 After a strong opening shift by the Flames, Florida would come back up the ice Mike Matheson would beat David Rittich with a long wrister 1:09 in to make it 1-0. A minute later Ryan Lomberg would start a fight with Michael Haley as he so often does. I'd give the edge to Haley in the fight. ...
Watch as David Rittich makes a great glove save along the goal line to rob Kevin Fiala.
But if reports are correct, David Rittich was going to start in Boston even before the Smith "injury." News came out today that Mike Smith isn't available for the Flames when they travel to Boston to take on the Bruins Tuesday night. There's 2 ways to look at this: glass half full, glass half empty. The half empty looks at this as the sky is falling and Smith is going to be done...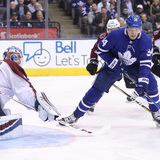 With goaltender interference becoming one of the most talked about topics in the NHL in recent weeks if not months, TSN's Darren Dreger tweeted that the four NHL All-Star coaches, NHL general managers and team executives are meeting today in Tampa Bay with league brass to discuss it. Dreger adds that NHL director of officiating Stephen Walkom will also attend the meeting.The debate...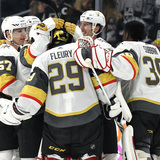 At the end of every work week, Yardbarker takes a look at what the NHL has in store for the weekend. We'll see whose stock is soaring, who needs to get their acts together and what tilts are promising to keep you on the edge of your seat. In this week's edition, the Golden Knights make history, Jaromir Jagr trips his biggest fan and we get ready for another round of outdoor hockey...
With Mike Smith taking up the bulk of the Calgary Flames' playing time in the crease, it can be hard to stand out as a back up goaltender. Such a role, however, has become very important following a rough performance from Eddie Lack through four appearances in a month and a half. In a surprise move after putting Lack on waivers, Calgary called up David Rittich over a younger Jon...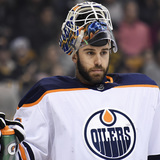 Things went from bad to worse for the Edmonton Oilers' 2017-18 season when dependable starting goaltender Cam Talbot went down with and upper body injury and landed on IR and could remain out through December. His replacement, Laurent Brossoit, is struggling and that's putting it gently. In 8 appearances, Brossoit has one win, an .872 save percentage, and a 3.80 GAA. Neither of the...
MORE STORIES >>
Flames News

Delivered to your inbox

You'll also receive Yardbarker's daily Top 10, featuring the best sports stories from around the web. Customize your newsletter to get articles on your favorite sports and teams. And the best part? It's free!