Found January 17, 2013 on Tennis Panorama :
Ana Ivanovic By Jaclyn Stacey (January 18, 2013) MELBOURNE PARK, Australia - Ana Ivanovic won the battle of the Serbs on Friday at the Australian Open on Friday defeating fellow former world No. 1 Jelena Jankovic 7-5, 6-3 in one hour and 23 minutes.   It was a tense encounter between the two, Ivanovic getting in Jankovic's face by fist pumping after almost every point and yelling "Ajde" on many occasions. The two have a long playing history, Ivanovic leading their head-to-head 8-3.   "I'm very happy. It was tough match. I think it was intense from the first to the last moment, but I really felt like I stayed in the zone and I played each point for, you know, for that point. That's what was my goal today, so I'm very pleased I managed to do that and to do it well."   Ivanovic was efficient from the baseline during the match while Jankovic just didn't have the speed to reach enough of her compatriot's strong forehands. Jankovic played more successfully to Ivanovic's backhand side during the first set, at one stage winning 14 straight points when Ivanovic attempted to serve for the first set at 5-2.   Ivanovic put her foot down with the set tied at 5-5, breaking Jankovic after being down 0-40 and closing out the set on her next service game with an ace.   Jankovic saved one match point on her own serve down 3-5 30-40 in the second set but Ivanovic won the match on her second opportunity after Jankovic landed her backhand into the net after a superb Ivanovic forehand smash.   On losing her lead at 5-2 in the first set Ivanovic said, "Okay, well, the same way I got to 5-2 I got to 5-All. Didn't happen much. I think she played some good points."   "I don't know, was it 5-4 when I was serving at 30-Love, I had made a loose double fault and that cost me, I think, that game. She played well? She strike the ball well."   "You know, I'm very, very happy I managed to come back from Love-40 down in 5-4. I think that was huge game, and then again from 15-40 in the next service game. Just very pleased overall."   Ivanovic spoke about the intense rivalry she has had with her compatriot over the years, the two not having the friendliest history.   "I think it's competitiveness, and you have that with everyone you play, and especially someone coming from your country. At the time we were both, you know, looking for No. 1 position and to win a Grand Slam. You know, of course there is going to be rivalry, but I think there is healthy rivalry, too, because you kind of push each other."   There has been a lot of talk about the physical appearance of Ivanovic in recent weeks, the Serbian star clearly losing a lot of weight which she says has allowed her more speed on the court.   " Well, you know, it was really up and down for me. But it's not so much about the weight, it's just about the muscle and just getting the right balance, you know, because still you need to feel light on the court but you have to be powerful."   "This is also my style of game. I'm very powerful player. I still need to improve on my upper body strength. I had a really tough match the other day, and today I came out and I was feeling fine and was explosive."   "So I'm very, very pleased that, like I said, it's paying off. But, you know, I'm still working at it."   Ivanovic plays an in form Agnieszka Radwanska in the round of 16 on Monday. Ivanovic won their first three meetings and Radwanska has won their most recent four. Ivanovic spoke about what she needs to do in the match.   "Being patient is going to be a key. It's going to be tough, for sure. I have to be prepared to work hard for my points and to keep on putting pressure on her."   "But, you know, it's just, again, working hard and just staying in the moment. I will go over the tactics a little more with my coach today and tomorrow, and, you know, hopefully we can have a good match."   "But it's going to be, again, balance of, you know, being aggressive enough and then still patient enough."   Jaclyn Stacey is a Melbourne based freelance journalist covering the Australian Open tournament as media for Tennis Panorama News.  Follow her Australian Open updates on @TennisNewsTPN. Follow her personal twitter @JackattackAU.
Original Story:
http://www.tennispanorama.com/archive...
THE BACKYARD
BEST OF MAXIM
RELATED ARTICLES
Former French Open champion Ana Ivanovic advanced to the fourth round of the Australian Open after beating Jelena Jankovic 7-5, 6-3 in a Friday clash featuring two Serbians who were both former top-ranked players. Ivanovic surged to a 5-2 lead in the first set but lost the next three games as Jankovic fought back. The 13th-ranked Ivanovic broke Janovic to pull ahead 6-5 and the...
Ana Ivanovic describes their relationship as a healthy rivalry. Jelena Jankovic says they have moved on from the past - particularly an unfortunate video clip in which she was caught mocking Ivanovic - and they get along fine. Both are from Serbia and in their 20s. Both once held the No. 1 ranking and seemed headed for future tennis stardom, a destiny that both are still striving...
Ana Ivanovic describes her relationship with Jelena Jankovic as a healthy rivalry. Jankovic says they have moved on from the past - particularly an unfortunate video clip in which she was mocking Ivanovic - and they get along fine. Both are from Serbia and in their 20s. Both once held the No. 1 ranking and seemed headed for future tennis stardom, a destiny both are still striving...
Rounding out coverage of the remaining adidas styles hitting the Australian Open are two of my favorite players/personalities Ana Ivanovic and Jo Wilfried Tsonga. Above, Ivanovic (who at the moment is on to round 3), wears the spring adizero dress in vivid yellow with tech grey, $85, and the adizero Tempai II, $120 (also worn by Angelique Kerber) . Tsonga sports the adizero polo...
Ana Ivanovic gets ready to take a whack at world #4 Agnieszka Radwanska. At the start of the second week, all of the singles matches shift to the three show courts.  We organize our daily preview a bit differently as a result, following the order of play for each stadium.  From here to the end of the 2013 Australian Open, you can find a preview of every singles match in Wizards...
Once bitter rivals, Jelena Jankovic and Ana Ivanovic came full circle as they did battle in Melbourne. "Rivals," my high school gym teacher once said, "always hate each other. Mac does not like PC. Coke does not like Pepsi. Competition makes the world go round!" Had he been a tennis fan at the time, he might have added Serbian rivals Ana Ivanovic and Jelena Jankovic to his...
By Lauren Smyczek Now that the Australian Open is in full force, it's time to step back from the scorelines and enjoy the players' on court fashions a bit, shall we? Though tennis players are typically far more concerned with their job to win matches than with their outfits, the same won't deny that it's important to feel comfortable on court. Some of the top players even...
All Sports News

Delivered to your inbox

You'll also receive Yardbarker's daily Top 10, featuring the best sports stories from around the web. Customize your newsletter to get articles on your favorite sports and teams. And the best part? It's free!
THE HOT 10: Who's Trending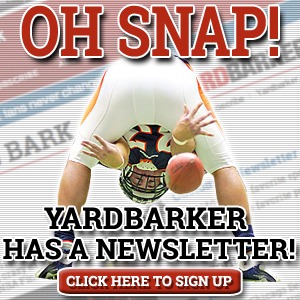 Latest Rumors
Best of Yardbarker

Today's Best Stuff

For Bloggers

Join the Yardbarker Network for more promotion, traffic, and money.

Company Info

Help

What is Yardbarker?

Yardbarker is the largest network of sports blogs and pro athlete blogs on the web. This site is the hub of the Yardbarker Network, where our editors and algorithms curate the best sports content from our network and beyond.