Found October 26, 2012 on Bacon Sports:
PLAYERS:
Tyrann Mathieu
,
David Stern
,
Delonte West
,
Magic Johnson
,
Jordan Jefferson
,
J.R. Smith
,
Eddy Curry
,
Mark Jones
,
Kobe Bryant
,
Stephen A Smith
TEAMS:
Minnesota Vikings
,
Dallas Mavericks
,
New York Knicks
,
San Antonio Spurs
,
Los Angeles Lakers
,
Tampa Bay Buccaneers
,
LSU Tigers
Oh what a last few days of sports it has been. No, I'm not talking about the World Series, the Tampa Bay Buccaneers putting a hurting on the Minnesota Vikings on the road on a Thursday night game when a certain someone decided to get cute and take the Vikings moneyline, or David Stern announcing that he'll retire in 2014. Instead I'm talking about all the dumb athletes and analysts out there that are doing or saying dumb things. I'm looking in your direction Tyrann Mathieu, Delonte West, and Stephen A. Smith. Here's our unique spin on each of these situations. Lets start off with the Honey Badger, clearly not the smartest animal in the kingdom. Apparently his love for the sticky icky is much greater than his love for being an NFL Superstar that makes millions of dollars and still smokes herb in the offseason. I believe that all of this can be traced back to one player: former LSU quarterback JaMarcus Russell. See JaMarcus Russell liked him some purple drank and it was one of the many contributing factors for why he ended up being as good of an NFL quarterback as Magic Johnson's talk show was successful. Since it is common for players to study and look up to their elders a fledgling quarterback named Jordan Jefferson came along at LSU and the cycle of stupidity continued. He probably looked up to Russell and thus thought it was OK to get into street fights at bars like he was Ryu from Street Fighter or Billy Lee from Double Dragon. Now Tyrann Mathieu makes his way to Baton Rouge and looks up to the star quarterback on the team and sees what it's like to be a true leader. Throw in watching a little too much Half Baked and Friday, since you know they weren't going to class, and you've now got yourself a full blown stoner. Since Mathieu also watched a lot of Top Gun and was taught to never leave his wingman him and Jefferson have still continued to stay boys, thus resulting in another drug related arrest. And thus that is the cycle of how JaMarcus Russell is responsible for Tyrann Mathieu's demise. Anytime an article or a segment starts with "JR Smith…" or "Delonte West…" you know that you are in for something good. Delonte West was just suspended by the Dallas Mavericks for the second time this preseason for being a bad person (also known as conduct detrimental to the team) and will likely be off the team in the matter of days. I absolutely love Delonte West and everything about him. He's videotaped himself freestyling while in the drive thru of a KFC, he has a neck tattoo which means that he is 85% more likely to be crazy than the average person, he's rumored to have banged Lebron's Mom, and he went renegade and got arrested with a guitar case full of guns all while on a three wheel Can Am Spyder. That's a rap sheet that even Kenny Powers would be proud of. That my friends is how you go hard in the motha f'n paint! One thing that can't be forgotten about the Delonte West story is that the Dallas Mavericks have not only signed Eddy Curry in preparation for West's release but expect to put him in the starting lineup. I'm not sure what is worse, West's situation or the Mavericks having to start Eddy Curry. Was Jeff Foster somehow not available? In case you didn't see it, here's the video of Stephen A. Smith apparently not dropping an N-please on ESPN's First Take. As if there was any doubt what he said take a look at Mark Jones reaction after he said it. Dude was stone cold. He didn't want to show any emotion and get caught in this backdraft at all. It reminds me of when Kayne West went on his "George Bush doesn't care about black people" rant and the camera quickly switched over to Chris Tucker who had a WTF/I'm scared/I don't want to say anything look on his face. Since "Peeps Got Jokes" claims that he didn't say this we are going to come up with three things that he might have said instead of the N-bomb. I initially wanted to do ten things and then I chopped it down to five and then finally said that the most I could come up with is three. That's how absurd his claim that he didn't say it is. Nesterovic Please – we know how Stephen A loves him some Rasho Nesterovic. Nivea Please – maybe Nivea lotion will help Kobe Bryant's sprained foot heal quicker? Miggy Please – maybe Stephen A has the World Series on his mind. I told you it was tough. See if you can think of anything better than this for what Stephen A Smith really said. If you've got anything good post it on our Facebook page or tweet us.
Original Story:
http://www.baconsports.com/jamarcus-r...
THE BACKYARD
BEST OF MAXIM
RELATED ARTICLES
CONTROVERSY ENSUED
During an appearance on First Take, Stephen A. Smith appeared to use a racial slur during a segment but later denied that he said such a thing.
How does Screamin' A. Smith make headlines on First Take? Drop a "nigga, please" during a conversation with the second whitest black guy working for the WWL, Mark Jones. One thing leads to another and the stupid show gets more exposure. That said, it is great to hear a "nigga, please" instead of Rachel Ray talk about a 15-minute lasagna. [HT: The Big Lead] Filed under: Basketball
Some folks, including us, think Stephen A. Smith dropped the N word on ESPN's First Take today, ending a debate session with n***** please. Smith, however, doesn't think he said it. Listen... Full story at Bob's Blitz ~ http://www.bobsblitz.com
According to TMZ, the honey badger aka Tyrann Mathieu was arrested for drugs. TMZ reports that Mathieu had this on his record: According to the police report, cops were called to an apartment around 3:30 PM after an alleged confrontation. When officers arrived to the scene, Honey Badger answered the door … and cops say they could smell a strong odor of weed. Tyrann Mathieu of the...
According to WFAB four former LSU players including Jordan Jefferson, Tyrann Mathieu, Karnell Hatcher, and Derrick Bryant were arrested on Thursday on drug-related charges. Honey Badger (Tyrann Mathieu) and former LSU QB Jordan Jefferson are among the most recognizable former standouts on the LSU squad. According to the report: Mathieu and Jefferson were charged with Simple Possession...
Stephen A. Smith and ESPN think we forgot the fool-me idiom. Shame on them. For the second time in less than a year, the black beard paid to mask Skip Bayless' blatant negro-baiting uttered "N-word, please" on a national-television platform allegedly reserved for non-profane, professional discussion. The first time was in December during a debate about LeBron James...
A sad story came out of Baton Rouge today, as four former LSU football players, including former Heisman finalist Tyrann Mathieu and last year's starting quarterback Jordan Jefferson were arrested on marijuana related charges. This, via WAFB in Baton Rouge: Jordan Jefferson, Tyrann Mathieu, Karnell Hatcher, and Derrick Bryant were all charged with marijuana-related offenses...
Stephen A. Smith, as he suggests, might have to slow down when speaking. The boisterous ESPN analyst took some heat on Thursday after saying what many believed was a racial slur during a conversation with Dahntay Jones of the Dallas Mavericks on ESPN's First Take. According to Smith, however, he never said such. Smith -- speaking in his usual loud, opinionated...
TM7: Disappointment Among Black Community in Failed AthletesAs I depart from my usual position of silence on race dynamics (being a strong advocate of diversity and unity across all racial, social, cultural, and economic lines), there is a compelling angle to the story of Tyrann Mathieu from inside the black community that I would feel remiss not share with Beyond U Sports. Acknowledging...
[This post is best read in Stephen A. Smith's voice] Straight out of the Newt Gingrich racist white man's play book, it wasn't bad enough David Stern did the unthinkable and called the public's attention to high school benchwarmer Barack Obama's poor basketball skills, he went and blew the proverbial Conservative dog whistle on POTUS and the Association. From Politico's...
Tweet     The LSU Tigers football team is off this week ahead of their big showdown with top-ranked Alabama next Saturday but a few former members of the program made the news today, for the wrong reasons. WAFB News has the details. At approximately 3:30pm Thursday, officers were dispatched to an apartment at 262 West [...]
All Sports News

Delivered to your inbox

You'll also receive Yardbarker's daily Top 10, featuring the best sports stories from around the web. Customize your newsletter to get articles on your favorite sports and teams. And the best part? It's free!
THE HOT 10: Who's Trending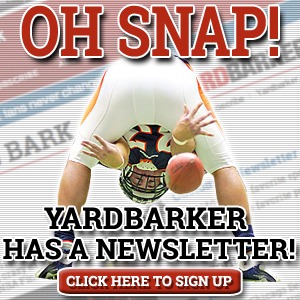 Latest Rumors
The Backyard

Today's Best Stuff

For Bloggers

Join the Yardbarker Network for more promotion, traffic, and money.

Company Info

Help

What is Yardbarker?

Yardbarker is the largest network of sports blogs and pro athlete blogs on the web. This site is the hub of the Yardbarker Network, where our editors and algorithms curate the best sports content from our network and beyond.