Found November 26, 2012 on Awful Announcing:
"It doesn't mean anything, it's just something." Those were the actual words NFL Countdown's Tom Jackson used to describe his displeasure with Chicago Bears quarterback Jay Cutler walking into Soldier Field Sunday morning without appearing to talk to someone within ESPN's camera shot.  Jay Cutler has been criticized for a galaxy's worth of things in his career as an NFL quarterback, perhaps more than anyone else who has played the position in recent years.  But even for Cutler, being bashed for something as normal as silently walking into the stadium is new ground. It was a throwaway shot.  A nothing moment.  And yet, Tom Jackson took six seconds of footage of Jay Cutler walking through the bowels of Soldier Field completely out of context to make a negative insinuation about his character.  Well, then again, Tom Jackson didn't really make any point at all as shown in the quote above.  The footage obviously didn't mean anything, except it meant something to Jackson.  Not even Confucius could attempt to rationalize that statement into a coherent thought. How many times has ESPN used a player walking into a stadium as a screen filler on their pregame show?  Hundreds, if not thousands.  And yet, how many times has that moment been used as the impetus for criticism?  By my count one - Tom Jackson's incredulous disbelief of Jay Cutler not asking the security guard how his Thanksgiving dinner turned out. Jackson's commentary was also a throwaway moment, but it brings to light a much larger point that needs to be made about the power of narrative.  As the 24/7 media cycle has taken hold in the last decade, "the narrative" has become its most significant force.   A simple narrative changes when you add the fancy quotes about it.  A narrative is simply telling a story about someone.  "The narrative" is the conventional wisdom about a person or entity that once established, cannot be changed.  Once "the narrative" attaches itself to you, whatever you do must fit that conception of you.  David Eckstein is scrappy.  DeMarcus Cousins is a loose cannon.  John Kerry is a flip flopper.  Etcetera and etcetera. But what "the narrative" often produces is a narrative fallacy or illusory correlation, where we create our own story to fit around certain events.  (It's a Monday after a four day holiday weekend, so we might as well do some learning!)  In a sense, we see what we expect to see with this phenomenon.  Regardless of the actual facts, we place events into our predisposed judgment about that person whether those events truthfully fit or not. This is what happened with Tom Jackson and Jay Cutler. After sitting in the 2010 NFC Championship Game with a knee injury and frowning on the sidelines, "the narrative" took hold.  Just how powerful is the story attached to Jay Cutler?  Fox admitted to making up phony headlines last year to question Cutler's toughness.  Think about how low that is.  Earlier this year Cutler was destroyed for getting in the face of teammate J'Marcus Webb.  USA Today said Cutler "has been known to throw a tantrum or two and get a little whiny at times."  Please.  Had that been Tom Brady or Peyton Manning, he would have been showered with praise for showing tough love and leadership.  A camera shot catches Cutler swearing or sulking and he's immediately criticized because it fits the narrative of Cutler as a pouter.  A random quarterback with a more favorable narrative doing the exact same things at the exact same times would be cheered for showing his emotions on his sleeves.   "The narrative" on Jay Cutler is that he's a horrible person and teammate and lacks toughness.  The facts don't necessarily play that out.  Nevertheless, you're much more likely to see a ridiculous Cutler meme develop or jokes about his celebrity relationship instead of stories about his charity work in Kenya or what he actually means to the Bears. So yesterday, it really wasn't a surprise to see Tom Jackson take advantage of a miniscule opening to rip Cutler for simply walking into a stadium without acting like he's running for public office.  It fit the Cutler narrative.  In truth, the power of "the narrative" needs to be held in check because it feeds on stereotypes, groupthink, and fallacies far too often.  Relying on narratives takes the easy way out instead of seeking truthful and fresh insights.  Relying on narratives leads someone to criticize a person for not walking into a stadium the right way. I wonder if Tom Jackson caught Cutler tying Webb's shoe during Sunday's game.  Maybe that was just something that didn't mean anything too.
Original Story:
http://www.awfulannouncing.com/2012-a...
THE BACKYARD
BEST OF MAXIM
RELATED ARTICLES
Bears quarterback Jay Cutler is starting Sunday against the Minnesota Vikings after missing a game because of a concussion. Cutler was limited in practice this week. He left the game against Houston two weeks ago after a helmet-to-helmet hit by the Texans' Tim Dobbins and did not make the trip to San Francisco, where the Bears were blown out on Monday. Vikings receiver Percy...
Jay Cutler will start against the Minnesota Vikings on Sunday. The Chicago Bears quarterback has passed all of his concussion tests thus clearing him to play. Cutler had been out since a helmet to helmet hit from Tim Dobbins of the Houston Texas on Nov. 11. The Bears lost to the San Francisco in their most recent game, 32-7, with Jason Campbell taking the snaps at quarterback. While...
In addition to the inactives made official Sunday also came the announcement that Bears QB Jay Cutler will, indeed, start against the Vikings.
Adderall, an NFL banned stimulant, is being blamed for the rising number of performance-enhancing drug suspensions in the league today.  Chicago Bears wide receiver Brandon Marshall said there is another common prescription drug being used by players to enhance performance, and that is Viagra. Click Link Below to Read More!
Even a lopsided win was painful for the Chicago Bears. They got Jay Cutler back after missing a game with a concussion, only to lose three more stars to injuries in a 28-10 victory over the Minnesota Vikings on Sunday. Devin Hester left the game with a concussion. Matt Forte and Charles Tillman exited with ankle injuries, and if that weren't enough, the Bears also lost both...
Two key players have been questionable heading into week 12 of the NFL regular season. Chicago Bears QB Jay Cutler has been dealing with lasting effects of a concussion suffered against the Houston Texans. Atlanta Falcons WR Julio Jones has been nursing an ankle injury and while he did play a limited number of snaps last week, he was officially listed as questionable. After missing...
The Minnesota Vikings were coming off their bye week refreshed and positive heading into the final stretch of the season, while the Chicago Bears were recovering from an embarrassing Monday night loss and wondering whether quarterback Jay Cutler would be in the lineup. Then, Minnesota went dormant in the first half of Sunday's NFC North showdown at Chicago and the Bears took...
The NFLs Most Valuable Player award tends to go to the quarterback of the team with the leagues best regular season record, running backs with outstanding statistical seasons and all-around good ambassadors for the game. Embattled Chicago Bears quarterback Jay Cutler doesnt check off any of those boxes. Hell, he fits none of the criteria whatsoever. His Bears wont have the best...
The Chicago Bears will be just fine if they keep playing like this - and don't lose any more players to injuries. Jay Cutler threw for 188 yards and a touchdown after missing a game because of a concussion, and the Chicago Bears broke it open early in a 28-10 victory over the Minnesota Vikings on Sunday. Injuries to Devin Hester, Matt Forte and Charles Tillman, however, tempered...
All Sports News

Delivered to your inbox

You'll also receive Yardbarker's daily Top 10, featuring the best sports stories from around the web. Customize your newsletter to get articles on your favorite sports and teams. And the best part? It's free!
THE HOT 10: Who's Trending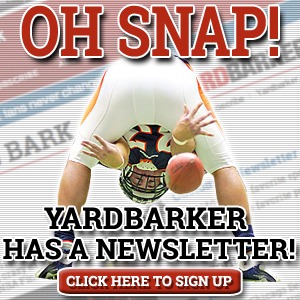 Latest Rumors
Best of Yardbarker

Today's Best Stuff

For Bloggers

Join the Yardbarker Network for more promotion, traffic, and money.

Company Info

Help

What is Yardbarker?

Yardbarker is the largest network of sports blogs and pro athlete blogs on the web. This site is the hub of the Yardbarker Network, where our editors and algorithms curate the best sports content from our network and beyond.